Hire Wisconsin's Best and Brightest!  The 2023 Fall Real Estate Club Career Fair on Wednesday, September 20th offers companies the unique opportunity to connect with and recruit over 650 undergraduate, MS and MBA real estate students from the Wisconsin Real Estate Program, which is the #1 Real Estate Program as ranked by the 2022-23 U.S. News & World Report survey. Students are available for internships and full-time employment.
Join us for the Career Fair and you will meet with talented young real estate professionals who are ready and eager to make significant contributions to your company through internships and entry and mid-career levels positions.
This year's fair is timed in conjunction with the Wisconsin Real Estate Alumni Association Biennial Conference on Thursday, Sept. 21 and Friday, Sept. 22 in Madison. Come for the fair, stay for some fun networking with Real Estate Badger alumni!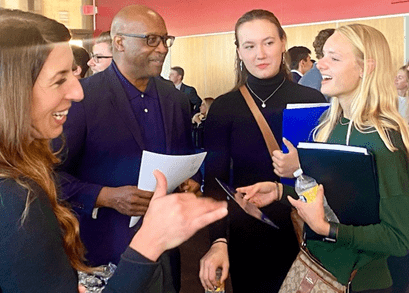 FALL REAL ESTATE CAREER FAIR LOGISTICS
Wednesday, September 20
4:00 pm – 6:00 pm CDT
Varsity Hall at Union South, UW Madison Campus
HOW TO REGISTER
Register on Handshake HERE
New to Handshake? Creating an account is easy!
Best of all, Handshake connects you with every student at UW-Madison, plus 475+ schools across the country.
ABOUT OUR STUDENTS
Through a challenging curriculum on the undergraduate and graduate level, UW-Madison Real Estate students master a combination of theory and practical job skills. Our students are active in the classroom and in the field, including case competitions and study tours to local, national and global destinations.
Resume Highlights
• ARGUS and Excel Modeling
• Bloomberg Professional Service
• SNL Financial
• Applied learning/leadership experiences including case competitions, site tours, and field trips.
STUDENT RECRUITING
For more information about recruiting, including job postings, company information sessions, and more, please contact Michael Quesnell, Assistant Director of Employer Development, at michael.quesnell@wisc.edu.
QUESTIONS?
For more information or questions about the fair, please email graaskamp@bus.wisc.edu or the Career Fair Coordinators:
Bryan Zaramba at bryan.zaramba@wisc.edu
Linh Tran at ltran27@wisc.edu
For other opportunities with students, including job postings, company information sessions, and more, please contact Greg Reed, Associate Director of the Graaskamp Center, at grreed@wisc.edu. To find out more about Real Estate Club, please visit realestateclub.org.
On Wisconsin!
---