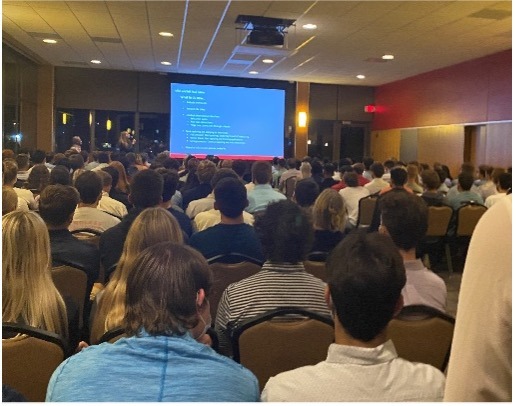 On Tuesday, September 14, the Pyle Center was once again packed full of Real Estate students and faculty for the first Real Estate Club meeting of the year. The room was buzzing with excitement as this was the first in person meeting for the club since the COVID pandemic began in March of 2020. The meeting opened with Liz Trautz and Aishwarya Leen, the two newly elected co-presidents, introducing themselves and giving a history of the Wisconsin Real Estate Club. The presidents highlighted the many benefits of joining the club, including the speaker series, job recruiting benefits, and networking opportunities.
Gregory Reed, Graaskamp Center Associate Director, took the floor with his commanding presence and quickly pointed out how this year is unique because both roles of leadership are being filled by women for the first time in the Club's history. The room quickly filled with the sounds of applause and cheers in response to this exciting new milestone. Greg went on to talk about the stellar reputation the Wisconsin Real Estate Program has built over the years and emphasized that students play an important role in maintaining our top-ranked Program.
Next, the WSB Undergraduate Career Engagement Team took the podium and pointed out the importance of having a good resume, an effective elevator pitch, and strong networking skills. The team introduced Suitable, the new application which can track the career progression of business students throughout their time at UW-Madison. The career team shared useful insights on the resources available to students and shared advice on how students can better set themselves up for success post-graduation. Importantly, the team said, "We are all here to help, but you are the leader of your job search."
To close out the meeting, guest speaker Dan Kroetz gave an overview of his background and career. Dan works for The Commonwealth Companies, which is a national affordable housing development firm based in Madison. Dan answered many questions and shared great insights on the importance of affordable housing, and the direction the industry will be heading in the years to come.
Thank you to guest speaker Dan Kroetz, and to all who attended the meeting. The club is off to a great start and is excited for the semester ahead!
---