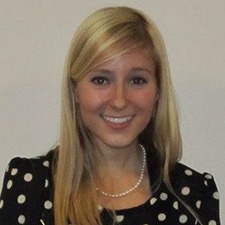 The Center connected with alumna Saskia Burmeister to discuss her current job and the impact the Center made on her career.
What is your role and responsibility at Apple?
I work at Apple as a Global Supply Manager in Corporate Procurement, specifically in the Telecom & Technology Services space.
Could you give us an overview of Apple and its supply chain practice?
Apple designs and develops consumer electronics and accessories, software, and has recently expanded their media services offerings.
Apple is one of the few companies listed on Gartner's Masters of Supply Chain, so I'm fortunate to see world-class supply chain practiced every day.
Why did you choose to pursue a degree at Wisconsin through the Center?
I knew from my first supply chain class that I wanted to pursue a degree through the Center. I was mesmerized by all of the problem solving required and knew that it would be a dynamic and challenging career path that could open up many opportunities.
How did the Center's curriculum prepare you for your current job?
I utilize what I learned in my supply chain classes almost daily – in particular, learnings from procurement! In addition, participating in case competitions helped prepare me for real world problem solving and quick action in my career.
What do you think are the most important issues and/or trends influencing supply chain management today?
I think that data availability and accuracy, as well as global supply chain risk mitigation are two of the most pressing issues facing supply chain today, especially magnified with the coronavirus pandemic. It is imperative to have accurate data readily available to make strategic decisions. The coronavirus has exposed the need to have robust supply contingency plans in the event of multinational disruptions.
Do you have any words of wisdom for the current Center students?
Always continue to develop your skill set and be curious to learn more about industry trends and developments. Embrace taking risks and being uncomfortable in new situations. Create a short- and long-term plan based on what you want and value in your career, and be strategic in the changes you make to meet your end goals.
---