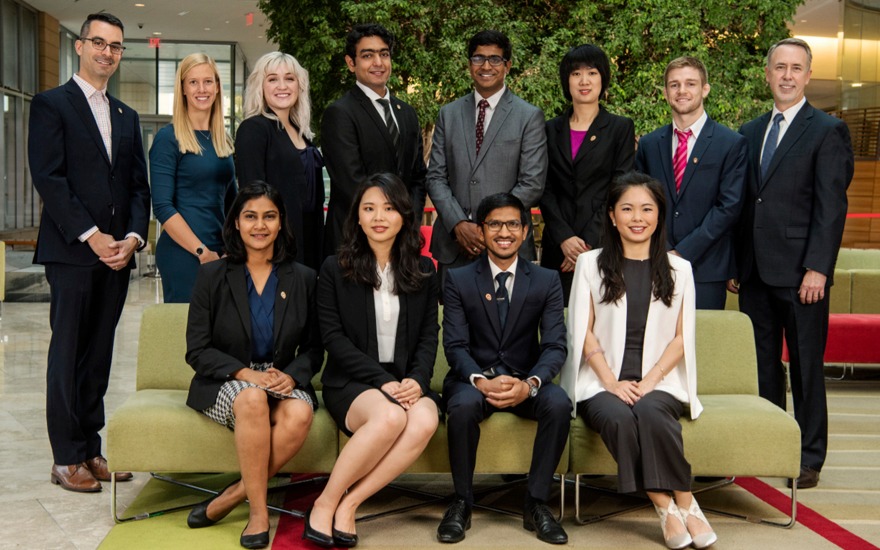 The 2019-2020 Grainger Update highlights events and accomplishments by students, faculty, staff and alumni.
Greetings from the Grainger Center
By Greg DeCroix
Over the past many months, the COVID-19 pandemic has wreaked havoc throughout the world. The human toll in terms of deaths and suffering has been tremendous, as has the strain put on our health care workers and first responders. The impact on the overall economy and businesses of all types has been tremendous as well, with some companies experiencing massive drops in revenue and many workers losing their jobs. I hope that you and your families have managed to stay healthy, and that the overall impacts on your companies, livelihoods and lives have been manageable…read more »
By Jake Dean
This past academic year was certainly one like no other. Last September we were excited about the launch of our new MS program, engaging with our community on the development of a strategic plan, and looking forward to another year of providing our students with a supply chain educational experience like no other. Then came March 2020 and Grainger Hall froze in time – I had to go into my office recently to get something and the venerable 'Today in Grainger Hall' event list was still dated March 13th. The coming academic year will certainly look different as well, and I encourage you to look up UW-Madison's 'Smart Restart' plan online…read more »
Feature Stories
By Paul Smirl
Supply chain management is a much-buzzed-about business field, but not everyone knows what a career in supply chain looks like. Grainger Center director Jake Dean and alumnus Scott Hughes make sense of it all.
By Clare Becker
The shortage of personal protective equipment (PPE) during the COVID-19 pandemic has elevated supply chain to a global discussion. WSB's Greg DeCroix and Pete Lukszys explain how supply chains function and share PPE-related projects they are working on in this urgent and unprecedented COVID-19 space.
By Paul Smirl
Supply chain management is synonymous with problem-solving. Customers want their products and they want them now. Prices on raw materials fluctuate. Geopolitical conflict forces production changes. Competition is looking for a leg up. A pandemic shakes the globe. Buying habits transform. Climate change puts sustainability into focus. Grainger Center director Jake Dean discusses the global nature of supply chain management, innovation, COVID-19, and the biggest challenge facing supply chain managers in the next 5-10 years.
By Betsy Lundgren
The Wisconsin School of Business at the University of Wisconsin–Madison will offer a new undergraduate major in supply chain management, effective in the 2020-21 academic year. The new offering enhances WSB's existing portfolio of supply chain management programs, which includes an undergraduate certificate, a one-year master's degree, and a full-time MBA specialization…read more »
Undergraduate (BBA) News
UW-Madison Wins CSCMP Case Competition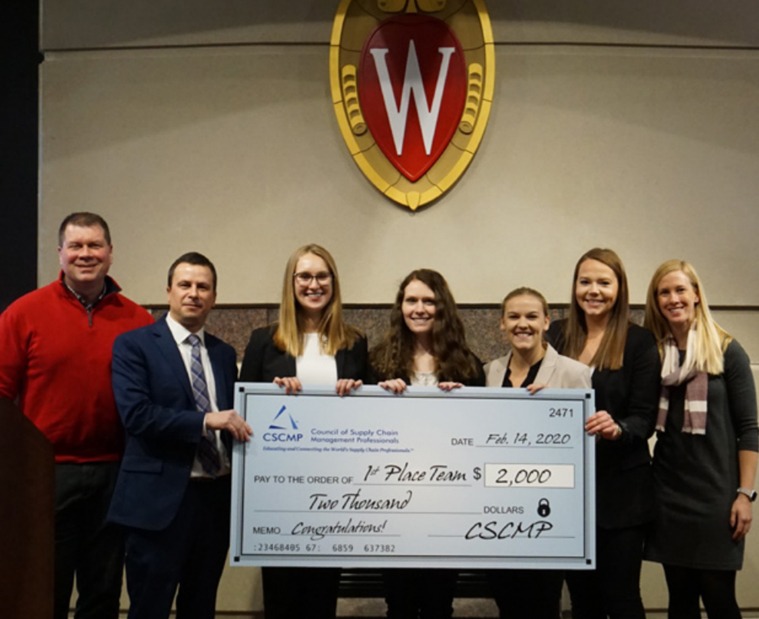 The Center partnered with the Council of Supply Chain Management Professionals (CSCMP) and Uline to sponsor the 4th Annual CSCMP/Wisconsin Cup Case Competition held at the Wisconsin School of Business in February 2020. Six teams from different Wisconsin universities spent the previous week building their cases for where medical device company Kiwi should locate a new production facility. The week ended with a trip to Madison to present to a judging panel of industry leaders in supply chain management. UW Madison's team included: Lauren Miller (BBA '20), Kristen Hacker (BBA '20), Mackenzie Birkrem (BBA '20), and Rachael Flora (BBA '20).
Judges from industry awarded first, second, and third place prizes to the following teams:
First Place: University of Wisconsin-Madison
Second Place: University of Wisconsin-Superior
Third Place: Milwaukee School of Engineering (MSOE)
By Danielle Zink
The 2019-2020 academic year was full of exciting applied learning and social events for BBA students. Both semesters kicked off with the Center hosting 'Welcome Back' events with current students and an information session for prospective students. Combining current and prospective students allowed admitted students to talk about their experiences and the benefits of being a part of the Center. These events, along with other marketing efforts, increased the number of admitted students to 135 for 2019-2020, a record high…read more »
Undergraduate Board of Directors
This board is made up of current undergraduate students in the BBA Supply Chain Certificate. The board's primary role is to provide guidance and support to the program by coordinating applied learning opportunities, recruitment and marketing efforts, and continually providing an inclusive atmosphere for students in the certificate.
Directors of Member Development and Corporate Relations – Kelly Lamb and Cal Kozlowski
Directors of Member Community – Anne Brennan and Eric Aurand
Director of Budget and Administration – James Elkin
Directors of Marketing – Lauren Miller and Marcus Haufschild
MBA News
MBA Experience
International Perspective
by Jaishree Sanadhya
As an international student, I was looking for a university where I would feel welcomed and could develop my own community. UW-Madison exceeded all my expectations. Even before starting the program, I was assigned buddies to help me in my transitions with changing countries, job function and industries…read more »
First-Year Perspective
by Amelia Kittson
As I reflect on my first year in the Center's MBA program, I am pleased to report nothing but wonderful, positive experiences. It is not always an easy transition, to pick up your life and move across the country in order to go back to school. But I am so grateful that I took the plunge, and I would not trade my time in the Center for anything…read more »
By Danielle Zink
This past January, the Center participated in a month-long global exchange program in Stavanger, Norway. The program gave students the opportunity to take an in-depth look into the Norwegian oil and natural gas industry. Students gained an improved supply chain perspective of the global energy economy by attending courses at the University of Stavanger (UiS) and visiting several important energy companies »
Each semester, MBA students are required to participate in the Applied Learning course led by Center Director Jake Dean. This course is designed to connect classroom learning content to industry. The students had a full year of diverse opportunities. Applied learning events included:
• Analytics applications at Google with Kevin Pickett (BBA '14)
• Watson and Supply Chain with Tom Ward of IBM
• Supply Chain Security Solutions with Caitrin O'Shea (MBA '15)
• Site visit to Kohler, hosted by a team of Center alumni
• Blockchain at IBM with Vishnu Tadepalli (MBA '15)
• ITW site visit hosted by EAB member Carolyn Woznicki
• Supply Chain at Medtronic with EAB member Sheri Lewis
• Sustainable Success series in partnership with the Nelson Institute for Environmental Studies
MBAs take second at Michigan State Bowersox Competition
MBA students from the Center took part in the 10th Annual Bowersox Graduate Supply Chain Challenge at Michigan State University on October 2nd and 3rd and came away with the second-place trophy! The challenge used a simulated real-time competitive supply chain strategy environment to challenge the students and objectively assess their skills to design and manage a dynamic supply chain against a common scenario. This year's team was Hridoy Das (MBA '20), Cher Huang (MBA '20), Rile Drevlow (MBA '21) and Utkarsh Kohli (MBA '21).
Placement Reports
MBA Class of 2020 Placement Report
MBA Full-Time Employment
Average full-time base salary accepted: $103,333
| | | |
| --- | --- | --- |
| Amazon | Pathways Operations Manager | Seattle, WA |
| Ingredion | Logistics Analyst | Westchester, IL |
| Maxim Integrated | Senior Operations Analyst | San Jose, CA |
MBA Class of 2020 Summer Internships
Average monthly base salary accepted: $6,191
| | | |
| --- | --- | --- |
| Deloitte | Supply Chain and Operations Consultant | Boston, MA |
| Facebook | Supply Chain Intern – Infrastructure Sourcing | Menlo Park, CA |
| Ingredion | Senior Operations Analyst | San Jose, CA |
| Tesla | Global Supply Management Intern | Palo Alto, CA |
Honors, Awards, & Celebrations
Our students received recognition from WSB and external partners. Read more »
A Little Pomp & Circumstance
Congratulations May 2020 BBA Graduates!
49 BBA students graduated with a Certificate in Supply Chain Management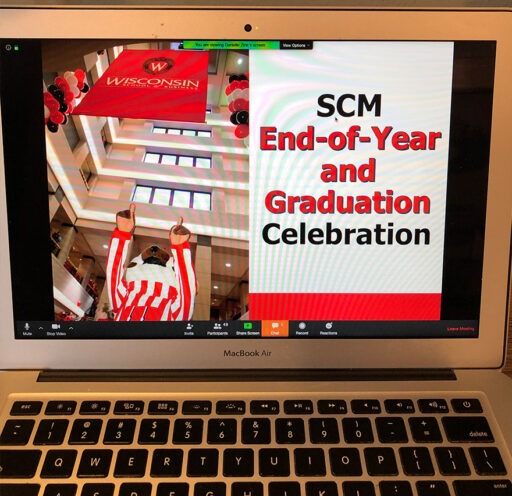 Congratulations MBA Class of 2020!
Hridoy Das • Cher Huang • Santhosh Kosike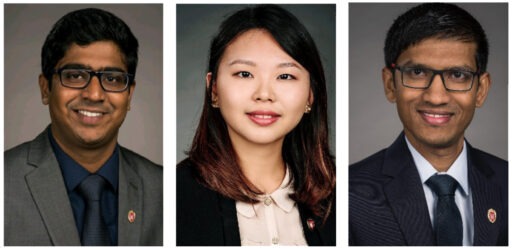 Alumni News:
Where are they now?
The Center connected with alumnus Samy Affo to discuss his current job and the impact the Center made on his career »
The Center connected with alumna Saskia Burmeister to discuss her current job and the impact the Center made on her career »
Executive Advisory Board
The Center asked its board members how they're dealing with the COVID-19 pandemic, and what supply chain managers should learn from it. Read more »
The Center hosted its annual Executive Advisory Board (EAB) meeting at the Wisconsin Institute for Discovery on October 3rd, 2019. Students, faculty, staff, board members and Center alumni had the opportunity to discuss the latest and hottest topics in supply chain. Second year MBA and select BBA students gave presentations on their summer internship achievements and had great answers to questions from board members. Read more »
---