Our students received recognition from WSB and external partners.
BBA & MBA ISM Scholarship
Santhosh Kosike (MBA '20) and Kelly Lamb (BBA '20) were awarded the 3rd annual Institute for Supply Management (ISM) – Madison chapter scholarships. Both were presented with the scholarships at the December ISM Madison chapter monthly meeting where Santhosh discussed his summer internship at Ingredion and Kelly presented about tariffs and the future impact they could have on supply chain management.
Hridoy Das wins Kelly Ketchum Award
At the 2019 Executive Advisory Board meeting, MBA class of 2017 alumnus Rick Jarrell presented the Kelly Ketchum Memorial Alumni Scholarship to Hridoy Das to recognize his passion for supply chain management.
The scholarship was established in memory of Kelly R. Ketchum (1964–2003) who made an enormously positive impact on the Center as an involved student, a good friend, a model alumnus, and a man of great humor and integrity. It is presented each year to a second-year MBA student.
Hridoy Das wins WI Idea Award
One of the longest and deepest traditions surrounding the University of Wisconsin-Madison, the Wisconsin Idea signifies a general principle: that education should influence people's lives beyond the boundaries of the classroom. Synonymous with Wisconsin for more than a century, this "Idea" has become the guiding philosophy of university outreach efforts in Wisconsin and throughout the world.
Hridoy was chosen among all WSB full-time MBA students by a panel of faculty and staff to receive this award.
The Wisconsin Distinguished Student Award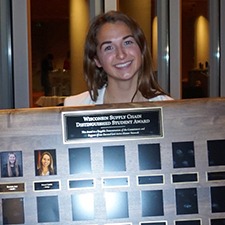 Winners of the Wisconsin Supply Chain Distinguished Student Award should demonstrate exceptional passion for supply chain management and the Center. In addition, winners must possess leadership abilities and maturity that stand out in their classes.
The 2019 Distinguished Student winner was Kelly Lamb. Kelly's outstanding academic standing, passion for supply chain management, and continuous involvement in Center activities made her the recipient of this award. We wish her all the best in her new career at 3M.
---