Hello, alumni of the SHR MBA and Industrial Relations master's program!
We probably do not need to use words like "year like no other" or "zoom" to describe this academic year because you already can guess those. What you might not guess is that our students continue to flourish despite the pandemic. Each of our students who were seeking internships has found one; half of our graduating students have achieved the SHRM-CP credential, and only one graduate is still seeking full-time employment. Our students have won various case competitions and WSB awards of excellence. Involvements with alumni were at an all-time high this year considering our new mentoring program and Friday Workshop series that includes HR case studies. We have admitted more incoming students than we just graduated. This newsletter demonstrates some highlights from the past six months that illustrate our students' success.
We expect to return to an in-person format in the fall, yet we know that it is practical for many alumni to continue to connect virtually. We will engage in ways that are best for you; hopefully it can include a long-awaited trip to the Terrace.
Thank you for the numerous ways that you help us, and enjoy a wonderful summer.
Together Forward,
The SHR Center
Student Life

HR Summit: Virtual Edition
Like nearly everything else, this year's HR Summit was virtual. The online format allowed for our largest participation ever, and alumni from other countries were even in attendance.

Championing Inclusive Leadership
An ongoing emphasis of the Wisconsin MBA is diversity, equity, and inclusion. Students participated in a leadership series, and the event facilitated by an MBA alumnus included the topics of foundational fluency and microaggressions.
Big 10 Case Competition: Madness in March
A team from the Wisconsin MBA participated in–and WON–the Big 10 Case Competition this year. Among them was SHR MBA student Bethany Noltner, who also received the Best Presenter award twice
Placement Update
Our 2021 graduates (pictured below) are thrilled to be starting their careers with UnitedHealth Group, HP, NAURA Technology Group, Citi, Microsoft, and Share Corp. One graduate is not currently seeking placement and is learning to pilot helicopters instead. Congratulations to our newest alumni; we are so proud of you!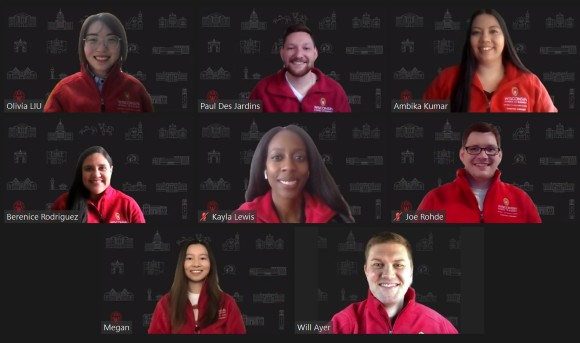 Our first-year students successfully completed the first half of their MBA program online and have found summer internships at the following organizations: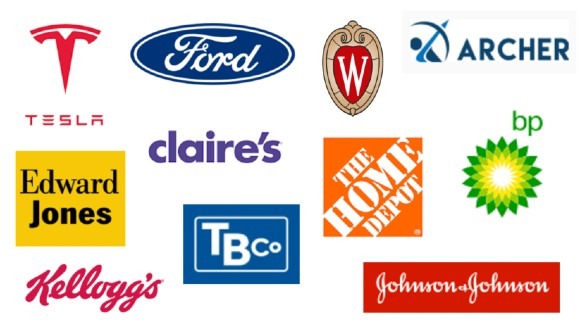 You might remember that our program runs on a shoestring budget. This past year we have offered more (no-cost) programs and services to our students so that their experience more closely compares to what other WSB Centers provide. We have never organized a donation campaign and believe it is time to take a step in that direction. Would you consider making a gift to the SHR Program Fund? Following are ideas of how we would use your gift:
$50 could buy treats for the snack cabinet
$150 could cover a student's SHRM-CP exam
$250 could go toward the new community-building Pizza Fridays
$500 could be applied to transportation for an HR industry visit
$1,000+ could help build the next incoming class by funding a student's scholarship
Of course, we welcome your contribution of any amount at any time in helping to provide a well-rounded experience (and nice conveniences and good memories) to those who follow in your path.
Alumni Participation
Alumni Involvement: The Gift That Keeps On Giving
Starting to work with alumni can be a challenge. Should I bother them? What should we talk about? First-year student Harry Wolfe reflects on his personal alumni networking journey.
Continuously Learning Thanks to Alumnus
Ben Burney (MBA '08) has been our Executive-in-Residence during the past year, and we have enjoyed his high level of engagement with the students. He provided a multi-session boot camp in executive compensation.
Why Do I Regularly Give Back to UW-Madison's SHR MBA Program?
Vinod Aravindakshan (MBA '16) has played an active role with our students on many levels.

Join the SHR LinkedIn Group
The SHR Center has resurrected an old LinkedIn group. It is a closed group that is available only to alumni, students, and others directly connected to the program. Please join as a way to stay connected.
Applicant for the Class of 2048?
Alumnae Kendra (Armstrong) McAdams (MBA '12) announces that her baby girl, Sloan, arrived in December. Congratulations, Kendra!
Share your life changes: new career, international placement, certification, accomplishment, family member, retirement, wedding—you get the idea. Please email
Linda Barrett
, Assistant Director of the SHR Center, and include a photo when possible.
Media Mentions
Our Management and Human Resources faculty are recognized nationally and internationally for their research and opinions. Recent media mentions include:
Jon Eckhardt talks with Wes Schroll, CEO of Fetch Rewards, Softbank's latest Unicorn, Jon Eckhardt, The Wisconsin Technology Council
UW-Madison prof says the future of 'going to the office' may look very different after pandemic, Hart Posen, Wisconsin Radio Network
Remote work options likely to remain after pandemic, Wisconsin experts say, Jirs Meuris, The Journal Times Online
The Way Bosses Conduct And Communicate Layoffs Is Inhumane. There's Another Way, Charlie Trevor, The Huffington Post
UW-Madison Profs find silver lining for businesses in pandemic, Hart Posen, WisPolitics.com
Employers can require employees to get COVID-19 vaccine, Jirs Meuris, WMTV – NBC 15
Madison sees population influx in wake of pandemic, Barry Gerhart, The Badger Herald
Wisconsin Professors: Women Governors May Be More Successfully Managing Pandemic, Alexander Stajkovic, Wisconsin Public Radio
Your Backup Plan is Holding You Back: How to Step Out of the Comfort Zone and Start Your Life, Jihae Shin, Medium
Willing to Give Back?
There are various valuable ways to stay connected to your Wisconsin MBA program.
Mentor, talk, or mock interview. Current students would love to benefit from your experience. Contact Linda Barrett, Assistant Director of SHR Center, if you are willing to volunteer as a mentor, you would facilitate a Friday Workshop on a topic of mutual interest, or you are available to mock interview students. Distance technology is always an option.
Hire a badger. Our students' MBA experience includes a professional internship between the first and second years. If you are interested in recruiting HR badgers for either internships or full-time positions, contact Betsy Golomski, Assistant Director of the MBA Career Management Center.
Make a financial gift. We are making many positive changes to ensure the development of our students, including SHRM-CP certification prep, workshops, and case studies. Honestly: every dollar helps. Please consider donating to our SHR Program Fund or the larger WSB general fund. Thank you!
---