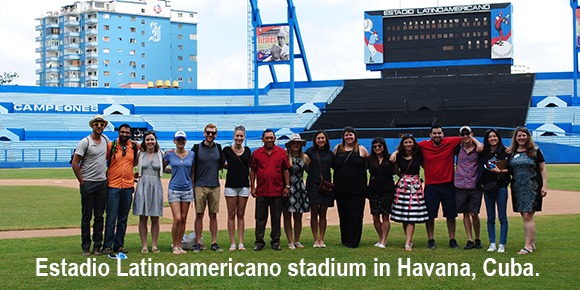 Over spring break, I had the opportunity to join the A.C. Nielsen Center for Marketing Research for a week in Cuba. Our visit enabled us to explore the country and learn about the its unique culture and budding private business sector. Having the opportunity to travel to Cuba with the University of Wisconsin MBA program was an amazing and insightful learning experience, one that would not have been possible without the University and my classmates.
From start to finish, we had a packed schedule of meetings with a wide range of public and private officials who were able to share a wealth of knowledge about Cuba's social and political history, as well as its business environment from past to present and what's ahead in the future. Our group met with University professors, attended lectures on Cuba's free trade zones, the sugar industry, and met with rum factory executives and newly minted entrepreneurs. On a guided city tour, we were even fortunate enough to visit the famous Estadio Latinoamericano ballpark in Havana, home to the Industriales and Metropolitanos baseball teams. All the while, we were able to glean insights into Cuba's economic shift towards capitalism, the possibility of opening up its markets, and how businesses might be able to thrive in the future.
I am grateful to be a part of our MBA program at the University of Wisconsin-Madison, because I'm not just learning about finance, economics and marketing in a class room… I am gaining first hand experience in regards to the global business market. This real world experience is just what I and fellow students need when applying what we've learned in the classroom to the real world and our future careers.
---