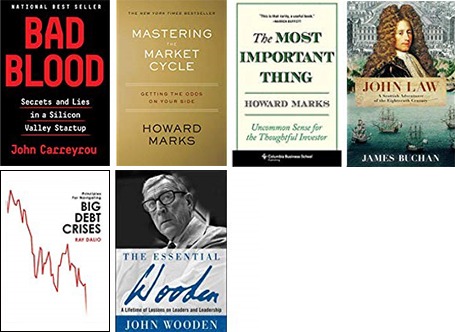 Winter break is for catching up on books that we wish we had read.  Our favorites from this winter include:
Bad Blood:  Secrets and Lies in a Silicon Valley Startup 
by John Carreyrou
Our Rating: ★★★★
Amazon Rating: ★★★★★
Observations:  Highly anticipated account of the fraud inside Theranos; shows the pressures that exist inside a Silicon Valley startup with a grand vision to change the world; recounts incident after incident of sophisticated parties not doing basic diligence and succumbing to confirmation bias; at times reads like a soap opera and may be a conflicted account, but the facts are damming, the regulatory consequences are real and a number of consumers were harmed in the process.
Mastering the Market Cycle
by Howard Marks
Our Rating: ★★
Amazon Rating: ★★★★
Observations:  Howard Marks' (Oaktree) latest book which was an extremely disappointing read; the whole book seems to be summed up in the phrase "reversion to the mean"; seemed overly simplistic, often repeated itself using the same quotes over and over again; overly qualitative analysis without any quantitative support.
The Most Important Thing
by Howard Marks
Our Rating: ★★★
Amazon Rating: ★★★★
Observations:  Howard Marks' (Oaktree) earlier book which is more concise and covers more topics; not a compelling read, but a decent recap of the value investing philosophy with clear explanations of important concepts (e.g., risk adjusted returns); at times just a string of platitudes; good book for an introduction to value investing.
John Law:  A Scottish Adventurer of the Eighteenth Century
by James Buchan
Our Rating: ★★★★
Amazon Rating: ★★★★★
Observations:  Deeply researched history of John Law (a mysterious figure that was a heavyweight in finance and also an outlaw; we don't even have a definite picture of the man that survives); John Law was the architect of a number of financial innovations (that at first rescued public finance in France and then ultimately led to ruin and the Mississippi Bubble); a challenging (but enjoyable) read that is comprehensive in its scope; overly detailed at times and loses its focus, but brings to life the age (18th Century Europe pre-French Revolution, discovery of the new world, etc.); if you like financial history, this is a good read.
The Big Debt Crisis
by Ray Dalio
Our Rating: ★★★★★
Amazon Rating: ★★★★★
Observations:  Thoroughly researched and extremely dense; fundamental analysis and data on historical debt crises that lays out the telltale pattern that recur in these crises; leaves the reader concerned about current economic conditions in the world; must admit that I did not read all of the 48 case studies of prior debt crises.
The Essential John Wooden
by John Wooden
Our Rating: ★★★★
Amazon Rating: ★★★★★
Observations:  Given to me by my students, this is John Wooden in his own words; John Wooden's wisdom on how to build and motivate teams is timeless and we aspire to incorporate his philosophy into our daily activities at the Nicholas Center.
---