Imagine waiting for your job interview to begin. Your interviewer enters the room, sits down, and before you can tell him or her how excited you are to interview with their company and why you want to work there; your interviewer asks, "How many ping pong balls fit in a Boeing 747?" Where would you start? And what would you say? Unfortunately, (or fortunately, if you know the dimensions of a 747 and the area of a ping pong ball) case study questions like these are becoming more and more common.
On September 24, 2013, the Wisconsin MBA program welcomed case study expert David Ohrvall, founder of MBAcase.com and Crack The Case system. He is a Wharton MBA and a former Bain & Company consultant.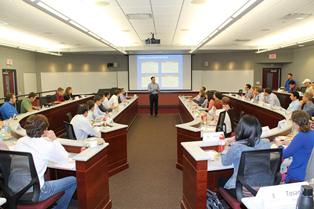 Throughout the day, Mr. Ohrvall taught several case study prep sessions. In the larger groups, he introduced students to common case study problems such as: "Business A is looking to sell its new dog food in Eurpoe, should it?" For this and other examples, he provided a loose framework of how to conceptualize the problem as well as how to communicate it effectively.
Former consultant and first-year MBA student Jason Miller believes communication is key with case studies. "Understanding and analyzing is half the problem. How to communicate the problem is just as important," Mr. Miller said.
Mr. Ohrvall also taught smaller sessions, which required more prep work by students. In these sessions, he provided a case involving WOW Foods, which owned a food cart in Philadelphia and was looking to expand into either Boston, New York, Chicago, or Las Vegas. He provided a short period of time for each student to formulate a business plan, which required considering a variety of issues. Finally, he asked everyone to calculate the profit gap, present suggestions to improve profit margin, and wrap it all up with a final recommendation, while he provided critiques along the way.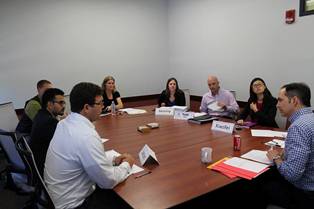 First-year MBA student Brian Plunkett participated in one of these smaller groups. He felt it made him more aware of the entire interview process. "It made me more conscious of how the interviewer thinks, and developing and communicating a train of thought," Mr. Plunkett said.
In the end, Mr. Ohrvall reminded students to showcase their thought process for the interviewer. After all, it's not necessarily important whether or not you get the right answer, but how you got to that answer.
If you're interested in finding out more about Mr. Ohrvall's case study program, you can go to MBAcase.com
---