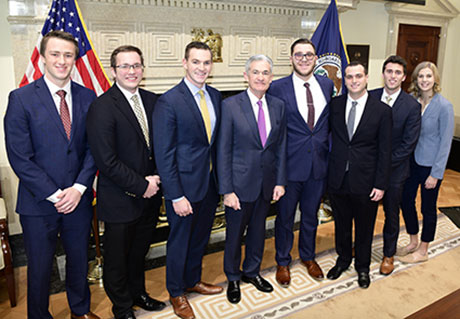 The College Federal Reserve Challenge is a competition sponsored by the Federal Reserve that is aimed at increasing awareness and knowledge of the workings in the Federal Reserve System. The national level competition requires each team give a 15 minute presentation providing an overview and analysis of the economy paired with a policy proposal recommendation. The structure of how each team is to present is up to the discretion of each team. Following the presentation, a panel of three judges who are economists at the Federal Reserve conduct a 15 minute Q&A session with each team.
Team Wisconsin, two of its members are our own Nicholas Center BBA Analysts (Patrick Sweeney and Thomas Costello) competed at the national level held at the Federal Reserve Board in Washington DC. The UW-Madison team took 3rd place, with Yale winning first place, Rutgers in second, Princeton and Virginia Commonwealth were all listed as finalists. Teams were able to meet Chairman Jerome Powell and have photos taken.
The UW-Madison student presentation was focused on an economic analysis and policy recommendation predicated on data dependency. Other teams included more macroeconomic theory and econometric analysis for the basis of their proposals. Q&A questions focused deep conceptual questions such as "how the Federal Reserve should measure if it is meeting its inflation target, and if this target is a good means of achieving the bank's mandate of stable prices." The key to answering these questions is having a deep understanding of macroeconomic theory, a comprehensive knowledge of the state of affairs in global economics, finance, and politics, and numerous research papers and well-known economists to cite on the spot.
---