We are pleased to announce our first publication in the blockchain and cryptocurrencies space – Top Student Perspectives on Blockchain & Cryptocurrencies.  This publication highlights the best research papers from our first class on blockchain and cryptocurrencies. 
The Wisconsin School of Business launched its first blockchain and cryptocurrencies course, entitled Finance 765 / 365 Cryptocurrencies, in the fall semester of 2018.  Although originating from the Finance Department, the course utilized a multidisciplinary approach to explore these emerging, and often misunderstood, technologies.  We opened the course to any student in any discipline across campus. 
Our biggest accomplishment in the class was providing the forum and roadmap for approximately 50 students from different academic backgrounds to study the technologies' fundamentals, to question its value proposition, to share their perspectives and to learn from each other.  It is a testament to the subject matter that future finance professionals, computer scientists, economists, engineers, journalists, accountants, risk managers and marketers joined in this pursuit together.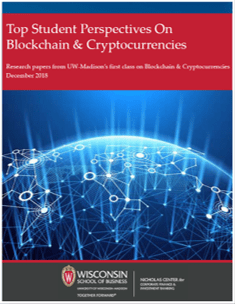 ---