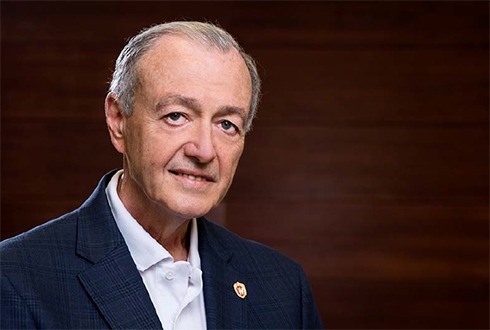 What is an "Executive-in -Residence?" and "Who is Don Condon?"  (Part 1 of a 2 Part Series)
The Executive in Residence program is core to the Nicholas Center's value proposition for students.  In this series of blog posts, we will introduce our Executives (Don Condon and Tom Tefft) and explain their day-to-day role in assisting students.  Part 1 of this series will focus on Don Condon, and Part 2 will focus on Tom Tefft.
Before explaining the details of this program, we need to begin by realizing that the fact that this program exists at all is a direct result of the specialization model at the Wisconsin School of Business ("WSB").  At the WSB, students apply and are accepted to the Nicholas Center for Corporate Finance and Investment Banking (or another specialization area) – not an amorphous general MBA program.  This allow us to create an Executive in Residence program that is tailored to the needs of Nicholas Center students from the beginning.  Focus creates advantages and this program is strong evidence for that maxim.
What is an "Executive-in-Residence?"
Our Executive-in-Residence program seeks to identify senior executives and Board members of leading companies that have a distinguished track record of success. We are looking for executives that have led their organization through the transactions our students learn about (e.g., mergers and acquisitions, initial public offerings, restructurings, divestitures, shareholder activism and other capital markets activities).  At the Nicholas Center, we link theory to practice and our Executives provide the inside scoop on how to lead organizations, corporate strategy, what really matters in these transactions and exactly how companies, advisors and investors interact and add value.  Only a few individuals have been fortunate enough to be at the helm steering organizations through these types of company-defining transitions.
But, that's not enough. Next, we are looking for executives that want to give back and make an impact with students of the Nicholas Center. Our Executives spend time one-on-one with students, provide lectures on important finance topics, assist in applied learning projects and help set the strategy for the Nicholas Center.  We are seeking executives with the passion and time commitment to contribute to our Center.
Who is Don Condon?
Don Condon brings a wealth of global leadership experience, practical insights, and passion to the Nicholas Center.
Don has extensive executive and Board leadership experience at large public companies, including as:
Led Board Committee overseeing balance sheet structuring and debt financing for spin-off of a division of a public company in the face of activist investor Carl Icahn
CEO of a large Southeast Asian chemical company during its IPO (dual listed in NY and Malaysia) that generated significant returns for shareholders
Executive leader during the $35 billion Conoco Phillips merger of equals (and member of the transition team that advocated for the deal to public investors)
Involved in over 200 potential acquisitions and 30 divestitures as at large public companies including DuPont, Westlake Chemicals, Conoco, among others
Executive that led restructuring of divisions and starting new businesses within public companies
Currently serves as a Board Member on a NYSE-listed public company; as an advisor and Board Member of an Asian public company; as a Board Member of a mental health charity; and as President of a family owned Logistics Company.
In addition, Don's leadership experience for the Nicholas Center specifically includes:
Chairman of the Executive Committee for the Board of Advisors
A member of the Nicholas Center Board of Advisors since 1998
Nicholas Center Executive-in-Residence
What exactly does Don Condon do for Nicholas Center students?
To understand how the Executive-in-Residence program works, here is a list of things that Don has done for the Nicholas Center at the start of this academic year.
Gave an applied learning lecture on initial public offerings
Met with each new first-year MBA student twice to provide advice on resumes, career direction and how to get the most out of our program
Met with each second-year MBA student to provide advice on their fulltime job search, offers they received over the summer and other career objectives
Created an individually tailored "buddy list" for all students to connect them with 5 members of our network (e.g., advisory board members, alums, other executives) based on each student's career objective
Hosted a networking event for students, professors and staff to kick-off our new academic year
Organized a presentation from Susan Kreh (global CFO, member of our advisory board) at our kick-off meeting where Susan spoke about the inner workings of a global finance organization, how individuals become leaders and her insights from leading data analytics at a large, multinational corporation
Provided strategic advice to the Academic Director, Director and Assistant Director of the Nicholas Center
Engaged with Nicholas Center Board Members and alums to provide ways in which they could assist students and the program
That's just the first two weeks of the academic year!
Our Executives:  One of the Nicholas Centers' Competitive Advantages
The Nicholas Center prides itself on linking theory and practice and providing students with a robust network to assist in achieving their career objectives. Our Executives-in-Residence are essential to this mission. They have unique experiences leading organizations through major transitions and are committed to helping our students on an individual basis.  That's the power of the Nicholas Center!
---