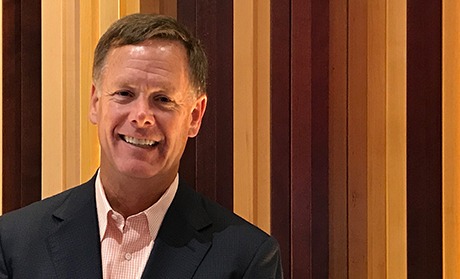 In our last blog post, we discussed why the Executive-in-Residence program is core to the Nicholas Center's value proposition for students.
As we stated last week: 
"We need to begin by realizing that the fact that this program exists at all is a direct result of the specialization model at the Wisconsin School of Business ("WSB").  At the WSB, students apply and are accepted to the Nicholas Center for Corporate Finance and Investment Banking (or another specialization area) – not an amorphous general MBA program.  This allow us to create an Executive-in- Residence program that is tailored to the needs of Nicholas Center students from the beginning.  Focus creates advantages and this program is strong evidence for that maxim."
This week we are going to focus on Tom Tefft, his background and his recent presentation to our studentsk.
What is an "Executive in Residence?"
Our Executive in Residence program seeks to identify senior executives and Board members of leading companies that have a distinguished track record of success.  We are looking for executives that have led their organization through the transactions our students learn about (e.g., mergers and acquisitions, initial public offerings, restructurings, divestitures, shareholder activism and other capital markets activities).  At the Nicholas Center, we link theory to practice and our Executives provide the inside scoop on how to lead organizations, corporate strategy, what really matters in these transactions and exactly how companies, advisors and investors interact and add value.  Only a few individuals have been fortunate enough to be at the helm steering organizations through these types of company-defining transitions.
But, that's not enough.  Next, we are looking for executives that want to give back and make an impact with students of the Nicholas Center.  Our Executives spend time one-on-one with students, provide lectures on important finance topics, assist in applied learning projects and help set the strategy for the Nicholas Center.  We are seeking executives with the passion and time commitment to contribute to our Center.
Tom Tefft brings a wealth of executive and board leadership experience, practical insights, and passion to the Nicholas Center.
Tom's experience includes:
Recently Senior Vice President and President of Medtronic's ($148Bn public company) Neuromodulation business where he oversaw the research and development, operations and sales and marketing functions for products used in the treatment of chronic pain, movement disorders, overactive bladder and urinary retention and gastroparesis
Numerous finance leadership roles at Medtronic including Vice President and Controller for Europe, Africa and Middle East based in Belgium and Switzerland
Currently serves on the Board of Directors of American Family Insurance, several medical technology companies, Children's Hospitals and Clinics of Minnesota and the Dean's Advisory Board at the University of Wisconsin-Madison School of Business
10 years of experience at PricewaterhouseCoopers
Received his BA in account from the University of Wisconsin-Madison
In addition, Tom's leadership experience for the Nicholas Center specifically includes:
A member of the Executive Committee of the Nicholas Center Board of Advisors
Nicholas Center Executive in Residence
What exactly does Tom Tefft do for Nicholas Center students?
To understand how the Executive in Residence program works, here is a list of things that Tom has accomplished since the start of the academic year.
Gave an applied learning lecture on Board Governance and Challenges where he educated our students on how Boards are structured and how they work.We discussed the current situation at Tesla at length including Elon Musk's tweets, the Board's response, the SEC action and our assessment of the Board's performance.
Conducted one-on-one meetings with each first-year MBA student to provide advice on resumes, career direction and how to get the most out of our program
Met second-year MBA students to provide advice on their full-time job search, offers they received over the summer and other career objectives
Hosted a networking event for students,professors and staff
Organized meetings with key employers to help ensure the Nicholas Center is providing value to those organizations
Provided strategic advice to the Academic Director, Director and Assistant Director of the Nicholas Center
That's just in the first month of the academic year!
Our Executives:  One of the Nicholas Centers' Competitive Advantages
The Nicholas Center prides itself on linking theory and practice and providing students with a robust network to assist in achieving their career objectives.  Our Executives in Residence are essential to this mission. They have unique experiences leading organizations through major transitions and are committed to helping our students on an individual basis. That's the power of the Nicholas Center!
---