Alumnae Janet Zeaiter (RMI MBA '14) is no stranger to hard work. Her drive and self-advocacy started early in her career as a commercial underwriter. Realizing that she wanted to expand her opportunities in the field of insurance, she decided to invest in herself by entering the MBA in Risk Management and Insurance through UW-Madison. Janet said, "Personally, it was two of the greatest years of my life! It was the perfect mix of being able to focus on my own growth and development while being surrounded by intellectually curious people who were also at the same stage in their lives."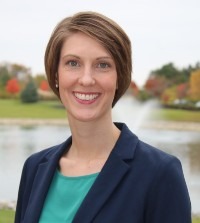 The MBA has been a critical credential for Janet as it allowed her to begin employment at the company that provided her summer internship: Liberty Mutual. She started in Liberty's corporate development program in Boston, moving every six months for 2 years to functional areas in innovation, product management, claims, and distribution. Following, she settled in Seattle for three years and built a team to support Agency Field Operations for Safeco Insurance, Liberty Mutual's personal lines brand for the independent agent distribution channel. That role led her to take a position in Cincinnati where she currently leads a sales and marketing team across an 8-state region. She has enjoyed working for Liberty Mutual since her graduation; they have provided the next level of career growth and development that built upon her experiences in graduate school. Not only do her colleagues at Liberty push her, but they also allow her to try new ideas and strategies, which is professionally rewarding. Janet smiled and nodded, and said, "I feel really lucky."
When asked if there were a topic or class at UW-Madison that she frequently utilizes, Janet laughed. "I didn't expect this to be the case, but it is the Data to Decisions class! My company is data heavy, and we need to make decisions and answer the 'why' question based on data. I use the information from D2D day in and day out!"
Janet offers that students should be intentional about advocating for what they want. She recalled that her professional roles have come from a combination of being good at what she does, and expressing her desires about what she wants to do and the experiences she wants to have. For example, when applying for her prior role as Director of Agency Field Operations, she explained that she needed to supervise people in order to advance her career in the direction she was seeking; within the next six months, the company found a way to make that happen. That experience set her up for leading progressively larger groups including the two teams of territory managers she currently manages.
Then COVID-19 struck. Liberty Mutual went remote in March 2020 and offered an attractive early retirement package to its employees. As a result of people retiring early, Janet's teams lost key members; one of her teams lost all of its members, and with that, its immense knowledge base. It has been an interesting managerial challenge to onboard an entirely new team and build culture while working remotely. Janet is pleased with their progress.
On a personal note, Janet mentioned that she has always been a competitive swimmer. She has been immersing herself (pun intended) in open water swimming the past few years. In fact, she and her husband signed up to participate in an 8-mile swim around Mackinac Island, Michigan, this summer. Considering Janet's talent for thoughtfully preparing for what comes next and advocating for what she wants, it will not surprise anyone when her swim around the island turns out smooth and rewarding.
---