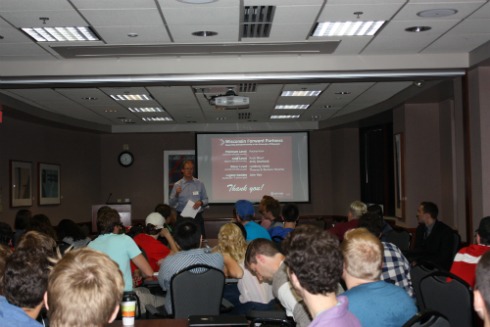 One of the ways that the Weinert Center encourages entrepreneurship on campus is through its Partner Up! event. Held every semester, Partner Up! brings together like-minded students who have a passion for entrepreneurship and developing innovative solutions to big problems. Open to all students, the event acts as a match maker, connecting students who have ideas for new businesses with those who want to join a startup team.
This semester's Partner Up! was held on October 3 in Grainer Hall, and students packed the room. The event began with opening remarks by Dan Olszewski, Director of the Weinert Center. From there, it was the students' show. The students with business ideas each had one minute to pitch their idea and tell the audience if there were any specific types of skills or functions they sought out from new team members. As one might expect, many students were looking for computer science or engineering majors. The pitches spanned many industries, from technology to retail, and from all levels of development, from the beginning stage of an idea to established businesses that were revenue generating.
After each student had the opportunity to pitch their idea, the event opened up to networking. It was exciting to see students flock to those who gave the pitches, and who sought out specific types of skills that were represented in the audience. It was a truly collaborative atmosphere, as students gave each other feedback on their presentation styles, offered business advice, or shared connections. Although many may have attended the event without an idea of what to expect, everyone left with excitement over the state of entrepreneurship on campus.
There is nothing more inspirational than a group of university students working together and helping each other develop new business ideas. Entrepreneurship is alive and well on campus, thanks to fantastic events like Partner Up!
View the Partner Up 2017 Photo Gallery
---