As first-time parents, my wife and I marked each day of our daughter's life with great precision, pride, and anticipation. "She's three days old. She's two and a half weeks old. She'll be four months on Monday. Look, she is beginning to turn over. Soon, she will crawl!" we'd say. Eventually the days, weeks, and months blurred into years, but we continued to experience the same sense of pride and delight.
I could not help but feel a similar sense of pride and anticipation as I arrived at the Wisconsin School of Business in August and began my tenure as the Albert O. Nicholas Dean. As a first-time dean, each passing day and week seemed like a major milestone and a source of continual discovery and delight as I met faculty, staff, students, and alumni, and listened to the stories of their Wisconsin journeys. The early induction into the Camp Randall experience, the amazing beauty of the lakes, the splendor of Badger-red gear, and the warmth of Grainger Hall frame a beautiful collage of my early days. But, just like that, 90 days have whizzed by, presenting an opportune time to reflect on what I've observed before the inevitable blur of passing time.
Though I officially arrived at the Wisconsin School of Business in August, my engagement with the WSB community began last January as soon as my appointment became official. Right away, I recognized the amazing caliber of the School's faculty, staff, and students. The strength of our academic programs, rigorous curriculum, hands-on learning experiences, and successful career placements were impressive. I sensed that the tremendous loyalty and passion of our alumni surpassed any other institution. All of this has proven true since my arrival at Grainger Hall in August.
Listening, learning, and adapting have been the hallmarks of my journey over the past few months. In having conversations with students, staff, faculty, alumni, donors, and partners, I have gained insights into their perspectives and experiences. At the same time, I sought to engender trust and belief in my leadership. Before we work together on new ideas or initiatives, it is important to me that I have built relationships, and I am proud of the strong connections I've made.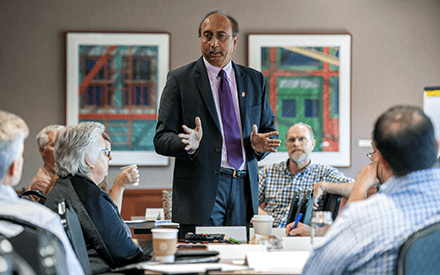 The strategic planning process that we started this fall has helped deepen these connections, because it is intended to capture and empower the voices of many. From the beginning, we emphasized listening to our stakeholders, creating a unique, democratic process that proactively engages many individuals and groups. We started with an intentional structure to guide our efforts, but have built agility into the process, allowing us to surface new directions and discoveries along the way.
This process continues to unfold, but I'm pleased with the widespread participation that we've already seen. Nearly 100 percent of our faculty and staff have taken part in some way, as have dozens of students. We have added hundreds of external voices to the process as well. In all these conversations, we have seen strong alignment and consistent themes are beginning to emerge. As I interact with alumni, corporate partners, colleagues, and schools and colleges across UW–Madison, I have found a reservoir of goodwill. Our partners are eager to collaborate and want to help us succeed. We all share optimism and enthusiasm that the opportunities ahead of us are vast and growing.
The outcomes of the strategic planning process will focus our collective attention toward disruptive and transformational forces affecting higher education and position us to build on exciting initiatives that are already in motion. We've seen growth in our top-ranked undergraduate program and are making investments in the student experience and career outcomes. We are examining ways to further differentiate our MBA programs, exploring innovations in the content and pedagogy of these degrees. This fall's launch of three new MS programs in business analytics, real estate, and supply chain management responds to industry demand and bolsters our overall degree portfolio. Clearly, we have much momentum to build on.
Our path forward will become clearer in the next few months when we see which specific domains of opportunity will emerge through the process to frame our strategic roadmap. I am excited about how this work will set a direction for the School. We will commission action teams to investigate some of the important opportunities and develop performance indicators and actionable tactics. This may involve some experimentation, as we try new approaches and improvise. I anticipate launching some new initiatives as early as Summer 2020, while others will take shape over the next couple of years.
By then, of course, I will no longer be counting days or weeks in my new position. But, I know I'll still be just as enthusiastic about the success of this School and its community as I am now. I will continue to listen and learn from those around me, as I know the work that lies ahead cannot be done by me alone. Together, we will move the Wisconsin School of Business forward, driven by innovation, collaboration, and inclusion.
I arrived here in August with a great sense of optimism. Like new parenthood, I didn't know exactly what the future would bring. But if the last 90 days are any indication, the journey forward is a bright one.
On, Wisconsin!
---