American Family Insurance has gifted $675,000 to the Wisconsin School of Business, continuing a long-standing partnership between the two organizations. The contribution, along with a matching gift from an anonymous donor, created the Distinguished American Family Insurance Chair of Risk Management and Insurance.
American Family Chairman and CEO Jack Salzwedel is glad to further strengthen American Family's relationship with the School.
"We are tremendously proud and honored to partner with the Wisconsin School of Business and its top-ranked insurance program," says Salzwedel. "Together, we're creating opportunities for scholars and students to innovate and advance our industry for our customers."
The partnership with the Wisconsin School of Business began in 1990 with a gift from American Family that created a full professor of risk management and insurance. By 2004, subsequent gifts from the company established a chair in that same area of study.
This latest gift elevates the chair to the distinguished category, providing resources that support fundamental research, which include the recruitment and retention of world-renowned research scholars. The results of these research initiatives become the cornerstone of exemplary educational programs at the #2 ranked insurance program in the country that help develop Wisconsin School of Business students into future industry leaders.
"With a long history of collaboration with the Wisconsin School of Business and the larger university community, American Family Insurance is an indispensable industry partner," says François Ortalo-Magné, dean of the Wisconsin School of Business at the University of Wisconsin-Madison. "We're excited that their generous gift will propel vital research in the risk management and insurance field, which will enhance learning experiences for our students and generate inspiring ideas that will help address today's challenges."
Professor Joan Schmit now holds the Distinguished American Family Insurance Chair of Risk Management and Insurance. Schmit has served on the Wisconsin School of Business faculty since 1988.
Her areas of expertise include insurance regulation, enterprise risk management, and the interaction of law and economics in an insurance and risk management context. As one of the leading researchers in the field, Schmit serves as an associate editor for the Journal of Risk and Insurance and has published extensively in insurance and legal journals.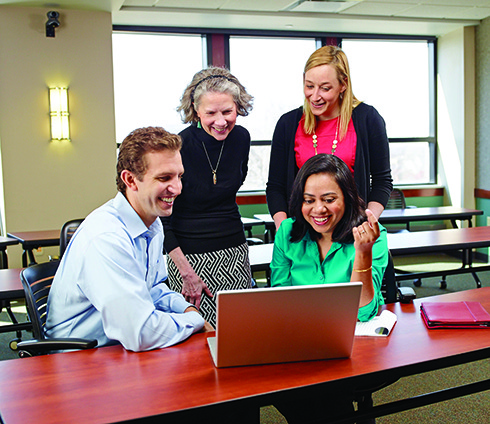 Schmit says the gift will allow her to continue research in key areas, including reputation risk, which examines the loss of value resulting from a negative change in reputation, as well as the development of the micro-insurance markets like commercial insurance programs for low-income customers in developing countries.
The gift also will provide Schmit more opportunities to translate research into real-life learning experiences for students.
"American Family's generosity further allows me to offer students expansive applied learning experiences, such as the student global trip to learn from other leading insurers, reinsurers, brokers, and consultants, in addition to opportunities for students to attend industry-sponsored events," Schmit says.
Beyond the Wisconsin School of Business, American Family also has deep ties with UW-Madison. American Family's relationship with the university spans more than 30 years with more than $20 million in financial support, including a $10 million gift in 2003 that created the UW Health American Family Children's Hospital.
In addition, American Family and its employees continue to actively support UW-Madison students through networking, recruiting, and mentorship programs.
---