Titles don't mean a lot to John Peirson (BBA '88). To the CEO of Deloitte Risk & Financial Advisory, it's more about the experiences that bring someone to their position and not the position itself.
Peirson shared some of those experiences with an alumni audience during the Wisconsin School of Business' first Badger Executive Talk, a new virtual speaker series featuring executives from the WSB alumni community. Vallabh "Samba" Sambamurthy, Albert O. Nicholas Dean of the Wisconsin School of Business, led the conversation and fielded questions from alumni.
Peirson, who is based in Minneapolis, leads more than 15,000 professionals who help businesses navigate risks and opportunities to help them become more trustworthy, resilient, and secure.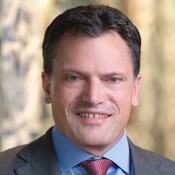 "If someone would have asked me early in my career if I would be the CEO of Deloitte Risk & Financial Advisory, or of anything, I would have said no," he says. "As I've thought about my career, I never really planned it out in terms of titles."
There is some irony to the one he has now, however. When Peirson graduated in 1988, he interviewed with all of what were then known as the Big 8 accounting firms. He received seven offers and accepted an offer from Arthur Andersen. The only firm that didn't offer him a job was Deloitte.
"My career wasn't a straight-line trajectory," he says. "I joke about this but my career has been a lot like Chutes and Ladders. There are a lot of places where I went up, and places where I went down. My advice is to focus on the opportunities you have and learn from the setbacks."
In a wide-ranging discussion about leadership with Sambamurthy, Peirson addressed a number of topics and offered a variety of advice to the Business Badger community.
Leading through disruptions and challenges: Peirson's career has coincided with 9/11, the shutdown of Arthur Andersen, the 2008 financial crisis, and now the pandemic. "I try to convey that 'this too shall pass.' You have to deal with the crisis at hand. You need to respond, you need to recover, and you need to thrive."
Forming a leadership foundation: It started at a young age, Peirson said. His parents owned an appliance and electrical business, where he eventually worked in high school and college. "My parents talked about the business during every dinner conversation. The thing that stuck with me most was how critical it was to them to earn and maintain the trust of their employees and customers."
Beginning a business career: Peirson began as an engineering major, but a conversation with WSB accounting professor emeritus Jerry Weygandt inspired Peirson's career path. "That was when I decided I wanted to be an accountant and a CPA," he says. "That's because of how he explained how critical it was, how accounting was the language of business, and how critical CPAs were to the financial and capital markets. That really stuck with me."
Learning from turmoil: As a new partner at Arthur Andersen, Peirson understood what that role truly meant when the firm shut down in 2002. He recognized "true partners," he says, as those who worked together to find the best solution for the company's employees after it went out of business. "What it meant for me about being a leader is that it's not about you, it's about the team you have and your responsibility to the professionals you lead. That shaped how I make decisions today."
Recognizing opportunity: Three years after joining Deloitte as an audit partner, Peirson was asked to take a leadership role with Deloitte Risk & Financial Advisory. It was an area in which he didn't have much experience and hesitated before he said yes. "I went into it and was passionately inquisitive; I still am to this day," he says. "I really tried to understand the team—what drove them and what led to their success so I could lead them in the right way."
Experiences matter: It's what can differentiate leaders from other team members, Peirson says. "We're all smart, we're all hard-working, we all graduated from college. What separates us are the experiences we've had. Don't hesitate on opportunities that might look like a lateral move, because they might be a chance to get different experiences."
Badger Executive Talks will continue on Aug. 26 with a conversation with Tom Westrick (BBA '90), chief quality officer at GE Healthcare. Gayle Fuguitt (MBA '80), former vice president of global consumer insights at General Mills and former chief of customer insight at Foursquare, will be featured on Oct. 6. Two more talks are planned for early 2021: Cheryl Stallworth (MBA '81), co-founder of ShedLight and former CEO of Firefly; and Ericson Chan (BA '90), CEO of Ping An Technology.
---