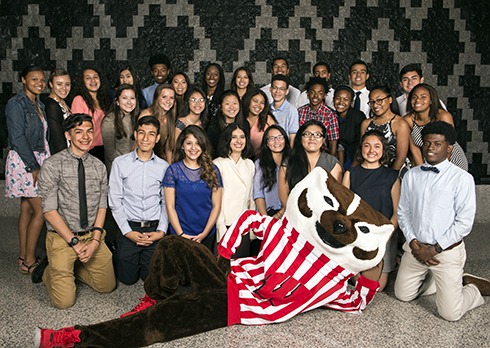 A group of young faces at Grainger Hall this summer should become familiar faces in future summers and beyond, thanks to a new program at the Wisconsin School of Business designed to start top-performing high school students on the path to careers in business.
The Business Emerging Leaders (BEL) Program at the Wisconsin School of Business launched in July 2016 with an inaugural cohort of 30 BEL scholars. The goal of the program is to identify high-achieving 10th-grade students from diverse and underrepresented backgrounds and support their journeys to becoming Business Badgers. Beginning after their sophomore year in high school, BEL scholars come to the University of Wisconsin–Madison campus for annual weeks-long summer sessions to take the first steps toward a business education.
It's the first program in Wisconsin, and possibly the nation, to provide multi-year academic and career exploration in business for high school students.
"Waiting until students are at our doorstep isn't enough if we want to build a diverse learning community within the School," says Louis Macias, director of admissions and pre-college programs for the Wisconsin BBA Program at the Wisconsin School of Business. "This program and our efforts reflect our core value of diversity and inclusion at the Wisconsin School of Business. We're building the pipeline, reaching back, and planting seeds."
The first group of BEL scholars arrived on campus July 9 for their three-week session. They will return for four weeks after their junior year of high school and five weeks after their senior year. The program is merit-based, and applicants must have and maintain a 3.0 cumulative grade-point average. BEL scholars identify as Black/African-American, Hispanic/Latino, Native American/American Indian, Southeast Asian (Hmong, Laotian, Vietnamese, Cambodian), female, or first in their family to potentially earn a four-year college degree.
[slick-flick url="https://www.flickr.com/photos/125984350@N03/sets/72157671096969830″]
After completing the BEL Program, participants who earn admission to UW–Madison as business majors through the regular undergraduate admission process will receive a full-tuition, four-year scholarship funded by an anonymous donor, as well as direct admission to the Wisconsin School of Business. In all, that creates a potential six-year relationship between participants and the WSB.
"The vision for BEL isn't just about graduating from the Wisconsin School of Business," Macias says. "That's not enough. We want them to be leaders. We want them to go out and accomplish amazing things as alumni."
Commitment from anonymous donor
The BEL Program was made possible by the generous contribution of an anonymous donor committed to helping students of diverse backgrounds join the Wisconsin School of Business community. The program is completely free to BEL scholars once they get to campus.
The financial gift for the BEL Program came two years ago when the School had set strategic goals, one of which was greater diversity and inclusiveness within the entire WSB community, including the student body. Other advocates of this effort included employers that recruit at the Wisconsin School of Business. They want a more diverse student population that better reflects the U.S. and one that has competency and experience with working and collaborating in diverse teams and environments.
"A lot of employers and individual donors looked at the issue and said, 'We've got to do better,'" Macias says. "And a donor shared our commitment to diversity and inclusion and wanted to help support our efforts."
"It has often been said that education is the great equalizer, but that has not always been the case for all students," says Steve Schroeder, assistant dean of the Wisconsin BBA Program at the Wisconsin School of Business. "Thanks to the generosity of one of our alums, we will help break down barriers and provide more students with opportunities to fulfill their potential with a business career."
This year's participants included high school students who have a clear idea of what they want in a potential business career and others who like the idea but hope the BEL Program can provide them with more guidance.
"This brings into focus what I want to do," says Anthony Pittman of Milwaukee, who learned about the BEL Program from a presentation made by WSB staff at his high school. "I'm fascinated by marketing and management but I'm not sure what I want to do with it. I wasn't getting the help I wanted at school, and I wanted to talk with business leaders and other students about it."
BEL scholars feel it's time well spent in the summer.
"This is the best way to spend my summer," says Katie Haghighi of Eden Prairie, Minnesota. "I would give up my whole summer to be here to study and learn."
Haghighi has already taken business classes in high school and hopes the BEL Program can put her on track for her career goal.
"I want to be a Fortune 500 CEO," she says.
Busy on and off campus
As part of the program, BEL scholars made company site visits at Target and General Mills, took part in hands-on learning sessions, competed in a "Badger Tank" contest to pitch products or services, learned about networking, and prepared for the ACT test. They spent time experiencing more of campus beyond Grainger Hall. There were also social events such as a skate night and a Madison Mallards baseball game.
"It's educational, but it's summer, and we know they want to have fun," says Rachel Brooks, assistant director of the BEL Program at the Wisconsin School of Business. "It's a packed schedule, but we did that intentionally. We wanted them to see not just what UW‒Madison and the Wisconsin School of Business have to offer, but what the city of Madison has to offer because that's a significant consideration when picking a college."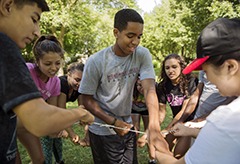 All activities fall within four pillars that form the foundation of the BEL Program—community experience, personal growth, academic excellence, and career exploration.
"At any given moment of any given day, if someone points to an activity and says, 'Why are we doing that?' we can point to one of those four pillars," says Mandi Moy, assistant director of the BEL Program at the Wisconsin School of Business. "That's inside or outside the classroom."
Learning what business is about
This first summer, BEL scholars learn what business is and the career opportunities in business. They might not have a solid picture of that since they're only halfway
through high school, Macias says, and that's okay.
"The conversation we've had among ourselves when planning this was, 'How do you know you're interested in something at such an early age?' So the goal is to cultivate that spark," he says. "If we think about what we majored in and why we majored in it, we found a spark somewhere along the road."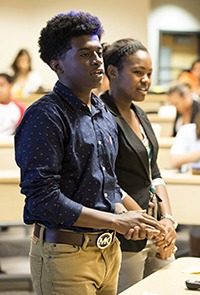 After the summer session ends, staff and volunteers will do monthly check-ins throughout the school year to see how the participants are doing and if they need any resources.
"We want to make sure we are supporting them any way we can," Moy says.
The plan is to see those BEL scholars again—and again and again and again. The goal, Macias says, is for all of them to become Wisconsin School of Business students and then engaged alumni and business leaders.
"BEL scholars are highly competitive students that every business school will want to recruit," Macias says. "This is our chance to make Wisconsin the best choice and show how our community will be enriched with their experiences and perspectives."
As one of many initiatives that reflect the School's commitment to diversity and inclusion, the BEL Program helps BEL scholars make a personal connection with WSB faculty and staff.
"The BEL Program focuses on creating a sense of community at the Wisconsin School of Business and within the UW‒Madison," says Schroeder. "We could not be more excited about this program and the potential to change lives and help realize dreams."
Learn more about the Business Emerging Leaders (BEL) Program at the Wisconsin School of Business
---