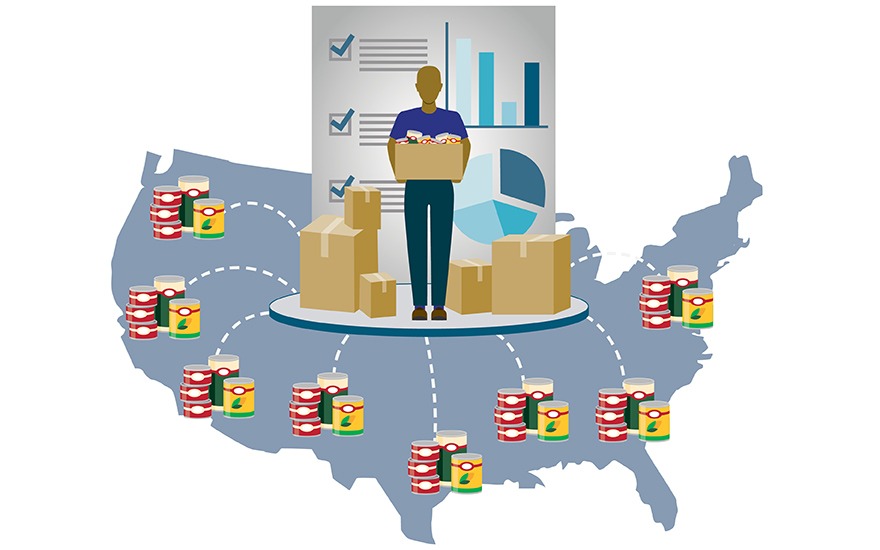 When the COVID-19 crisis first hit, not only were the nation's restaurants impacted, but their behind-the-scenes food suppliers were, too.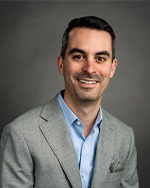 Almost overnight, "if you were growing perishables that were supposed to go to a commercial channel, you had no place to sell them," says Jake Dean, director of the Grainger Center for Supply Chain Management at the Wisconsin School of Business. "At the same time, demand at food banks and in food retail was going up significantly because of the pandemic."
Launched in May, the Food Supply Chain Coalition project connects food banks with food suppliers, helping to get bulk food and resources down to a level where food pantries—which directly serve communities—can use them. The project operates on both national and local levels. Two students from each coalition school—the Wisconsin School of Business at the University of Wisconsin–Madison, the W.P. Carey School of Business at Arizona State University, and the Haslam College of Business at the University of Tennessee, Knoxville—represent the national team, coordinating with major entities such as FoodSource USA and Feeding America. Four WSB students work with local food banks and food pantries, including Second Harvest Foodbank of Southern Wisconsin in Madison and Badger Prairie Needs Network in Verona.
In the early stages of the pandemic, "our initial thought was, 'we can apply supply chain management best practices to reroute this food that would have gone to commercial sources and send it over to food banks instead, along with bringing on board transportation companies and food companies to act as intermediaries," Dean says.
Initially, Dean created a sell sheet outlining the supply chain skills the students could provide, and got the word out to various food assistance organizations in the area. The groups responded positively with ideas, culminating in a variety of projects.
The initiative provided WSB students with a valuable and timely opportunity to work on real-world supply chain issues. Some students had lost internships due to COVID-19, while others had had trouble finding them due to the fraught economic and jobs landscape.
The project's existence is thanks to Grainger Center advisory board member Claudia Knowlton-Chike, senior director of Google's Global Logistics Operations, who was able to fund the students' time through the food assistance initiative, the All In Challenge.
"The thought of people going without the most basic item as food was something I wanted to help fix," Knowlton-Chike says. "At the same time I was receiving notes from students saying that their internships were being cancelled due to COVID. I put pen to paper and developed a plan—outlining the problem and how we could help solve the supply chain problems and put students to work. We have an incredible opportunity to help connect the dots and by working together across many different organizations we can develop a sustainable national food supply chain system."
Dean provides oversight and guidance to the six participating WSB students, who are a mix of undergraduate, MBA, and one-year master's students.
"It's certainly the most humanitarian application of supply chain that I've ever worked on, which has been very rewarding," says Dean. "I think the students would agree with that also."
'We're all in this together'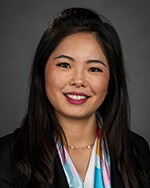 Rile Drevlow (MBA '21) worked on the national team with FoodSourceUSA and Feeding America as well as Forward4Families, a Madison-based organization that manages food delivery for those in need.
Drevlow says learning supply chain "from the books" is one thing, but applying that knowledge in a real-life situation is another.
Conversion was one of her team's primary goals. For example, if a food supplier came forward with a ten-pound block of cheese, Drevlow and her colleagues would relay to the supplier that food banks could not accept it in that bulk size; it must be divvied up into smaller bags that included an ingredient list and expiration dates for the consumer. They worked with Dairy Farmers of Wisconsin to help them understand what the food banks needed—not just the type of cheese, but the way it was processed and packaged.
Drevlow and her national colleagues also worked with two platforms that suppliers can use to redirect their surplus food: FoodSourceUSA's ReposiTrak, and the no-fee donation platform, Feeding America's MealConnect.
Drevlow's group composed a marketing email to suppliers' sales teams on behalf of MealConnect, encouraging them to donate their surplus to the platform and offering to connect them with food banks in need of their specific offerings. Not only does it impact the supplier's community, Drevlow says, but it also helps food producers avoid waste by donating inventory before the expiration date. "Our email notes that 'we're all in crisis mode and we need your help. We're all in this together.'"
Flexing supply chain muscles
During September and October, the students presented their findings to the organizations and handed over deliverables—much of it collected data—to help inform decisions the groups might make next.
Their work made a real impact for the participating organizations. Second Harvest, for example, had asked the students to analyze what a projected sixty percent increase in demand for their assistance would look like based on COVID-19's impact.
Second Harvest President and CEO Michelle Orge is grateful for the students' contributions. "The information they were able to provide would have been challenging for us to put together due to a lack of expertise and staff capacity. Additionally, the work they did gave us information we didn't have before the project began, and gives us a better picture of the capacity within our network of emergency food providers to feed more people."
Karen Dettinger, who oversees special projects and is part of the leadership team at Badger Prairie Needs Network in Verona, says the organization was "delighted" with the work carried out by Amanda Miller (MS '21) and Linh Nguyen (MBA '21).
"Both brought excellent research skills, creative thinking, and a wealth of information about supply chain to their work," Dettinger says. "They identified and evaluated software systems appropriate for food pantries and came up with creative options for inventory solutions that require a mix of technology and manual processes (based upon the constraints we put on the project). Their presentations were excellent."
Dean says the project has provided numerous supply chain takeaways for the students as well: working on a supply chain where profit is secondary, finding worthwhile smaller projects that simply needed coordination, and learning how to navigate uncertainty as well as unpredictable variations in supply and demand. One of the biggest tasks for the teams was learning to communicate about supply chain with organizations that were encountering the term for the first time.
For some students, framing the work on the scale of a small nonprofit was challenging at first. "I was pretty clear to say that 'you're not going to implement a complicated enterprise resource planning system for an organization where their entire staff is 20 volunteers,'" Dean explains.
And the scope itself was daunting. "At least initially, the students and I felt like we could all work on this for the rest of our lives and still not run out of things to do, so trying to figure out where to engage and what sort of research to do was hard," he relates.
Making a real-world impact
Drevlow will be working in a different capacity within supply chain come graduation; she has a job waiting for her as a supply chain consultant with Deloitte. Her time spent with the coalition was gratifying, she says. "This is the living embodiment of the Wisconsin Idea. This is what we as Badgers love to do—to contribute, to make a difference in the world."
Her teammate, Ben Brandenburg (BBA '22), concurs. Working with Forward4Families "meant a lot to me," he says. He and Drevlow examined food insecurity in relation to Madison and the U.S., carrying out a demographic analysis and projecting expenses if food-insecure populations were forced to obtain groceries on their own. Brandenburg says it was rewarding to present their work to groups like the Madison Public Health Department, Madison food banks, and other U.S. universities.
"I am excited to see how far this analysis presentation will take delivery services such as Forward4Families. Being a Badger who spends a lot of time in Madison, I want nothing more than to make an impact in a community that has given so much to me," Brandenburg says. "During these troublesome times, I felt honored to be involved in food supply chain initiatives that could benefit entire communities for years to come."
---