An informal but informative newsletter for WSB alumni and friends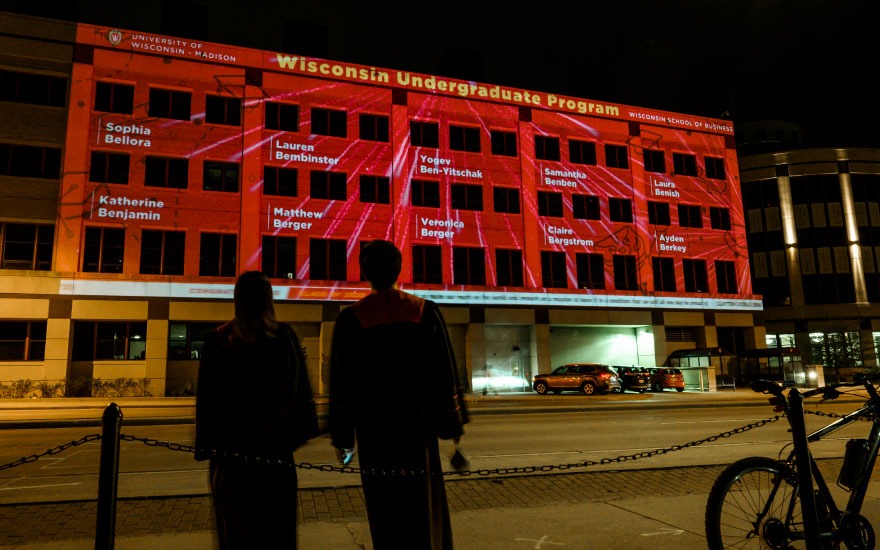 ---
The Briefing
Business Badgers salute Class of 2020
WSB alumni and friends rallied behind the newest members of the alumni community to offer congratulations and support. Business Badgers nationwide shared video messages of encouragement to graduates who overcame myriad obstacles and a switch to remote learning to earn their degrees.
Professor DeCroix: Food supply challenged by disruptions
Supply and demand. The COVID-19 pandemic has upended both, particularly with food supplies. Professor Greg DeCroix, academic director of WSB's Grainger Center for Supply Chain Management, joined other UW–Madison experts in meat and dairy science to discuss current challenges in the food economy and supply chains for a UW Now Livestream event on May 19. "Why are we having struggles now?" DeCroix says. "Disruptions are all over the place."

Professor Posen: Retailers face a survival of the fittest
Most people know we face a changed world when the COVID-19 pandemic passes. That's certainly true for retailers, says Hart Posen, professor of management and human resources. We might have seen the last of already struggling brands such as Sears, Kmart, and JCPenney, he says, but that might mean opportunity for mid-tier retailers such as Kohl's as well as more online and delivery services. Making a general statement about retail is impossible, he adds, because different sectors have been affected in different ways.
---

Tip Sheet
Many alumni find themselves in a situation they didn't see coming this spring: looking for a job. WSB can help, with career resources available to alumni at any stage of their career. WSB staff who work with students and professionals offer suggestions to prepare for a job search in these uncertain times.
Get your materials together. Update your résumé and have a cover letter ready even if you aren't searching now. That could change and you can react quickly.
Take advantage of your network, or build it up. A personal connection might be the best way to learn what is happening at a company right now.
Understand how a job search has changed. Gone are newspaper classifieds and some once-influential job boards. Update your LinkedIn page and use that medium. Find job boards more tailored to your field.
Get comfortable in the virtual world. That might be how you conduct your interview or onboarding, so practice now with friends and family on Zoom or other apps.
Set aside time to search. Create structure for the task of finding a job. For the time being, that is your new job.
---

Back to School
What do 'synchronous' and 'asynchronous' mean and why are those terms relevant now?
These terms have been a hot topic as education has moved online in recent years, and more suddenly this spring with all UW classes moving to alternate delivery. The debate has stretched into the working world, too. Chris Dakes, WSB's director of educational innovation and learning design, provides some insights gleaned from the experience.
Synchronous: This is learning or working in real time. The advantage is you get more back and forth, Dakes says, and it's more personal. The disadvantages can be a rigid schedule and technical demands. "Because many home environments are not set up to be learning or working environments, a person may not have reliable access to the internet, a computer, or a quiet place to learn at the time the synchronous class or meeting is held."
Asynchronous: This is learning or working on one's own schedule. An advantage is people can work or learn at their own pace and if the class or meeting is recorded, they can revisit something they didn't understand at first. It requires a higher level of personal motivation because "no one is there to hold you accountable to show up and focus," Dakes says.
In the office: People accustomed to a synchronous office environment are now working asynchronously, a situation with pros and cons. The 9-to-5 routine has been replaced with doing what one can while tending to a home situation, yet the workforce is being productive. "The COVID response and our need to work from home is challenging traditional management structures," Dakes says. "Management's response to how we reconsider what it means to work on site and remotely is going to be a big organizational shift in the coming years."
---
Alumni Opportunities
June 2: Alumni Webinar: "Leading from a Distance: Best Practices for Virtual Team Leaders"
June 3 Alumni Webinar: "The Entrepreneur's Playbook: How to Survive the COVID-19 Crisis and Thrive Beyond It"
June 10: Alumni Webinar: "Enhancing Engagement and Performance by Leading Inclusively"
July 22: Alumni Webinar: "Empowering Intrapreneurship"
View past webinars: Eight webinars from 2020 and 2019 provide insights into a variety of topics.
---
About Business Casual
Every other month, alumni and friends of the Wisconsin School of Business will receive insider updates with news about our alumni, faculty, students, and programs. If you want to share Business Casual with friends, they can join our mailing list.
Questions or comments? Email businesscasual@wsb.wisc.edu
---