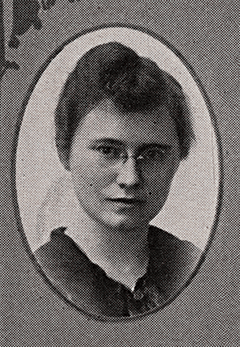 One hundred years ago, World War I was raging. Women went to work to fill industrial and administrative roles as a patriotic duty to support the war effort. Mary McNulty, a native of rural Spring Green, Wisconsin, took a different path. She enrolled in business school at the University of Wisconsin–Madison in what was then known as the Course in Commerce. And in 1917, she became the first woman to receive a degree in business from UW–Madison. Launching her career in Chicago, McNulty later landed an accounting position at Wisconsin Power & Light, where she retired nearly 40 years later, in 1956, as the company's comptroller.
A short time after leaving the university, McNulty penned a feature article for the Commerce program's student-run publication, Commerce–Brains with Business, which left us a great snapshot of the world according to a female graduate during war-time America. A self-proclaimed "Commerce Girl," McNulty was new to the business world when she wrote "Impressions of a Commerce Girl Graduate" and shared observations about her first workplace.
McNulty was clearly impressed with people's attitude toward work, noting: "That the great majority of people have found their peculiar places is evidenced by the fact that everyone who has made anything worthwhile of himself is completely wrapt up in his work and firmly believes that it is more interesting, more important, and more beneficial than any other type of work."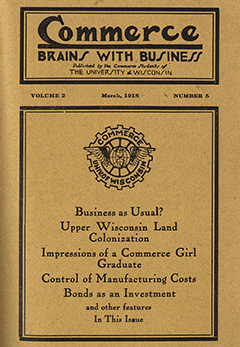 In the large environment she encountered in Chicago, McNulty further noted that the roles of so many workers were "by training and experience particularly fitted." The flowery language represents the era, but much the same holds true today.
The number of women in the workplace surprised McNulty, although the notion of women in business was increasingly accepted due to the war. Organizations placing women in traditional male roles found that the positions could be filled very successfully by women, she said, who were "faithful, industrious, and capable."
McNulty felt treated fairly in the workplace. "As far as I have been able to see, in Chicago at least, there is very little prejudice against women in business." Hard work in all endeavors was required as citizens pulled together to support the war effort. Still, McNulty notes that possibly "due to the fact that we had to work so hard in the Wisconsin Course in Commerce … I had the exceedingly pleasant surprise of finding my work since leaving college easier than I imagined it would be."
At the end of her impressive career, McNulty recalled that in college, when she planned to take an accounting course offered in North Hall, "They advised me it would not be worth my while because I would never be involved in accounting as a woman." She added, "I ended up in charge of accounting for Wisconsin Power & Light Company, one of the biggest firms in the state."
There was lack of prejudice, but there was not parity. She notes that there were still differences in pay, but she adds, "I feel positive that more and more women will make [business] their life work until they stand on an equal footing with the men." That was an optimistic view for its time, and one that remains a challenge and opportunity in many workplaces.
The Wisconsin School of Business continues to open doors to professional opportunities and increased earning potential for women.
"At the Wisconsin School of Business, we are proud of our 100-year legacy of supporting women in business and developing inclusive leaders," says Binnu Palta Hill, assistant dean for diversity and inclusion. "To reaffirm our commitment to gender equity and excellence, in 2015 we were among the first business schools in the country to sign on to best practices for increasing opportunities for women in the 21st Century, a joint initiative founded by the White House Council of Women and Girls, and the White House Council of Economic Advisors."
Today, McNulty would see the same values of commitment and hard work in Wisconsin School of Business graduates. She would find the School has a vibrant and diverse community of students and alumni and would experience a business school that continues to offer high-quality education that shapes tomorrow's leaders. McNulty would see a range of programs and curricula that goes far beyond basic business preparation, and that zeroes in on a wide spectrum of leadership skills to position students for successful careers.

The School offers numerous options to prepare effective leaders, including:
The Wisconsin Evening and Executive MBA programs, ranked #1 in Wisconsin
The Wisconsin Full-Time MBA, ranked #1 in ROI, providing exceptional value and offering a unique curriculum with ten industry-specific areas of specialization
The Wisconsin BBA, our undergraduate program that continues to attract top students from around the world, ranked among the top 10 best public business programs in the U.S.
The business program that launched Mary McNulty's career 100 years ago is similar in its values today: hard work and targeted purpose that yield a highly respected Wisconsin business degree. McNulty blazed a trail that has widened to a superhighway where Wisconsin continues to prepare people for careers who are, in her words, "by training and experience particularly fitted."
Sources:
Badger Yearbook, 1918; "Impressions of a Commerce Girl Graduate"
Commerce: Brains with Business, Volume 2, Number 5, March 1918
"The 17ers Just Keep Rolling Along!" Evan Davis, UW News Service, published in Wisconsin Alumnus, Volume 78, Number 4, May 1977
---