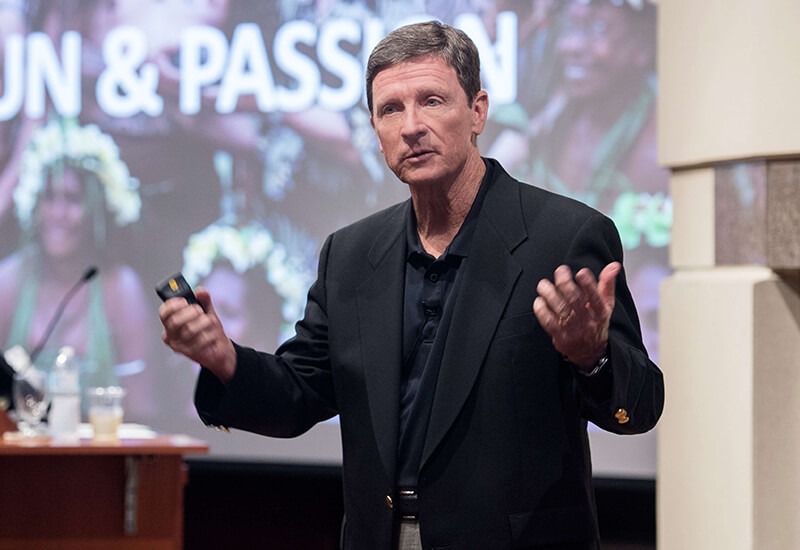 From SeaWorld photographer to managing a multi-billion dollar enterprise, Davis' passion for his work and commitment to providing excellent customer experiences have remained constant.
Universal Orlando Resort President and Chief Operating Officer, Bill Davis, remembers it like it was yesterday. A SeaWorld photographer at the time, Davis was photographing the famous orca whale, Shamu, when a little girl ran up and pressed her face to the glass enclosure. As Davis watched, the whale suddenly swooped up next to the glass, mere inches from the child's face. Their interaction and the look in her eyes was priceless. It was an epiphany moment.
"I want to be a part of a company that can make that kind of an emotional impact," he told his wife, Becky. "We are going to be in this industry. It might not be with SeaWorld, but I want to be in an industry that can make that happen."
As it turned out, Davis did stay with SeaWorld, moving up the ranks from photographer to managing three of the corporation's parks before moving to Universal Orlando Resort. He's been Universal Orlando's president and COO for twelve years.
Davis recently met with Wisconsin MBA students to discuss career growth, leadership principles, and customer experience as part of the Wisconsin School of Business's M. Keith Weikel Leadership Speaker Series.
Thriving As a 'Generalist'
As president and COO of Universal Orlando, Davis's workplace is a theme park. But being in charge of a multi-billion dollar company with 24,000 employees is a staggering amount of responsibility.
Having broad knowledge about every aspect of Universal Orlando has helped Davis excel. "I have to know about our business on what I call a granular level," Davis says. "I'm not an expert in everything—I couldn't build a roller coaster for you—but I'm kind of a generalist. I know the elements that are needed, and I know a little bit about a lot of stuff."
Davis describes an operational and philosophical approach that hinges on dedicated customer service and attention to detail. He laid out the business principles that allow Universal Orlando to thrive:
Continually reinvest in your product
Provide unforgettable experiences for customers
Produce fantastic marketing and invest in a high-caliber marketing team
Have excellent operations and make sure to take care of every employee
Make sure the venture overall is profitable
Management By Wandering Around
Davis says he's a big believer in MBWA, or "management by wandering around." Every Saturday morning, he hits the gym and then heads to the Universal grounds, experiencing the park through his visitors' eyes.
Knowing customers and taking time to put yourself in their shoes is an essential part of leadership no matter if you're selling radiators, doing corporate consulting, or providing families with unforgettable roller-coaster-filled vacations. Understanding every step of a customer's journey and every interaction they'll have with employees is critical.
"When you come to our parks, you as an individual will interact 52 times with one of our team members," says Davis. "Fifty-two separate interactions. Part of my job—part of everybody's job—is to make sure that those 52 interactions are good. Not 51 of them. Not 50. Operational excellence is key."

While day-to-day operations are a key focus of Davis, he recognizes the importance of tying that to high-level goals. Another focus for Davis is to "look over the horizon" at what might be the next new trend or development. Keeping your eye on trends ensures you'll be at the forefront of your industry and not playing catch up to your competitors. Constant re-evaluation is a requirement to make sure your business is offering the best possible experience for its customers. For Universal, that requirement has led them to tap into the entertainment market in China with a new park in Beijing being planned.
Finding Career Satisfaction
With Davis visiting for the M. Keith Weikel Leadership Speakers Series, Wisconsin MBA students got a chance to look over their own horizons and the next big thing in their careers.
Showing the groundwork for his success and job satisfaction, Davis gave a view of a top executive who has dedicated his work to providing meaningful experiences for others.
Above all, Davis encouraged the students to choose a career they really love and can have fun doing. "Be passionate," Davis says. "Don't settle for a job or a position that you're not happy with, that you can't enjoy. Because, folks, it's going to go by in a heartbeat."
Read more about the Wisconsin School of Business's M. Keith Weikel Leadership Speaker Series.
---