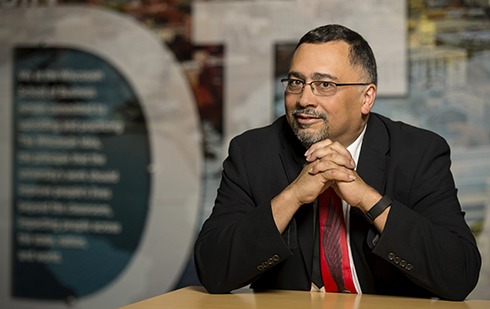 Even though Jorge Cardona (MBA '96) is a numbers guy, it's his words that can make the greatest impact.
Each year he speaks with high school students at a Hispanic/Latino career and college fair and knows his presence makes a difference.
"It's like letting them open a book to see what the world has to offer them so they can envision it in a Hispanic face," says Cardona, vice president of finance at the World Council of Credit Unions in Madison. "It can pique their interest and make them realize there are possibilities for them."
Cardona's education was enhanced by the MBA he earned at the Wisconsin School of Business as a Consortium for Graduate Study in Management fellow. That helped put him on track to move up in his finance career, the bulk of which was spent at Oscar Mayer and its parent company, Kraft Heinz.
"The Consortium is a little fraternity of people who are all fortunate to get the chance to come in and earn an MBA," he says of the diversity initiative that is marking its 50th anniversary this year. The Wisconsin School of Business is a founding partner school of The Consortium.
A knack for numbers
Finance was always part of the equation for Cardona, who grew up in Milwaukee.
"I was the little kid in junior high who would walk around with a calculator," he says. "I would read the newspaper because the SALT II treaty negotiations were taking place, and I would take out my calculator and do the math myself."
He earned his undergraduate degree in international relations, but always had his eye on business and finance. His first job out of college was working in collections and customer service for Toyota Motor Credit Corporation in Deerfield, Illinois.
"You learn a lot about people when you do collecting," he says.
Cardona even worked as a "repo man"—repossessing vehicles—and enjoyed the challenge of it.
"We skip-traced a woman who was on the federal witness protection program. They were really angry," he says. "I found people in the middle of nowhere who eluded everybody else. I've had more than one person say to me, 'How did you find me?'"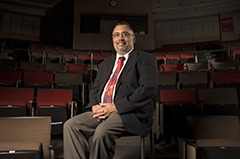 As much as he enjoyed the work, he wanted something better and decided to pursue an MBA. At a graduate school conference in Chicago, he learned about The Consortium and that the Wisconsin School of Business was a partner. He and his wife, Mary, (B.A. '83, M.A. '94) got a chance to return home to Wisconsin and took it.
"Both sets of parents told us we were crazy," Cardona says. "They said, 'You have good jobs, what are you doing?' And we said, 'But not good enough.'"
Telling a story through finance
He was recruited by Oscar Mayer in Madison immediately after earning his Wisconsin MBA in corporate finance and investment banking, and worked in finance on some of the most iconic products the company produced, including Oscar Mayer hot dogs, bologna and cold cuts, and bacon.
"I always wanted to work somewhere where the product was tangible," he says. "I wanted to get my hands in something where the product was a physical product, and the money was how you tell the story of that product."
While Cardona's MBA helped him move up the ladder in finance over his 19 years at Kraft Heinz, he still found himself in a unique situation and a minority among a minority.
"I call myself a Milwau-Rican—a Puerto Rican born in Milwaukee—and I never saw another one like me," he says. "When we'd get Hispanics or people who spoke Spanish at Oscar Mayer, they were always from out of town, from another country, or a state with a heavy Hispanic population—even the scientists and engineers."
He hopes that changes for future generations, and does his part to ensure that it will. That's why he makes time to talk to students about his career, and he'll tell them about it in English and Spanish.
"It almost doesn't matter what you say," Cardona says. "They see you, they realize anything is possible, and say, 'We can do that. We can go to college.'"
Learn more about the Wisconsin School of Business's pioneering role as a founding member of The Consortium.
Read more about Wisconsin's "parade of firsts" through its Consortium membership in the past 50 years.
---