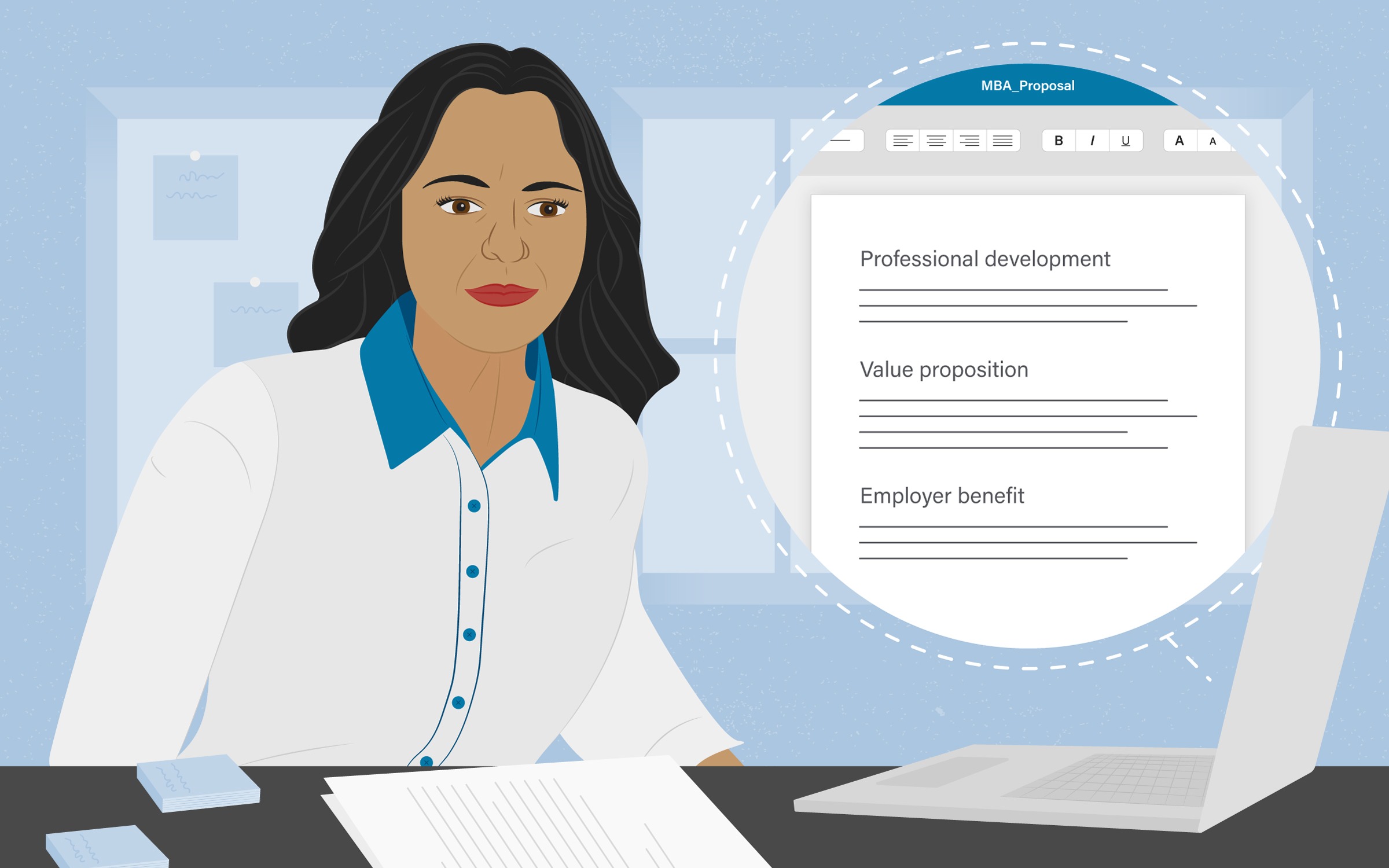 When considering a part-time MBA program, your employer plays an important role in your business school journey. You may wish to request support from your current organization as a part of your application process. Employer support might come in the form of financial sponsorship, limited work travel, and/or time off for class sessions and events that take place outside of regular class hours. Consider the following tactics and strategies as you prepare for conversations with decision-makers.
Conduct self-reflection
Think about the personal and professional growth that can take place during the MBA program.
Consider the following questions:
How will the MBA impact your short-term and long-term goals? Why is your program of choice the right educational partner for you?

How might the skills you develop in the program translate to your current role?

How could an education in business impact your work performance?
Identify your value proposition
Take some time to think strategically about your unique contributions to the organization.
Consider the following questions:
What skills and competencies are central to my career journey? How have I utilized these abilities to support the goals of the organization?

How have I developed strong relationships within the organization?

What projects, initiatives, or directives have I led for the organization? What were the outcomes?
Pinpoint the benefit to your employer
Think about how an MBA will allow you to be more impactful in your current role and support the organization. Use this information to add additional insight into your value proposition.
Consider the following questions:
What are the short-term and long-term goals of the organization? How can an MBA degree help you to support these aspirations?

How might the business school and university network benefit you in your current role?

What expertise resides within the business school community? How might this knowledge help you make an impact at your organization both now and in the future?
Understand the process
It's important to understand the relevant policies and procedures at your organization that may relate to educational support. Becoming a subject matter expert in this space may help you to successfully navigate internal processes .
Consider the following questions:
Are there organizational policies associated with pursuing an advanced degree? Do you need to provide any specific information to your company?

Has your employer supported other employees in the past as they have pursued an MBA?

Who are the key players within the organization that will review your request for support?
Create a proposal
After conducting self-reflection and research, consider compiling relevant information into a thoughtful written proposal for your employer. Doing so may help structure a conversation with your supervisor and provide documentation that may be necessary moving forward.
---
Advance your career while you work with the Wisconsin School of Business
Part-time, 50% on-campus, 50% online, complete in 2-5 years
New program set to launch in Fall 2021
Designed for early to mid-career professionals looking to fast-track to new roles
Every-other-weekend classes on campus, complete in 2 years
#1 executive MBA in Wisconsin (The Economist, 2020)
Designed for executives and leaders looking to reach their full potential
---