When it comes to leadership, many of us probably don't have a clear idea of what the word really means. We may think of it only in terms of larger-than-life heroes, downplaying our own unique skills and abilities and assuming others are the ones with the innate leadership potential.
But what if we had the opportunity to learn more about ourselves and about leadership in an exciting and supportive environment, with the shared knowledge and guidance of top leadership experts and industry professionals?
This May, 40 Wisconsin School of Business undergraduate students tackled just that.
During an intensive three-day summit set against the backdrop of the Green Bay Packers' Lambeau Field, Business Badgers had a unique immersive leadership development retreat experience. Nearly two years in the making but interrupted due to COVID-19, the first-ever summit was designed for students interested in a deeper level of leadership, says Julie Duffstein, director of student life for WSB's undergraduate program office. "This is that next level for students who have done the foundational leadership work, love it, and want more," says Duffstein. "They're looking for the opportunity to get out of their comfort zone a bit."
Applicants were pre-selected and needed to have completed significant progress with at least one of the school's leadership-based Business Badger Badges or have some prior leadership experience with student organizations in order to be considered. Leadership at Lambeau is one of the badges students can earn upon completion, and the entire badge system is designed so that students can also work toward the University of Wisconsin–Madison's Leadership Certificate.
The summit is a "signature experience," Duffstein says. "When we think about the different ways Business Badgers can customize their experience, this is going to be a highlight for many of them. It's a memorable experience with strong learning outcomes, networking, and opportunities to connect with people from the business industry."
Leadership with a business lens
Leadership at Lambeau is made possible in large part thanks to Leadership Training Camp, a company that provides leadership coaching for professional sports teams, including the Green Bay Packers. John Leffin, leadership and personal development coach with Leadership Training Camp, works with the front office side of the organization in training and leadership development.
In partnering with WSB, one of his main goals of the retreat was to "dispel the myth that leaders are born, not made," says Leffin.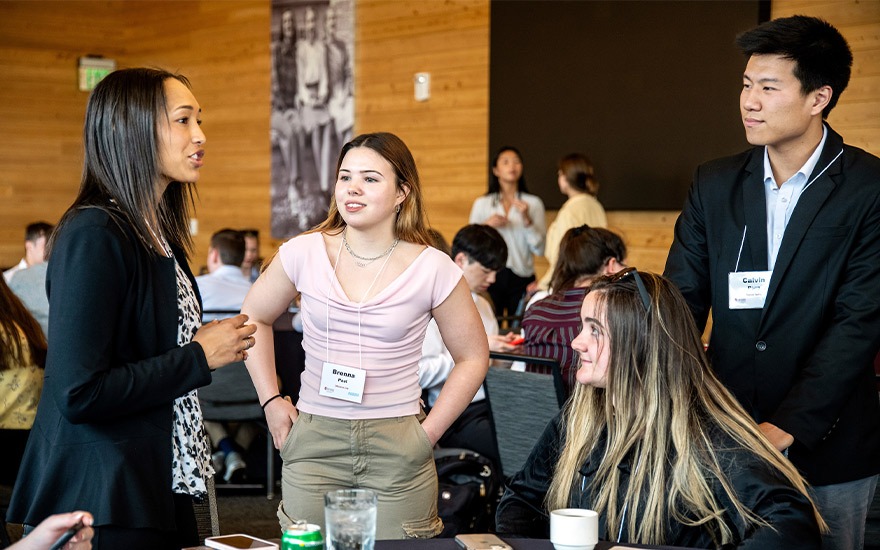 "Everyone can be a leader, regardless of their role or position in an organization. Becoming a great leader requires hard work but is also a lot of fun and incredibly rewarding," he says. "As a leader, the most important thing you can do is help raise up the next generation of leaders. If you do that, you and your teams will thrive."
The core of the summit was working through the "Playbook," a customized curriculum adapted to Leadership at Lambeau from Leffin's similar framework that he uses when working with Packers' front office personnel. Students formed teams of eight to work through leadership principles from the Playbook, with each team including a WSB facilitator and an industry facilitator.
Modules covered topics such as "Difficult Conversations," "Knowing Yourself," and "Leading with Integrity." Each participant received a Playbook, where there were also exercises and case studies to complete and share.
The small groups were intentional, Duffstein says, in order to bring out discussion and sharing experiences rather than simply listening to delivered content. "Thinking about ethical leadership and ethical decision-making, for example: When was a time when you were asked to do something that maybe went against your own values?"
Working in small groups also gives students a chance to see one another as individuals—and to learn to lead that way.
"We don't lead teams," Leffin says. "We lead groups of individuals that collectively make up our teams. Each individual has unique skills, personal situations and motivations. Therefore, we can't always lead everyone the same."
Strong leadership and empathy go hand in hand.
"Great leaders have high levels of empathy," he says. "They take the time to get to know each team member. In turn, those we lead feel valued and respected, and their performance shows it."
Along with working in an inspiring Lambeau environment—groups got to rotate taking turns in the Lambeau Suite and other VIP rooms such as the MVP box suite—other planned activities included networking receptions and dinners, a tour of Lambeau Field itself, and hearing leadership perspectives from Green Bay Packers CEO Mark Murphy and other members of his HR, brand, and finance teams.
Bryce Linssen (BA '24), a pre-business student active in WSB's badge program before attending the summit, says the experience changed the way he thinks about leadership. "It taught me to take a more selfless approach to leadership and that trust is key," he says. "Leaders don't do everything, but they also don't do nothing. Playing on the strengths of not only yourself, but others is crucial, especially in the more team-oriented work setting we see today."
'Two amazing brands'
The idea behind Leadership at Lambeau grew in part out of its deep roots within WSB. Leffin, a partner with the global consulting company Accenture, was one of the original founders of WSB's Accenture Leadership Center (ALC). The center was designed to foster future leaders and to provide leadership programming—one of the first of its kind to be housed within a business school. Today, the ALC continues WSB's investment in leadership through numerous resources available to students, including workshops, sponsoring case competitions, service days each semester, and an annual leadership conference, among many other events and activities.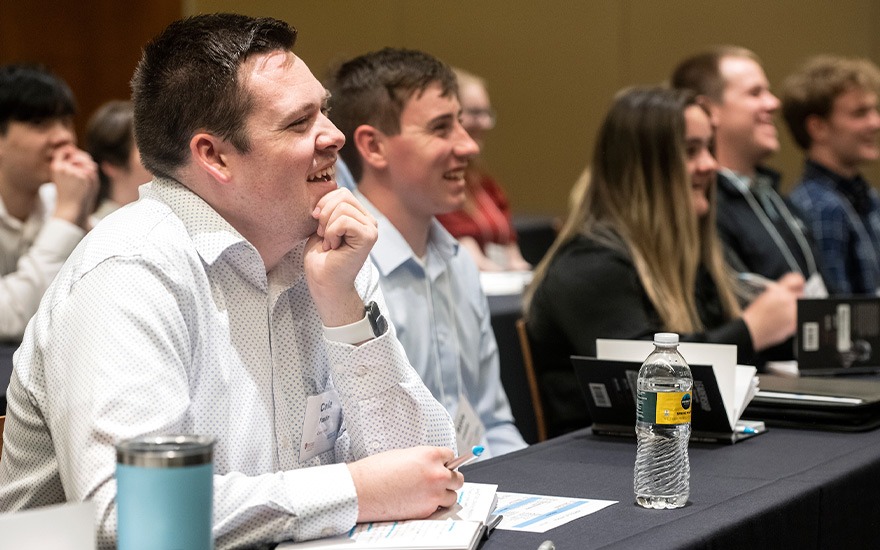 "John had this idea: how cool would it be to bring these two amazing brands, the University of Wisconsin–Madison and the Green Bay Packers, together?" Duffstein says.
Leffin floated the idea, and each side was eager to sign on.
"Both organizations are committed to the growth of their people and make significant investments in leadership development each year," Leffin says. "I felt the leadership program we developed for the front office personnel of the Packers could be used as a base to create a similar offering for UW students. It's been exciting to see this idea come to life and create a win for WSB, the students, and the Packers."
'By far the best'
Duffstein says the feedback from the summit has been superb. Students told her that they were able to open up to each other, to learn, and to share. "I can't tell you how often I've heard, 'I've done lots of these leadership things before and this is by far the best," she says.
"Something in particular that resonated with me was the concept of positionless leadership, or in other words, not needing to be in an executive or managerial role to be considered a leader. It clicked for me that I could still apply a lot of these leadership skills I just learned as an intern."

Bryce Linssen (BA '24)
Leadership at Lambeau has continued to benefit Linssen in his first summer internship. "Something in particular that resonated with me was the concept of positionless leadership, or in other words, not needing to be in an executive or managerial role to be considered a leader," he says. "It clicked for me that I could still apply a lot of these leadership skills I just learned as an intern. Furthermore, I feel like I now have more confidence as both a student and a member of the workforce knowing that I can provide value and knowledge to a company or organization in such a seemingly small and temporary role."
The plan is to make the retreat an annual event, and Duffstein and the team are considering including students who have been through the experience to mentor next year's participants.
Duffstein says she watched a video recently that is regularly shown to students in WSB's General Business 110 course on how impactful storytelling can be. It reminded her of the Leadership at Lambeau time they all just shared.
"I feel like this is the type of experience where every student came away with a different story. That's going to be more memorable than, 'how does it feel to have your strengths and core values clearly defined?' They may not remember the details of that conversation, but they're going to remember the story, the experience, the overall lessons."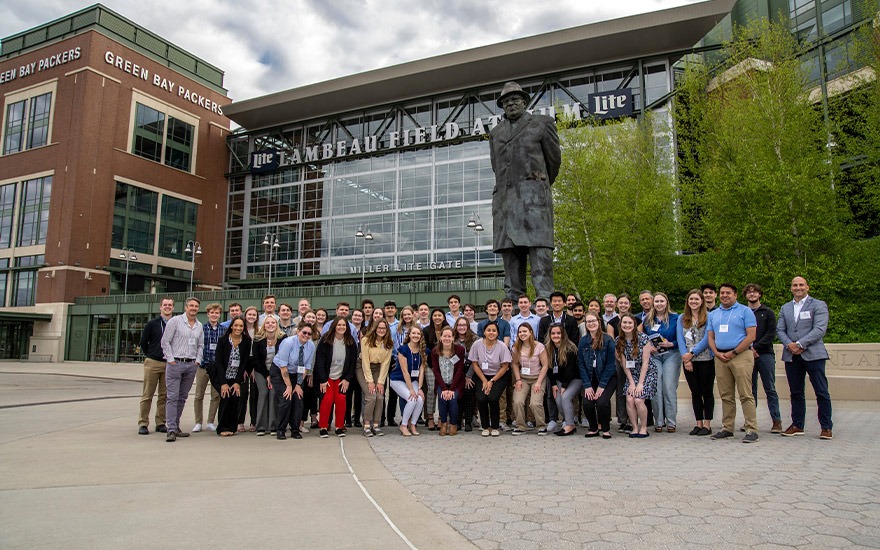 ---