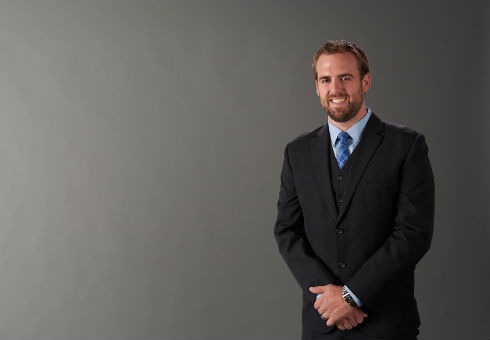 One day last fall, Paul Hoban, assistant professor of marketing at the Wisconsin School of Business, received a call from Los Angeles. Did Hoban have a few moments to talk?
It was a former student from the previous spring's Business Analytics II course, calling to thank him. The student had recently completed a job interview with a marketing analytics firm, and prepared for the meeting by redoing all of the class activities that were still posted in Canvas, the course's learning management system.
"He told me, 'almost everything they asked me, we had covered. I got a call the next day, and I'm starting the job in a couple of weeks,'" Hoban recalls.
Thanks to resources from Hoban's award as the John and Anne Oros Distinguished Chair for Inspired Learning in Business and three years of progressive course redesign work, Hoban and his Business Analytics II students are now reaping the benefits of a deeper level of learning.
As a knowledge area, analytics is a vital building block, something Hoban knew all students would need to master early on regardless of where their individual careers might take them. "It's a rapidly growing field, and it's where a lot of our students are going to start out."
'From data to insights'
The challenge, Hoban says, was to reframe the memorization-heavy business statistics course. "We revamped the course with the idea of teaching students to go from data to insights. Let's focus on interpretations and what these things actually mean."
Like most change, the transformation was gradual. During the first year, the course followed a standard lecture format. Students completed homework outside of class and waited until the next class period to discuss answers and share findings.
In year two, the course transitioned to a 50-50 split: lecture on the first class day, laptop activities on the second. It was an improvement, but still challenging. Students worked off of the different operating systems they brought to class, and moving around the lecture hall to assist students individually was difficult, Hoban says.
Partially flipping the classroom
Last year, Hoban's third time teaching the course, the class moved to WSB's collaborative learning classroom (CLC)—a flexible, nontraditional learning environment that enabled Hoban to partially flip the class. Hoban had started to move some of the conceptual course materials into formats like readings and prep quizzes that students could access outside of class, and he worked with a Ph.D. student to migrate other material into videos that students could view on their own time. The first class day was still lecture, but it was starting to synthesize what students were learning independently.
The second class day of each week, students took a deeper dive into real-world data sets, something they could discuss and collaborate on while in the CLC, all while using uniform computer software and operating systems. Hoban gave students an industry problem to work on and paired it with actual data. With two teaching assistants and classmates all working together, it was a 180˚ difference from when students struggled with the problems at home with no one to ask for help. The sessions also gave Hoban the ability to gauge how students were doing and adjust as needed throughout the semester.
Also in year three, Hoban had received the John and Anne Oros Distinguished Chair for Inspired Learning in Business. The funds allowed him to continue the work he had started with the partial flip but on a deeper level. He now had time to take stock of what worked and what didn't, fine-tune strategically, and rebuild some of the deliverables and activities that he knew could be improved from the first time around.
The award also gave him the resources to create an automated yet personalized grading system—a necessity with more than 500 enrolled students across five course sections. Integrated with Canvas, the instantaneous feedback lets students see their grades as well as their answers, including the correct answer if they got the question wrong the first time.

Groundwork for higher learning
Looking ahead, Hoban hopes to migrate to a completely flipped classroom—moving to the CLC full time—next year. Thanks to the Inspired Learning Chair award and the improvements it generated, he says earlier iterations of the course "pale in comparison" to the current version. "John and Anne's generosity has had an enormous impact on our students already, and will continue to do so as we move toward the full flip in the future."
In the meantime, the groundwork he's put in place so far has helped to move the curriculum forward by eliminating redundancies and accelerating learning. The days of memorizing t-statistics and confidence intervals for his students are over; they can now synthesize and interpret data, extrapolating meaning, instead of repeating equations. Students are coming in saying they already know the material from prior introductory WSB courses, Hoban says, which saves him class time he'd normally need to set aside for review.
Not only did the flipped classroom free up more time for in-class collaboration and activities, but research also shows students learn more from the flipped classroom environment, Hoban says. "Last year when we did the partial flip, we actually saw that happen. To see what the research had promised play out in a real and meaningful way was pretty cool."
The proof is also reflected in something Hoban observed unexpectedly in the CLC when students used the automated grading system he developed. In groups of six, they would submit their answers, scan them, then hang out and brainstorm collaboratively what went wrong.
"That's not something we set up, it's just something they do," Hoban says. "That's where the higher learning happens, where they start to grasp the concepts they once didn't."
Read more about the impact of WSB's Inspired Learning Chairs from awardees Anita Mukherjee and Hessam Bavafa who hold the Michael E. Lehman Distinguished Chair for Inspired Learning in Business.
---