Students entering the Wisconsin BBA Program immediately take on the moniker "Business Badgers." Equal parts identifier, badge of honor, and term of endearment, it's a title they carry with them through their college years and long after graduation, with alumni across the globe using it to bond over a common identity and shared experience.
It's also a title that carries an assurance of career readiness upon graduation, thanks to a well-rounded array of curricular and co-curricular activities that students experience through the Wisconsin School of Business at the University of Wisconsin–Madison.
Innovations in course delivery enhance student learning, particularly in the business analytics sequence. Faculty members recently enhanced both Business Analytics I and Business Analytics II to move students from merely reading data to developing their own insights from the data.
These advancements in the classroom are paired with other out-of-class requirements, like the Excel Now online module, which provides undergraduates with fundamental skills in Excel that are in demand by today's employers. Though not offered for credit, all Wisconsin BBA students must complete the module in order to graduate.
WSB's leadership certificate is another way BBA students are able to demonstrate their standout qualities. Offered by the School's Accenture Leadership Center, students seeking the certificate must participate in a specified list of activities, including leadership coursework, community service, and experiential learning opportunities. Applicants must also complete a capstone paper and presentation in which they assess their growth as a leader.
On-campus activities like these are paired with real-world experiences that expose students to career opportunities in major markets and establish connections with alumni and industry professionals. This April, 73 UW–Madison students—a cross-disciplinary blend of business and liberal arts undergraduates as well as MBA students—experienced an early taste of the widespread Business Badger network during a trip to New York City.
While on the trek, students gained on-the-ground insights into various career paths on Wall Street, helping them confirm their decisions about internships and full-time positions while jump-starting the development of a professional network with fellow Badgers working in finance. Students who took the trip are already beginning to apply to and interview for Summer 2019 finance internships in New York City.
"Our trip to New York really opened my eyes to the vast Badger alumni network and all the behind-the-scenes work they are doing to support the current students," says Theodore (Teddy) Weber (BBA '20).
This Wall Street experience is indicative of the dedicated support all our BBA students receive from alumni, faculty, and school leadership. As our BBA program continues to grow, even more students will gain access to that network of support. More than 2,700 undergraduate students are now enrolled at WSB, more than double what it was a decade ago.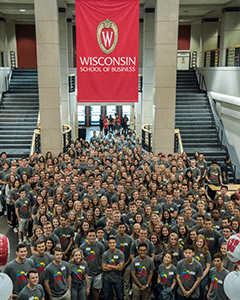 "Demand for our BBA program has long exceeded space available, and continued growth will mean that even more of the best and brightest are entering the workforce," says Barry Gerhart, interim Albert O. Nicholas Dean at WSB. "The quality of our applicants is consistently strong, and we want to provide an opportunity for all those capable, hard-working students who want to pursue a business education."
To further keep pace with demand for WSB courses, an increase in summer term class offerings—both on campus and online—creates more opportunities for business and nonbusiness majors to access the classes they need to prepare for the workforce.
Our incoming students celebrate the moment they are invited to become Business Badgers. It holds the promise of a transformative experience to come, from innovative course delivery to co-curricular activities that ensure our graduates are ready to hit the ground running from day one on the job.
It's all part of being a "Business Badger"—a name that carries the same career-ready meaning on the UW–Madison campus as it does in the Big Apple and beyond.
---