'You can take what you're learning in school and apply it toward improving society.'
The Hult Prize is an international competition that challenges young entrepreneurs to find solutions to some of the globe's most critical social problems. Students from more than 1,000 universities across 100-plus countries compete for $1 million in seed money to fund their venture.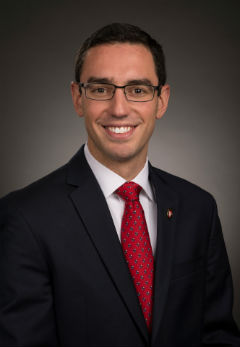 But Greg Forkins (MBA '18), a second-year Wisconsin MBA student with the Center for Brand and Product Management, has a simpler definition.
"It's a lot of moving pieces for a good cause," Forkins says with a laugh. He's been busy: as a back-to-back volunteer, he's experienced the event from both sides—first as a team member during last year's competition, and currently, along with classmate Rushi Patel (MBA '18), one of two University of Wisconsin–Madison campus directors for the Hult Prize.
Strengthening leadership skills

As the UW–Madison chapter director, Forkins has gained valuable experience on virtually every level: leading student information sessions, helping teams streamline their ideas, assisting students with their six-minute pitches, and setting up the UW–Madison Hult Prize case competition, which took place in early December. He also drew on his experience last year as a team member of Protolingua, where he and his teammates designed a language learning app that helps users find resources in any country.
"For me, it's just cool to provide this opportunity because I had such a great experience last year," Forkins says. "It's nice to pay it forward and give others that chance, not only to work on these ideas and think about social entrepreneurship in a new way, but to network with one another and pitch in front of the judges. All of these things are positive experiences for students."
Each year, the Hult Prize puts out a call to action, asking participants to design projects based around a particular theme. This year's challenge was about "harnessing the power of energy." Some students may have struggled with the topic and felt a little more daunted than, for example, last year's call to help refugees, Forkins says. Regardless, the judges are looking at impact, not at how far along a team's project is or how flashy the design. It's a value that dovetails naturally for Wisconsin School of Business and UW–Madison students committed to the Wisconsin Idea.
"Because Hult is a social entrepreneurship competition, the winning projects are not just about being viable businesses—they're the ones that can effect the greatest change," Forkins says. "I think that is important."
Built-in opportunities through WSB programs
As a cross-disciplinary competition, the Hult Prize is open to students of all levels and majors across campus. Many competitors, WSB and non-WSB students alike, have participated in the Weinert Applied Ventures in Entrepreneurship (WAVE) class and other programs offered through the Weinert Center for Entrepreneurship, Forkins says. NovoMoto, the team that won December's case competition with a sustainable energy solution in the form of solar panels for sub-Saharan African communities, was also a finalist in the most recent WSB Business Plan Competition and will represent UW–Madison at the Hult Prize regional round this spring.
Participants also get professional feedback from the judges, who are entrepreneurial leaders from campus and the broader community. "That's one of the things about the competition I appreciate most: it allows for these great organic connections, not only between the teams themselves but between the teams and the judges," Forkins says.
Whether competing or organizing, Forkins says being part of the Hult Prize is a rewarding process. "I do truly think that this is one of the most inspirational events on campus. I think what's so special about it is it really encourages people to take the skills they're learning in the classroom and channel them into real, positive change. You can take what you're learning in school and apply it toward improving society."
---