A summer internship can make a difference in the life of a student, but Peter Wierenga's internship made a difference at Eli Lilly, too.
The 2016 MBA candidate in the A.C. Nielsen Center for Marketing and Research created a database for Eli Lilly and Company last summer that won an award at the pharmaceutical company for Best Market Research Capability Building. It was the first time an intern had won the award, or had even been nominated.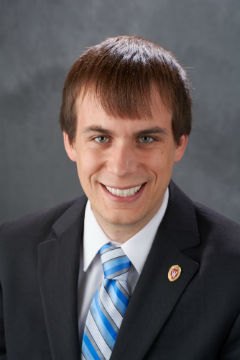 "It was all about getting the information together so they could use it on a day-to-day basis," Wierenga says.
Wierenga worked with data for copy testing, which is an analysis of an advertisement's effectiveness. Lilly Market Research had data from different companies that had tested the ads, but Wierenga's work brought the data together for further analysis.
"It had a long history of being something they wanted to do," Wierenga says. "They had the data in house; there were a couple hundred files sitting in a folder."
Wierenga had learned SPSS analytics software at the Wisconsin School of Business and used it to help build his database. He added touches that he learned while working at Epic Systems Corporation before pursuing his MBA, including a dashboard that mimicked one created for doctors who could easily get information while logging in to use the medical software.
"What I wanted to do with this data was to make an easy way to look at it," he says. "Someone could go in and instantly see how a brand was doing."
It impressed management at Eli Lilly, not just with an award but with a job. Wierenga will begin work as an associate consultant at Lilly Market Research in Indianapolis after graduation.
"It is not an understatement to say the amount of highly technical work Peter accomplished was astounding," says Andy Vicari, who as Eli Lilly's global brand director was Wierenga's supervisor.  "Traditionally, it would have taken us several weeks and thousands of dollars to produce a driver analysis for our brands.  This capability will result in significant savings to Lilly Market Research, all brand teams across the enterprise, and instantaneous response to the business to inform brand decisions."
Wierenga says his experiences in the Center prepared him well for the internship and making an impact with it, both with the technical skills to do the work and the soft skills to know which people to meet and what kinds of questions to ask to make the most of his time at Eli Lilly.
"Peter's work ethic and commitment to thinking through problems thoroughly is a shining example of what the A.C. Nielsen Center strives for in our students," says Kristin Branch, director of the A.C. Nielsen Center for Marketing Research. "Peter's example of going above and beyond to not only answer the questions asked but answer the questions people haven't yet thought to ask is exactly what our industry partners tell us to instill in our students to try to ensure their success. We are very proud of Peter and are looking forward to seeing what he does throughout his career."
---