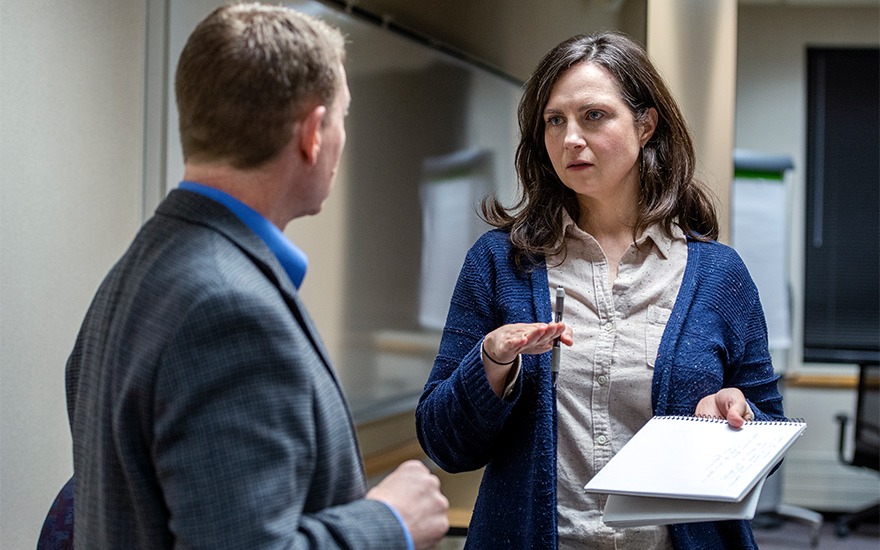 America's vibrant and diverse small businesses are pillars of our economy. With the emergence of COVID-19, each and every one of them is being deeply impacted in a situation we have never seen before in the U.S. Local restaurants have closed their dining areas, offering curbside service only. Medical device and health care screening companies are working to develop vaccines and other medical advances. Businesses with services that operate in close proximity to others, such as beauty salons, daycare centers, and home remodeling, have come to a standstill, faced with the dilemma of how to survive in these uncertain times.
"The U.S. Small Business Administration (SBA) has called on the Small Business Development Center networks throughout the country to really be their boots on the ground in local areas for all the information that's coming out regarding the legislation that provides assistance," says Michelle Somes-Booher, director of the Wisconsin Small Business Development Center (SBDC) at the University of Wisconsin–Madison. "We have been asked to sort of become the voice for all of these programs."
As a center under the auspices of the SBA, Somes-Booher and her team are at the frontlines of the economic turmoil wrought by COVID-19 and a lifeline for Wisconsin's small businesses.
Governor Evers also requested a federal major disaster declaration on March 31, 2020, for the state of Wisconsin, which unlocks different forms of loans and available assistance that Somes-Booher and her team are helping business owners to navigate.
Pre-pandemic, the center had already built a reputation and a foundation of success. Housed in Grainger Hall at the Wisconsin School of Business, the SBDC focused on assisting small businesses—defined as those with fewer than 500 employees—through programs, one-on-one consultations, and non-credit courses. In 2019 alone, the center worked with 450 consulting clients who started 33 new businesses and secured more than $11.75 million in capital.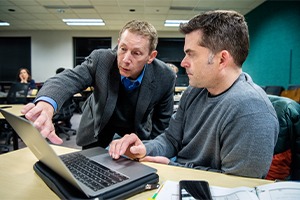 With the onset of COVID-19, SBDC is dedicated to continuing this work. Resource referral is available to any small business owner, not just the center's current clients. Her team has been working overtime to get up to speed on the latest policies and regulations—often only days or hours old—so they can pass that knowledge along to Wisconsin's small business owners.
The SBDC team takes what's often a firehose of information and culls through it, synthesizing and prioritizing into what's immediately actionable for clients. It then gets sent out as a daily listing to more than 4,000 contacts, usually broken down into local, state, and federal lending and grant program categories. The listing also includes information about key areas such as employment options, insurance, and planning. "Many of these large-scale government programs have been created or 'activated' like the SBA Economic Injury Disaster Loans, but they are either of an unprecedented scale or they are brand-new programs that do not have processes in place as of yet, like the CARES Act," explains program manager Heather Ferguson.
The team helps clients with some of the decisions they now face. Are they better served maintaining a cash flow by asking customers to buy gift cards? Or should they preserve that flow by taking out a loan? What regulations must restaurant businesses now abide by? Ferguson and the staff point them to resources that run the gamut from the Dane County Small Business Pandemic Support Program to Kiva, an organization that crowdfunds loans to help underserved entrepreneurs around the world.
"It's 'how can we help in the best way?'" Somes-Booher says. "It's critical we provide them with the most up-to date-information possible."
Somes-Booher provides the following tips for small business owners:
Rely on your community and ask for help. Don't try to go it alone; reach out for help and tap into a larger network. This is a great time to rely on your community. Reach out to organizations in your local area, as they can help you get the resources that are available based on your situation. "People just want to talk to someone and get an answer instead of looking at websites," says Somes-Booher. "Things are changing so rapidly." It's also a good time to reach out to your representative and let them know what matters for you. They can help advocate for new, urgent policies.
Talk through your plan with someone. Whether you're just starting out or years into the business, "everybody's situation is a little bit different and they want to talk through it," Somes-Booher says. "We have people across the spectrum—busy and doing okay to those in the middle to those that are devastated." In these types of situations, scenario planning is important. Do you want to take on more debt? If you are forced to lay off employees, will they come back? Verbalizing it to someone else helps you get clarity about where you should go next.
When you feel overwhelmed, rely on data. "When there's uncertainty, everybody reacts in different ways," says Somes-Booher. Even with her team, there are times when they are trying to assist clients who work in fields where the regulations are changing by the minute. "One of the things we're trying to do is say, 'let's make data-driven decisions based on what we know today, a plan that's simple enough that we can pivot if new information comes.' We want to help people see a path instead of just spin in the upset."
Beware of predatory services. In times of crisis, anxiety can make us feel like taking any action is better than doing nothing. Take your time when taking out a loan, rely on trusted services, and watch out for "deals" that have a crushing interest rate. In many cases, Somes-Booher says, you can apply for a loan without having to accept it right away. If you find a good program and you can apply and delay your decision, it is a good idea to proceed. Doing so will increase your options for the future and give you time to make a decision with, hopefully, fewer unknowns.
Consider how you can meet the changing needs of your consumers. See if there is an aspect of your business that can be altered or expanded. Restaurants are offering curbside pickup, hair salons are asking clients if they can set up future appointments. Somes-Booher's clients come from a varying array of industries, so each of their needs are different as are their opportunities. Her biotech clients, for example, are providing solutions for the medical industry while those involved with childcare have had a tougher time adapting due to changing rules and regulations around COVID-19.
Keep communicating with your customers. Life may have changed, but let them know you are still in operation, even if that's different than before. Review your online presence, messaging, and new or altered offerings. Be realistic about what you are and are not able to offer right now. Think about using a Customer Relationship Management (CRM) tool if you were not doing so before.
Even in the midst of upheaval, the SBDC staff has witnessed great resilience and innovation. "It has been gratifying to hear from some of our longer-term clients that have put plans in place that allow them to pivot during these uncertain times," Ferguson says.
On a recent day, Somes-Booher spoke with twelve different businesses and talked through twelve different plans. She and her team of six are continuing to attend daily calls, webinars, and have conversations about new policies and regulations to set a path forward for the many businesses our ecosystem relies on.
Small businesses are vital to the economy, bringing new investors, innovations, and growth into their communities. Having to pivot so quickly will create new opportunities for businesses and a new start for individuals that are looking for a fresh beginning, Somes-Booher says.
Sign up for daily SBDC emails.
The Wisconsin Small Business Development Center at the University of Wisconsin–Madison provides no- cost consulting and non-credit courses to help businesses from startup through growth. The Small Business Development Centers were established by the Small Business Administration in 1980 with legislation written by Wisconsin Senator Gaylord Nelson. The mission of the Wisconsin SBDC is to provide education, referrals, sophisticated tools and resources to help businesses evolve while delivering value to our stakeholders.
---