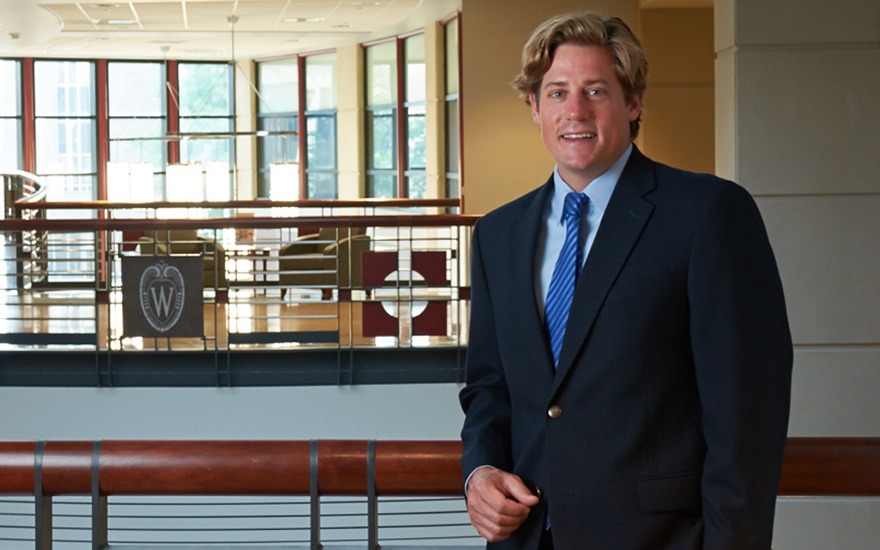 HypoCom, a Madison-based steel widget company, has a global reputation with operations in France, Mexico, and Indonesia. Publicly traded, the company plans to acquire competitors and expand its market share. With so much at stake, it's hard to believe the company has no risk management strategy.
That's because HypoCom is the name of a fictional company, the brainchild of Tyler Leverty, an associate professor of risk and insurance and the Gerald D. Stephens CPCU Distinguished Chair in Risk Management and Insurance at the Wisconsin School of Business. Thanks to support from the John and Anne Oros Distinguished Chair for Inspired Learning in Business, an award that honors faculty innovation, Leverty has been able to bring his idea to life.
"I'm grateful to the generosity of the donors because this is something that I've wanted to do for a long time," Leverty says.
Launched in Fall 2018 in Leverty's risk financing course, the project asks students to put themselves in the shoes of risk consultants invited by HypoCom's board of directors. HypoCom is a hypothetical case, but it is drawn from real-world elements that students would encounter in professional risk and insurance positions. As consultants, students must take the project from start to finish, tackling the initial assessments, final recommendations, and everything in between.
"The course title is risk financing, but this is really a class on corporate risk management," Leverty says. "In the past, risk managers looked at each risk separately. With enterprise risk management (ERM), the way to manage risk is holistically, looking at risks and identifying the connection between them."
According to Leverty, there are three main challenges with teaching a class that covers risk in a holistic manner: every company is different; it is difficult to understand all the risks inherent in a company and how they interact; and it is not possible to put one's risk management plan to the test.
"The purpose of the HypoCom project is to overcome these limitations in important ways," he says.
HypoCom case study design
Working in small teams, students are given an extensive profile about the company with data and information to assess, including corporate structure, operations, competitive environment, and risk management options. Students must address four specific risks facing HypoCom: warehouse fire risk, fluctuations in the price of steel, union strikes, and new entrants (competitors) into the field. Students also need to consider the correlations among these four risks.
Students use software called @Risk to create a simulation model to analyze each risk and its impact on the firm's value, as well as identify appropriate risk management strategies. The teams are then tasked with writing a comprehensive final report that includes recommendations for HypoCom to follow.
Ryan Thielen (MBA '19) says going through the case study process is valuable because it allows students to "simulate real-world experience in a classroom setting."
"The HypoCom case offers a unique experience where students are able to function as consultants to evaluate a risk management problem and provide a strategic recommendation for how a company might best finance multiple risks," Thielen says. "The case provides an opportunity to simulate and practice crucial skills including risk measurement, critical thinking, working in teams, and business writing."
Prioritizing outcomes over answers
By working through the case study process, students are challenged with navigating uncertainty, building communication within their teams and through written reports, and using and interpreting data. Leverty says the mix of students taking the course—undergraduate and graduate students from business and other disciplines—also creates an environment where students can help each other and strengthen their skills while working in teams. Students with strong quantitative skills may shine with data analysis, for example, while other students may have strong written communication skills.
"The outcome that sets this case apart from anything else out there is that the students actually get to put what they've learned in practice by testing their own risk management plan."
–Associate Professor Tyler Leverty
Leverty says learning to navigate uncertainty is probably the hardest aspect for students to grasp. The HypoCom case is intentionally designed with no single right answer. "There may be multiple routes, and to get to the final segment, they have to go out on a limb and make some assumptions," he says.
"Bridging that gap from observing a case study to actually being able to implement one and do it on their own, that's a huge piece," Leverty says. "The outcome that sets this case apart from anything else out there is that the students actually get to put what they've learned in practice by testing their own risk management plan."
A blueprint for the future
Leverty hopes to transfer what he's created at WSB to other institutions. This semester, he's been creating the materials to guide other instructors in incorporating the case study and tailoring it to their own classrooms.
Students like Jenna Herr (MBA '19) have also found the project to be a blueprint they can take with them as they move forward into professional jobs.
"The opportunity to use the analysis to recommend appropriate risk management and to demonstrate risk management's financial impact is what makes this assignment truly valuable," Herr says. "I fully expect to use the process I developed through HypoCom to recommend risk management solutions in my future risk management roles."
Since 2015, the Inspired Learning Chair and Inspired Learning Professorship awards support, recognize, and reward extraordinary scholars who advance business education at the Wisconsin School of Business.
Read about previous Inspired Learning projects:
---