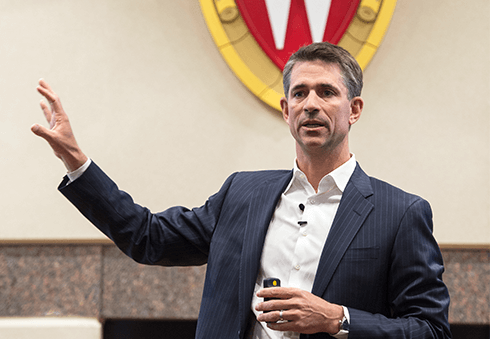 If optimism is contagious, as Kevin Conroy says, then the Wisconsin MBA students who recently heard him speak are certainly infected.
"As a leader, you have to understand that the words you use and your attitude affects other people," Conroy notes. "Optimism is something that is infectious. It can lead organizations."
Conroy, who serves as chairman of the board, chief executive officer, and president of Madison-based biotech company Exact Sciences, recently shared his insights on leadership and entrepreneurship as part of the Wisconsin School of Business's M. Keith Weikel Speaker Series.
He shared the ups and downs of guiding a company through a product launch in the challenging medical field, weaving in lessons about culture, values, and priorities along the way.
A company on a mission
Exact Sciences has a bold mission: to eradicate colorectal cancer by partnering with healthcare providers, payers, patients, and advocacy groups. This mission might sound out of reach to some. But Conroy's confidence, positivity, and sheer will to succeed make it easy to envision the day when colorectal cancer will no longer impact 130,000 Americans each year as it does today.
The company has developed an easy, noninvasive screening tool called Cologuard that detects early stage colorectal cancer, potentially increasing survival. It's a more patient-friendly alternative to the colonoscopy, which many people avoid due to its inconvenience, discomfort, and potential complications.
"The rational way to win the war against cancer is through screening—to detect the disease at its earliest, most curable stages—and by developing drugs that work on early stage cancers," Conroy said.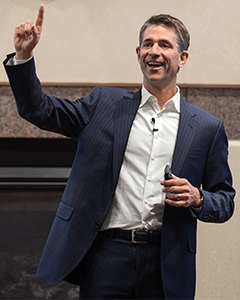 It's a big goal, but Conroy is not one to shy away from a challenge, and he urged students to act likewise as they continue their careers.
"Find a big problem that you can really roll up your sleeves and try to solve. The bigger and more difficult the better, because usually if it's a hard problem to solve, it can benefit a lot of people."
Making a positive impact on people clearly drives Conroy, as he spoke about the importance of corporate culture and employee engagement in delivering company results.
"The most satisfying thing is to see the success and happiness of people around you. As a leader, you can have a huge impact on that."
Growth through collaboration
Despite Cologuard's success rate with detection at 92 percent for colon cancer, the road to product launch hasn't always been easy.
When Conroy joined Exact Sciences in 2009, the company was already 14 years old, and though it was publicly traded, it had no product. So Conroy and his first colleague Maneesh Arora got to work. They relocated the company from Boston to Madison, set up a small office, and spent the first 30 days writing a business plan.
"It was just the two of us in a room trying to figure out how to make a difference," reflects Conroy. "One of the very first things we did was define our core values. We had five things that no matter what business we ended up in, we could say 'let's build a company around these ideas.'"
Their five values—innovation, quality, teamwork, accountability, and integrity—guided the process of developing Cologuard and getting it to market. In the early days of his tenure, Conroy formed a partnership with physicians at Mayo Clinic who helped develop the screening tool. The nature of this collaboration was, and continues to be, critical to the success of the company.
"It is a unique collaboration in that we said, 'It doesn't matter who develops the intellectual property, or who comes up with the great idea,'" Conroy says. "For as long as the product is sold, Mayo Clinic will get a royalty. That said, 'Okay, we're one team. We're never going to fight about whose idea it was.'"
This relationship has yielded complete alignment with the team at Mayo Clinic for the last eight years, and most importantly, led to the creation of Cologuard.

Riding the rollercoaster of business
With the screening product in place, Exact Sciences embarked on a 10,000 patient study—the first time a privately-funded colon cancer screening of this size had ever been done. The data from this study was robust, leading to a steady increase in stock price and a published study in the New England Journal of Medicine. With real credibility in hand, Exact Sciences landed a major milestone when it received simultaneous approval from the Food and Drug Administration (FDA) and Centers for Medicare and Medicaid Services (CMS).
"It was the first time in history that the FDA and CMS on the same day and in the same press release both approved a test or product or device, and Medicare covered it. That was a huge win for us," Conroy shares.
The sense of winning was short-lived, however. Soon after, the United States Preventive Services Task Force (USPSTF)—a group that serves as the gateway to insurance coverage for any new cancer screening test—declared that with only one patient study, it would only recommend Cologuard as an "alternative" screening tool. With both doctors and insurers looking to the USPSTF recommendations, Conroy knew this could be devastating to the company. He also knew that as CEO, his perspective and influence in the wake of this news was critical.
"When times are difficult, people are going to look to you as a leader to see if you're worried," he says. "Just as optimisim is contagious, so is pessimism. This gets to the idea of never quitting."
So, Conroy and his partners went to work. Mayo Clinic conducted another study, wrote and submitted the paper, and got the data published within a 30-day window. Conroy credits Mayo Clinic for this Herculean effort, noting that it all goes back to "treating your partners right."
With the stock price way down, 600 employees on the line, and the viability of a life-saving tool hanging in the balan
ce, Conroy had a lot riding on the company's attempt to reverse USPSTF's decision. But it worked.
"In June of last year I was sitting having lunch, and I got a call from a friend who is an investor. He said 'They accidentally put the new decision out on the USPSTF website…it's favorable,'" Conroy recalls. "They changed their mind. It was great. The task force went our way, and that was a new day."
Perseverance and focus
Since that fateful day, Exact Sciences has grown to nearly 1,000 employees and is delivering soaring results on Wall Street, thanks in large part to the success of a new national television commercial. More than 452,000 people have been screened with Cologuard since its launch, an impressive number but only a small start from Conroy's perspective.
"There are still 79.5 million Americans in the screening population that we haven't gotten to. We have two percent penetration. It's a big deal because we have a long, long way to go."
But Conroy is optimistic and will keep at it. In addition to screening for colon cancer, he wants Exact Sciences to expand into other cancers, knowing how critical early detection is for survival rates of many types of cancers. His big-picture resolve is a reflection of his persistence and dogged focus—two values that he imparted upon Wisconsin MBA students in closing.
"You just have to put your head down. There are a lot of bumps along the road in entrepreneurship. You just have to take a deep breath, go back to work, and work on your priorities."
---