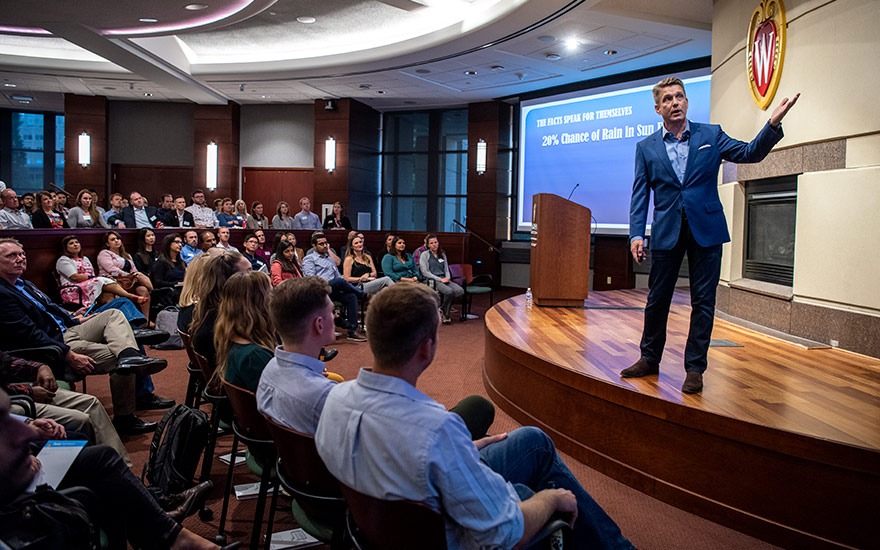 If you have the opportunity to hear author Chris Westfall speak, do it. Just don't expect to sit passively in your seat.
Westfall—a business coach, U.S. elevator pitch champion, regular contributor to Forbes, and coach to clients on "Shark Tank" and "Dragons' Den"—spoke recently to an audience of Wisconsin MBA students as part of the M. Keith Weikel Leadership Speaker Series at the Wisconsin School of Business. Drawing from his eighth book, "Leadership Language," Westfall brought warp-speed energy and laughter as he shared lessons learned, getting the audience on its feet and connecting with each other through exercises that illustrated the book's leadership tools of "authentic communication."
"Leadership is a verb. Leadership is understood and demonstrated in action. It's not just about the words that you choose," Westfall told the audience. "This isn't a storytelling workshop. This is about walking the talk. Living your story is about how you bring it to life."
Westfall offered five ways you can be a better leader right now:
Find common ground. "Start with something that makes a connection," Westfall explains. "It gets people nodding their heads. It gets people listening. It gets people saying, 'Hey, this guy gets it. I'm not sure what he's got, but he's got something.' And that's a great way to start a conversation."
Choose your mindset, or it will choose for you. Sometimes we work so hard at tackling a problem or project, we don't know when to pause. Westfall remembers interviewing a champion extreme surfer, asking him what he was thinking about at the top of the wave. His answer? Nothing. He deliberately cleared his mind in order to execute the task in front of him to the best of his ability. "If we are still researching when it's time to act," Westfall says, "we are planning to be paralyzed instead of riding the wave."
Be able to communicate your vision. You might be excited about where you want to take your company, but is your team with you, or are they a step behind? Let them in on your vision, Westfall says. Be able to share that vision in a way that gets employees motivated and invested as well. "You may see something for yourself that others can't, won't, or don't. When you can bring that story to life, you create a vision that is shared, and that is a very profitable place."
Prioritize people first. "Put down the phone to pick up the conversation," Westfall says. "I write about why people leave organizations, and the reason the research points to is that they don't feel heard or understood. Take a deep dive into listening. Get curious about the people around you."
Ask yourself who will be impacted by your actions. Think about what Westfall refers to as "the empty chair." Whether it's a student impacted by administrative decisions, or a future patient who will use a hospital's costly new MRI machine, he says, "the 'empty chair' is a seat at the table for someone who is not in the room, but who will be directly and dramatically impacted by the change that you propose."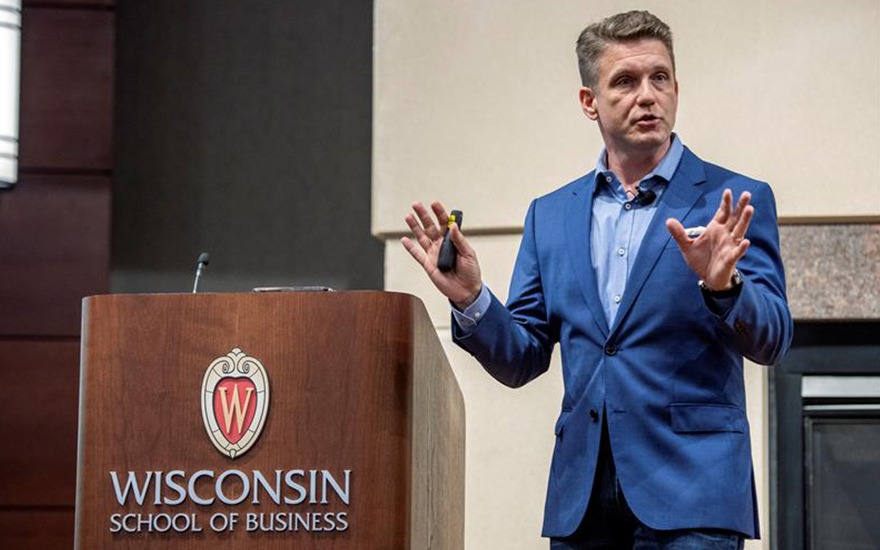 The M. Keith Weikel Leadership Speaker Series at the Wisconsin School of Business enables Wisconsin MBA students to interact with and learn from accomplished business leaders and alumni. Executives from both the private and public sectors are invited to campus to address students.
The series was established in 2004 with a gift by John J. Oros (BBA '71) and his wife, Anne Wackman. Today, the series continues as the M. Keith Weikel MBA Leadership Speaker Series thanks to a gift by M. Keith Weikel (PhD '66) and his wife, Barbara.
---