Any major facility renovation presents an opportunity to improve not only the physical space, but also the process of designing that space and the impact it will have on those who use it. At the Wisconsin School of Business, the soon-to-open Learning Commons offered just that opportunity—prompting School leaders to incorporate sustainable practices into the renovation and long-term use of the transformed space.
A collaboration with the University of Wisconsin–Madison General Library System, the Learning Commons will be an innovative environment that facilitates active learning, collaboration, and community. Set to officially open May 5 for student and public use, the donor-funded project connects Grainger Hall's east and west wings both visually and programmatically.
When construction on the Learning Commons began nearly nine months ago, all parties involved were intent on renovating the nearly 32,000 square feet in alignment with UW–Madison's commitment to being a good steward of resources, says Becky Barnes, WSB director of facilities and event services.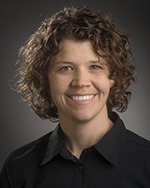 "Everyone from the architects and designers to our partners across campus maintained the highest commitment to reusing and repurposing as many items as possible," says Barnes.
In clearing out the existing library and lab spaces, Barnes and her team yielded only one dumpster of unusable items. Just two dumpsters went to recycling. All other usable items were rehomed and many others—like 35 pieces of carefully wrapped art—were stored for reuse in the new space.
Sustainability can feel a bit like a fuzzy goal, says Facilities Manager Tim Bent Jr., but it's really about looking for new ways to optimize an old space or resource. "Simple changes and incremental improvements can really add up to make a significant difference."
Maximizing square footage
While the Learning Commons project was still in the early stages, the School performed heat mapping on the existing library and computer labs to identify when and how the spaces were being used. The result was a better understanding of the space and how square footage could be maximized.
"When I think about sustainability," Barnes says, "there's a real motivation to increase the usage of the space and not just have vacant, dead space. That, to me, is a more sustainable environment."
Mobilizing furniture was another way the team maximized available physical space and incorporated sustainability. Furniture was removed during the construction phase, and while some was reused elsewhere in Grainger Hall, most of it was donated to places like the UW–Madison History Department, University of Wisconsin–Waukesha, and the UW SWAP (Surplus With A Purpose) Shop.
Optimizing power, saving resources
Barnes and Bent said they looked at ways to optimize power and data sources throughout the renovation. WSB is moving toward a BYOD (Bring Your Own Device) initiative for students, which will ultimately decrease the number of devices that WSB needs to purchase, maintain, and eventually update or discard. In the interim, spaces such as the Huber Lab will reuse many of its computers and other devices. Barnes and Bent say the new space incorporates many more power and data connection options for users.
The Learning Commons team also identified other avenues for making the space more efficient and cost-saving. The need for ceiling tile in the Learning Commons was reduced by 80 percent simply by removing it and leaving much of the ceiling space open. Energy-efficient LED lights will replace older lighting in several locations.
Forward-thinking design 
In addition to promoting sustainable practices in the new space, the Learning Commons team incorporated forward-thinking design elements, such as gender neutral bathrooms, water filling stations, and electronic locks and scanning cards.
The use of glass panels throughout the Learning Commons, for example, harvests more natural light and can double as a writing surface. Bent says the panels contain a jelly insulation that helps with soundproofing and avoids the need for drywall.
As WSB gears up to celebrate the opening of the Learning Commons, the team has another cause for celebration: during the transition phase, Grainger Hall sustained no damage, the facilities and construction crews reported no injuries, and the workers maintained an efficient, fast pace.
"It's great to near the completion of this construction project knowing that we've been responsible with our resources," says Barnes. "We've reduced waste and designed a space that makes smart use of materials and energy—and we've done it all with a committed, skilled team behind it. We will definitely have much to celebrate when the Learning Commons opens."
Read more about the Learning Commons at the Wisconsin School of Business.
---