When marketing research student Alexandra Grinsell (MBA '18) first started her capstone consulting project on veterans in Wisconsin, it was like drinking from a firehose of information. She teamed up with Mollie Monaghan (MBA '18), a fellow member of the A.C. Nielsen Center for Marketing Research at the Wisconsin School of Business, to figure out which problems to tackle, how to keep the scope manageable, balance client expectations, and create deliverables—all within fifteen weeks.
Combined with her regular class load, it was a lot to carry. But with a father who was an Army officer and a brother graduating from West Point, the project held personal significance for Grinsell. It was a chance to work on something that is "a different kind of passion," she says. "This was a great way to give back to the military and the veteran community."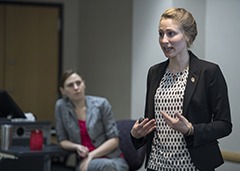 Now in its second year, the Marketing 765: Consumer Insights Consulting Practicum helps students take what they have learned throughout their MBA curriculum and synthesize that knowledge through a consulting project with a real company or organization. The four credit practicum is taught and designed by Kristin Branch, director of the A.C. Nielsen Center, who says it allows students to "learn by doing their future jobs while still under the teaching umbrella."
Students are matched with companies and tasked with taking on a business challenge outlined by the company—which includes everything from identifying and understanding the challenge, applying marketing research methods to elicit consumer insights, creating recommendations for the client company, and ultimately presenting those recommendations to the client at the end of the semester. The bulk of the consulting takes place outside of the classroom as students work with their client companies, but it's complemented with in-class collaborative discussions—once all students have signed non-disclosure agreements—and coursework from Branch on key areas like project management, consulting skills, and communication.
From classroom to corporate
The innovative partnership prepares students for business leadership by shifting their mindset from a classroom orientation to a corporate one, Branch says, while providing significant value to the sponsoring companies. Through these projects, students create "actionable insights" that the participating companies—like Lands' End—can implement. "Through their project research, the MBA students were able to identify key growth opportunities in one of our target markets," said Sarah Rasmusen, senior vice president of e-commerce at Lands' End. "We are applying pieces of their analysis to our digital experience strategies and seeing early results."
Along with Lands' End, this year's companies included Wisconsin Veterans, Microsoft, American Family Insurance, Coca-Cola, Beam Suntory, and PepsiCo. The companies are hands on and invested: Lands' End CEO, Jerome Griffith, Rasmusen, and several of the firm's leaders came to Grainger Hall to view the final student presentation. Students consulting for American Family Insurance presented their final projects at the firm's Madison headquarters, while PepsiCo teams presented on-site at PepsiCo's Chicago offices.
A major factor in why the practicum experience has been so impactful, Branch says, has to do with the caliber of the organizations participating, drawn from recommendations and affiliations with the A.C. Nielsen Center's industry connections, most commonly its external advisory board. The experience and expertise that industry leaders provide sets the School apart from other business schools doing similar programs. It speaks to the "depth of connections industry partners can give students," she says. "To have our students both learn from the partners but then turn around and advise them is a phenomenal leadership development opportunity for students."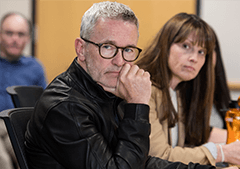 "We incorporate applied learning throughout their MBA experience," Branch says, "but this is by far the deepest and most impactful way we're doing it."
Connecting Wisconsin's veterans
Grinsell and Monaghan's project was slightly different from the others, Branch says, because it was the first time the course had included a "greater good" project into the roster of companies, something she very much wanted to do. The nature of the project also brought the Wisconsin Idea—taking knowledge learned in the classroom and applying it to help others beyond the boundaries of the university—to life.
Grinsell was happy to gain that additional perspective, she said, since the MBA program tends to focus more through a "corporate lens."
She and Monaghan worked with local and state veterans associations and particularly with key client Bunker Labs in Madison, a national not-for-profit with local chapters that helps link veterans with resources to access entrepreneurship and position them as innovators. Using quantitative and qualitative research techniques, Grinsell and Monaghan produced a standalone report on the state of employment and entrepreneurship among veterans in Wisconsin. The study yielded key insights on areas such as the barriers veterans face, resources needed, the level of awareness about those needs on the part of different audiences, and some of the misconceptions veterans face from employers and the general public. The report was based on the student-developed survey as well as future recommendations and avenues of research. The duo presented their final project to an audience of veterans' groups and stakeholders.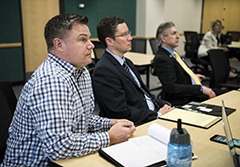 In Grinsell and Monaghan's case, their efforts moved the needle from zero to 100.
"Working with Kristin Branch and WSB's A.C. Nielsen Center for Marketing Research team was a unique opportunity for us to establish state-level research and baseline data where none existed before," said Michael Ertmer, a veteran and the executive director of Bunker Labs.
"It is a perfect example of the impact that the Wisconsin School of Business, the University of Wisconsin–Madison, and the Wisconsin Idea can have. The students' analysis will now be used to help define, target, and improve policies and programs to better serve Wisconsin's military veteran entrepreneurs and their families."
Acquiring skills for the next level
Grinsell said she took the valuable skills she learned at WSB with her to Plano, Texas, in her job with the Dr Pepper Snapple Group.  Even though she doesn't work directly with veterans, the process deepened her understanding of the military, she says, and she hopes that their project can help veterans in Wisconsin.
"I couldn't have asked for a better family," Grinsell says of Branch and her fellow marketing research MBA students. "It's an incredible opportunity to get to work with great people and get exposed to areas I wouldn't have otherwise."
"I can't speak more highly of the A.C. Nielsen program."
---