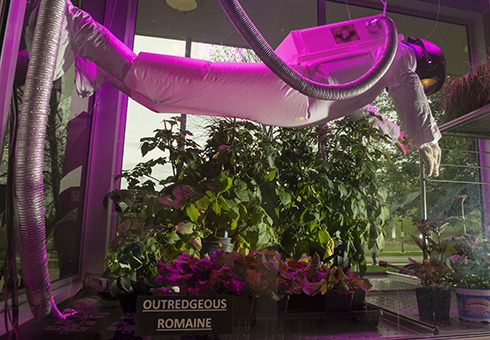 Good things should never be kept secret, which is why a unique research facility on the University of Wisconsin–Madison campus reached out to the Wisconsin School of Business to help tell its story.
Now, thanks to the work of two Wisconsin Full-Time MBA students, the Biotron Laboratory is spreading the word about its role as the country's premier facility for studying the effects of environmental variation on plants, animals, and materials. The Biotron—with its ability to simulate every climate in the world except Antarctica—is home not only to campus-based researchers, but also to commercial clients who need to test their products in varied and extreme conditions. It has been on campus since the 1960s, going mostly unnoticed at its home on Linden Drive.
"We've been interested in enhancing exposure to outside clients—any industry or nonuniversity clients," said Hannah Carey, Biotron director.  "It's almost been word of mouth that people even know we existed so we thought, 'Well, how do we market ourselves?'"
Solving marketing challenges is just one of the ways the Wisconsin School of Business and its Knowledge Centers can work with campus units to address business problems they encounter. Projects such as the Biotron partnership are helping to build a foundation of collaboration between WSB and the entire campus.
The marketing work for Biotron required the expertise of two of the School's Knowledge Centers, so the team included Scott Peiser (MBA '16) from the WSB's A.C. Nielsen Center for Marketing Research and Joe Porto (MBA '16) from the WSB's Center for Brand and Product Management.
"We weren't going to do market research, but the students did that for us. They also talked to commercial clients," Carey says. "They were great ambassadors for this partnership."
The partnership also set a foundation for how the students would work once they graduated.
"It's a lot of what we will experience in industry," says Peiser, now consumer insights associate manager-Quaker at PepsiCo. "You've got a great research person to help understand what the product is and who the customer is. And then there's someone to create a strategy to match them up."
Turning uncertainty into an action plan
The Biotron found itself in need of outreach after a two-year renovation shut down parts of the facility and commercial clients had to go elsewhere. When the renovation was complete, not all of them came back. While campus and UW System clients are the facility's priority, commercial clients provide revenue that in turn helps support university research.
Biotron staff knew they needed help, but didn't have a marketing strategy or a thorough understanding of how to create one. That didn't deter Peiser and Porto.
"There's a lot of uncertainty in industry, and that's part of why you get an MBA," says Porto, now field marketing manager at Dell. "There are a lot of big questions out there, and if you are at this higher level you have to be able to deal with abstract concepts. You're asking big questions, you're looking at big pictures, and you're taking ambiguous situations that are always changing because markets are always changing."
Peiser and Porto dived in to learn about the Biotron, who its commercial clients were, and where the opportunities were to market the facility and increase occupancy. They met weekly with Isabelle Girard, then the Biotron's associate director.
"There's no single type of Biotron client," Girard says. "They had to wrap their head around that. It could be a plant person; it could be an interior design person. But they worked at that."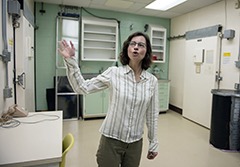 While the 45 rooms at the Biotron can be customized to study animals and plants, Peiser and Porto recognized that testing materials provided the strongest commercial opportunity for the facility. Commercial clients that have tested materials and products include Harley-Davidson, Parker Pen, and Springs Window Fashions.
Through their research, Peiser and Porto understood the uniqueness of Biotron's service and determined that the marketing plan should focus most on promoting this service to potential clients.
"From a commercial perspective, it's very expensive to do controlled temperature rooms," Porto says. "The alternative to using the Biotron is for a company to build its own facility to specifications. The marketing message is that for the same price, you can rent a room at the Biotron for many years, and it is already staffed."
Past and existing clients were happy with their Biotron experience, and that helped the MBA students hone their message.
"It wasn't a complicated idea," Peiser says. "It was, 'You have low prices compared to your competition and people love your service. You have things going for you.' They didn't have to change any services in order to attract clients."
The key was for Biotron staff to change their approach, and the MBA students were able to make recommendations that worked within a limited budget. They recommended upgrading the Biotron website, cold-calling, attending conferences, digital marketing, email marketing, and direct mail.
"They really emphasized that we needed to get out there," Girard says. "It was their persistent encouragement that the reason we didn't have a lot of commercial clients wasn't because we didn't have a great service, but that we didn't have that marketing ability. That kicked us into gear to do the things we had been talking about for so long."
Implementing marketing solutions
The Biotron website got an overhaul that included links to recent positive media attention, and staff attended a North American Wood Window & Door Supply Symposium held in Madison to network with potential clients.
"They gave us very specific directives, and that's what we needed," Carey said. "It took doing these initial steps to understand how we can do a better job selling ourselves with more confidence. They aren't complicated steps; they're just things we never took the time to sit and strategize about."
It was a learning experience for the students, too. The tactics they studied in their classes—from conducting in-depth interviews with clients to the problem-solving required for applied-learning projects with industry executives—related immediately to the work they did with the Biotron.
The Biotron client base is gradually increasing, and the staff now has a marketing plan in place to help take it into the future.
Another collaboration brought together one of the School's Knowledge Centers with UW Press. MBA students from the Erdman Center for Operations and Technology Management helped UW Press with process analysis work.
To learn more about campus collaborations with the WSB's Knowledge Centers, contact Nicole Jennings, Assistant Dean of Knowledge Centers.
---