In a large presentation room, a Webex conference call is underway. As executives wait at a main table for the meeting to start, participants start joining remotely from all over the globe—Europe, Africa, across the U.S. If it weren't for the assembled audience of Wisconsin School of Business faculty and students in the back, the Grainger Hall scene could easily be mistaken for a top company boardroom anywhere in the world.
In a sense, it is one. In a unique partnership between WSB and Medtronic, a global leader in medical technology and services, the School's first-year, full-time MBA students spent the Spring 2018 semester on their Integrated Company Analysis (ICA) course. ICA is a capstone consulting project that addresses a significant business challenge for companies like Medtronic, relies heavily on an integrative approach to the MBA core curriculum, and requires high-functioning, creative teamwork.
"It's an enormously collaborative effort across departments and centers in the School," says Steve Boeder, who helped manage the project and also serves as director of the Erdman Center for Operations and Technology Management. "Students gain valuable experience by strategizing in teams, communicating with the client, and experiencing what it's like to work in a global business environment."
They also have to draw on what they've learned in their MBA core courses to come up with a solution that fits within a culture vastly different from their own. Medtronic's key business challenge this year involved finding innovative approaches to expanding diabetes care in sub-Saharan Africa. Medical resources are not as easily accessible in this part of the world as they are in the U.S., a reality that Medtronic helped educate students about during the course of the semester.
Probably the project's biggest challenge for students is being out of their comfort zones. The predictable classroom structure is replaced by a wide-open, strategic question that they have to narrow down. "This removes the safety net of the classroom structure," Boeder says, "and that's a very intentional part of the whole learning environment for the students."
A global leader in medical technology
With an executive office in Dublin, operational headquarters in Minneapolis, and regional locations on nearly every continent, Medtronic employs more than 86,000 employees worldwide in its strategic areas like diabetes and cardiac and vascular care.
The caliber of the company and its commitment to the School have made Medtronic an ideal partner. The students have an opportunity to work with an actual global team that has shown "incredible involvement at the highest levels," says Martin Ganco, associate professor of management and human resources and the Michael E. Lehman Inspired Learning Chair in Business. "The problem is very real and very hard," Ganco says. "It has real-life value for the company and is not an extra, superficial exercise that would just be a class assignment." Due to the company intel shared with students, they all had to sign a nondisclosure agreement before embarking on the assignment and ultimately presenting their final projects to Medtronic executives.
'One strategy, different perspectives'
The School had a long-standing ICA class but in keeping with WSB's commitment to educational innovation, it was due for a redesign. In past ICA classes, students had to source their own projects, often using publicly available data, Ganco and Boeder say. The projects were high quality but usually a solo and narrower effort by each team.
There was also desire to move the ICA from fall to spring semester so that students could draw on the entire first-year MBA core curriculum in their work.  Especially vital to ICA success, Boeder says, is the spring semester strategy course.
A WSB team including Boeder; Don Hausch, associate dean for MBA programs; Ron Cramer, senior instructional designer and learning technology consultant; and Blair Sanford, assistant dean of the Full-Time MBA Program, formed to start the redesign process. Ganco helped with the educational design, working with the team to co-write a syllabus, grading rubrics, learning standards, and outcomes for the eight core faculty who help grade the project at its different stages of deliverables.
The group also brainstormed what the new ICA should look like for students.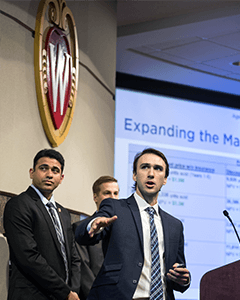 The thinking was, "Let's take a broad enough strategic decision and ask them all to solve that same problem, with the expectation that you're going to get a lot of different ideas," Boeder remembers. "With this, you get one strategy, but you get different perspectives."
With the new team-based focus of the project, communication coaches Frances Laskey and Bess Malson-Huddle worked with students not only to present their findings effectively, but to communicate well within their teams.
A kickoff event at the beginning of the semester introduced the company and its strategic challenge to the students. Dr. Trevor Gunn, vice president of international relations at Medtronic, described Medtronic's mission and culture, with an emphasis on the company's work in emerging markets. Following him were presentations focused on sub-Saharan Africa and on diabetes by Medtronic's diabetes business unit manager in Johannesburg and chief patient officer in Northridge, California. Gina Jenkins, interim director of the MBA Career Management Center, and Enno Siemsen, professor of operations and information management, taught sessions on working in teams and project management.
Presenting real-world solutions
Each of the 22 teams presented to a panel of core MBA faculty, who evaluated their work for their course grade and selected the four top teams to share their final presentations with Medtronic. Finalist teams were allowed 20 minutes to present their findings—it needed to be concise, Boeder says, just like in the real world.
Students also had the opportunity to receive constructive feedback on their work from Medtronic executives both in the room and via the Webex conference call.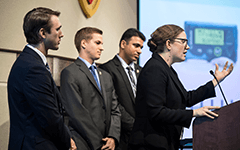 Boeder says all 22 team presentations will be provided to Medtronic so company leaders can see the full array of solutions, offering them the opportunity to potentially transfer innovative ideas to other areas of the company's portfolio.
"Medtronic has been an incredible partner," says Assistant Dean Sanford. "In giving the students an executive-level problem, they have delivered a tremendous learning experience to our students."
---