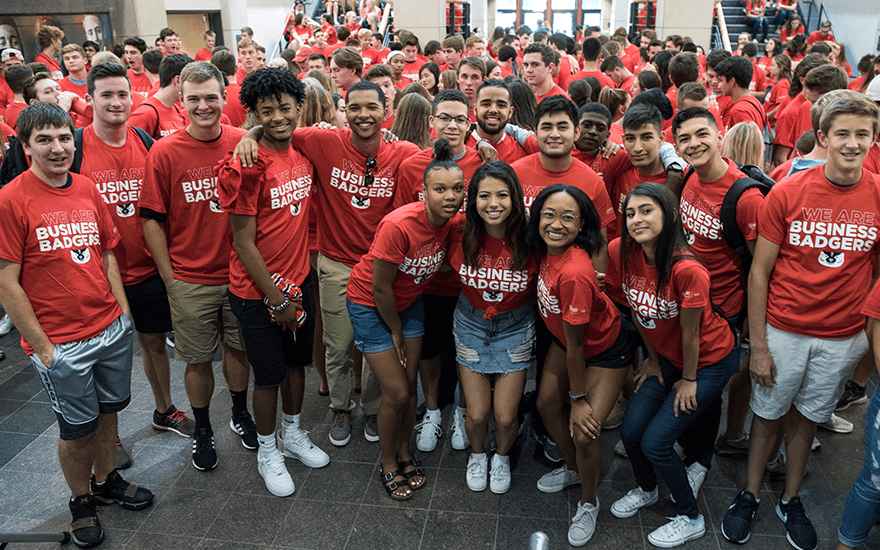 Three years ago, Elton Rodriguez (BBA '22) arrived at the Wisconsin School of Business for the Business Emerging Leaders (BEL) Program, a rising high school junior unsure of what to expect. This May, he'll complete his freshman year as a University of Wisconsin–Madison student with a strong interest in investment banking and entrepreneurship and a clear path toward a business career.
"Without the BEL Program, I wouldn't be here," Rodriguez says. "I probably would have been pushed to go to college, but likely would have ended up somewhere else. I'm so glad I'm here. When you say you go to UW–Madison, people pay attention."
Rodriguez, a native of Beloit, Wisconsin, is one of 21 students on campus now successfully finishing their first year at UW–Madison after completing WSB's BEL Program, a summer pre-college program for underrepresented populations and first-generation college students designed to cultivate a diverse community of students who will become future industry leaders.
For Rodriguez, building his own sense of leadership is exactly what happened following his first BEL summer. Inspired by a new sense of purpose, he headed back to high school and became the junior class president, then the senior class president.
"When we admit students to the BEL program, we're looking for high academic achievement even at that very early stage," says Karen Stroud Felton, director of pre-college programs at WSB. "I've been really impressed by how excited they are to be here, how committed they are to their academic pursuits, and how ambitious they are in terms of connecting with all areas of the WSB community."
Facilitating growth and connection
Since its inception in 2016, the donor-funded program offers outstanding students from diverse backgrounds the opportunity to spend three consecutive summers at UW–Madison beginning after their sophomore year of high school. The time is designed to prepare students for college life, expose them to different areas of business, and help them learn about careers and leadership through corporate visits and networking connections.
As high school seniors, students are invited to apply to UW–Madison and considered for direct admission to WSB's BBA program. If accepted, BEL students receive a full tuition scholarship for all four years of undergraduate work.
Once admitted as undergraduates, BEL students benefit from a supportive environment that fosters exploration of campus and connections with other students and university resources.
BEL participant Mikol Tsopnang (BBA '22) says her transition to UW–Madison has been fairly "seamless" thanks to her BEL experiences and the program's continuing support.
"My first time entering Madison feels like just yesterday," she reflects. "I attribute a large part of my success and growth to the people I have met and leadership skills I learned through BEL. I truly do not know where I would be without the constant support of the BEL Program and the University of Wisconsin–Madison."
The first-year students are living on campus, and some are part of residential learning communities like Business Connect in Ogg Residence Hall, an environment designed specifically for direct-admit business students with shared interests.
Stroud Felton says her office and others at WSB can provide additional support to BEL students on top of the services the larger campus provides.
She partnered with BBA advisors to sponsor a workshop for students on choosing next semester's classes. She says she's received positive feedback from students on their advising experiences thus far. "They're excited and are already thinking about internships and long-term job prospects."
Stroud Felton says the students are also eager to keep in touch with and support fellow BEL participants, strengthening the bonds started during their high school years in the program. They're also committed to supporting the BEL students who come after them, recently brainstorming how they will assist future BEL participants who enroll in WSB.
"No matter what, we're there to help each other," Rodriguez explains. "It's like we're a real family."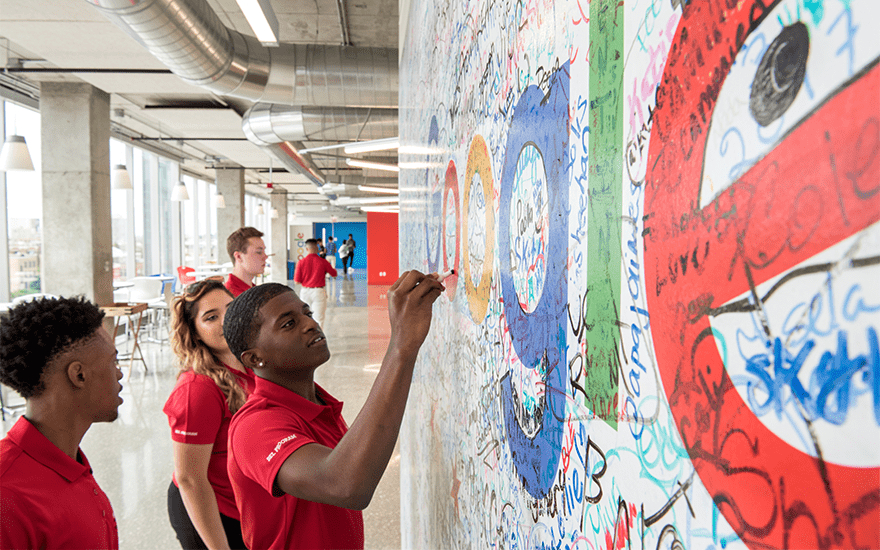 Collaboration with industry
During the program's summer sessions, BEL students visit companies like Google and Accenture in Chicago and Target in Minneapolis.
Stroud Felton intends to expand this aspect of the program, incorporating visits to Milwaukee and Madison companies such as Kohl's, Epic, and even professional sports teams like the Brewers and Bucks.
Building on the success of the program's first three summers, she is exploring the addition of a job shadowing component in the students' third summer, where students could work directly with corporate partners. Participants would cumulatively apply what they've learned in previous years and have the opportunity to apply their learning in a professional setting.
"It would give them an opportunity to spend several hours a week with one or more corporate partners—kind of a mini-internship—before they even enroll on campus."
The positive experience of the first cohort has contributed to the successful recruitment of the next group of scholars, Stroud Felton says. "We recently admitted the newest cohort that will begin their first summer in July. We are excited to welcome 24 new BEL scholars, a more than 90% yield on our offers."
As the School plans for the program's future, it's gratifying to watch this first group of BEL participants thrive as UW–Madison students.
"The array of backgrounds and perspectives represented by students in the BEL program can only enhance the undergraduate experience in the WSB," Stroud Felton says. "When they graduate, they will be poised to become future leaders in all areas of industry."
"They are just remarkable young people," Stroud Felton adds. "I am so excited to see what they will accomplish on campus, and what they will ultimately contribute to the world."
---