Summer internships spark new learning opportunities for Wisconsin BBA students, providing on-the-job training and experience at companies across the globe. But they can also shed light on topics and skills that students want to learn more about.
Such was the case for Wisconsin School of Business undergraduate student Anders Larsen (BBA '19) who discovered a desire to learn more about design thinking after interning with Intuit in Summer 2017.
"Design thinking was core to everything done at Intuit. Coming back to campus after that summer, I wanted to learn more and build my design thinking skill set," says Larsen.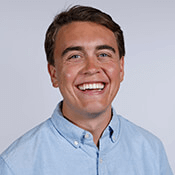 In looking for a relevant course, Larsen found a graduate-level class on design thinking taught by Anne Massey, a professor in the Department of Operations and Information Management at WSB.
"I contacted Professor Massey about the course and she asked if I thought there would be interest in holding a separate course at the undergraduate level," Larsen recalls. "I immediately latched onto this idea to help other students become fluent in design thinking and equipped with real world technical skills that are highly sought after by employers across industries."
So began the development of a new course for Fall 2018, OTM 365-Design Driven Innovation, which will give undergraduate students a foundation in basic design thinking practices and challenge how they use these methods to encourage innovation.
Design thinking was predominantly used in product development, but its application has expanded to services, strategy, and organizational change initiatives.
"Design thinking is about harnessing your creativity to solve problems that rational methods won't necessarily solve, particularly in a climate of ambiguity and uncertainty," Massey says. "Students will gain confidence as they learn how to use the design thinking tools and approaches, and from working together in cross-disciplinary teams—just like in a real-world scenario."
The first half of the course will cover the design thinking process, including basic methods, tools, and techniques. Simulated exercises will be used to help students apply and give context to what they are learning. During the second half of the course, participants will be placed in teams to work collaboratively on a real-world design challenge sponsored by SAP (Systems, Applications and Products), one of the world's biggest software companies.
The course is designed to include students from cross-disciplinary fields of study (e.g., engineering, business, design) to mimic the complexity of a real firm's organizational setup and project.
For Larsen—who returned to Intuit for a second stint as an intern in Summer 2018—the chance to not only take this course, but to also be a champion for its creation, is meaningful.
"I am excited to have worked with WSB faculty to help launch this course," says Larsen. "Having used design thinking at Intuit, I can say firsthand that this class will teach real-world skills my classmates and I can take into our future workplaces."
Both the undergraduate and graduate sections of the course (OTM 365/OTM765 Design Driven Innovation) will be offered in Fall 2018.

---