Since graduating its first MBA students in 1950, the risk management and insurance program at the University of Wisconsin–Madison has enjoyed the strong support of alumni and friends. Some of the most active and experienced alumni now have formalized their involvement through a newly launched MBA Risk Management and Insurance Advisory Board.
Joan Schmit, professor and the American Family Insurance Distinguished Chair of Risk Management and Insurance, says the board is designed to pair industry expertise with the Wisconsin School of Business's MBA students.
"We are thrilled to have our inaugural risk advisory board bring together representatives from around the globe and across the industry who support student development and success with their wisdom, knowledge, contacts, and encouragement. This is what makes Wisconsin a premier institution."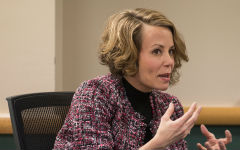 Schmit says the board will focus on assisting students through mentoring, industry networking, and job application preparation. Board members will also help to promote the Wisconsin Full-Time MBA Program's specialization in risk management and insurance with their industry colleagues.
Advisory board members were officially introduced during the group's inaugural meeting held in February 2018 at WSB. The 10 new advisory board members are:
Phil Hoffmann, managing director and strategic account manager at Aon Risk Solutions
Dan Kaiser, senior vice president of CUNA Mutual Group
Christy Kaufman, risk analytics and insights director at American Family Insurance
Dan Kelly, chief financial officer at American Family Insurance
Mark Kleinlein, partner at Honigman Miller Schwartz and Cohn, LLP
Andy Nottestad, managing director of risk management at United Airlines
Puneet Pasricha, president of institutional business and corporate strategy at Liberty Videocon General Insurance
Chikara Sakoda, Executive Client Director of Asian Corporate Solutions at AIG
James A. Swanke, Jr., director of risk consulting at Willis Towers Watson
Amy Yates, global insurance director at Boston Consulting Group, Inc.
Risk MBA students had the opportunity to meet the new members and to present and receive feedback on a current risk topic of their choice. Patrick Mullikin (MBA '19) talked to the group about how gamification—using interactive elements from the gaming world to promote user engagement—can be used in the insurance industry. Mullikin demonstrated how sites like PlayInsure.com, an online game that simulates real-life scenarios by letting consumers choose elements like characters, banks, and cars, engage and teach the user about auto and home insurance plans and options.
Mike Mansell (MBA '19) presented on bitcoin and blockchain in the insurance industry, topics of particular interest to those in attendance, as the insurance industry observes dramatic changes with the introduction of new technologies and new ways of doing and imagining business. Other student presentations included Jenna Herr (MBA '19) on the topic of location analytics and Vicki Villarreal (MBA '18) on insurers and the opioid epidemic.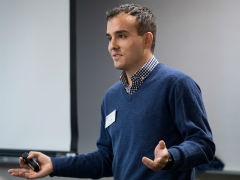 The Wisconsin Full-Time MBA Program's risk management and insurance specialization is consistently ranked as a top risk and insurance program. The Department of Risk and Insurance is recognized as a Center of Actuarial Excellence by the Society of Actuaries and was one of only twenty institutions to be designated a Global Center of Insurance Excellence by the International Insurance Society.
Board member Dan Kelly, chief financial officer of American Family Insurance, shared his support for the new board after the first meeting.
"I am proud to be part of this group supporting the Wisconsin School of Business and its top-ranked risk and insurance program. Its impressive students are passionate about this industry and about applying their knowledge for the greater good. Great things will continue to come from both the Wisconsin MBA and BBA programs.
---