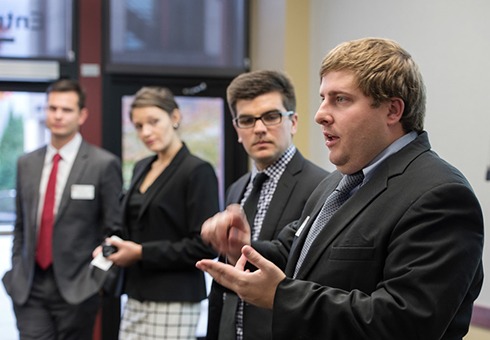 The commercial viability of a new cancer test. The community impact of a donated dollar. Standardizing data center investments. The financial potential for a scientific process to remove off-putting flavors from food.
These wide-ranging topics have all been covered by the flagship applied learning course at the Wisconsin School of Business's Nicholas Center for Corporate Finance and Investment Banking.
Consulting engagements are a core program component for corporate finance and investment banking students in the Wisconsin Full-Time MBA Program supported by the Nicholas Center, giving second-year MBA students the opportunity to hone their skills and gain real-world experience, solving real company problems with impactful solutions.
"Several of the students say this is why they chose the program," says Matthew Clayton, director of the Nicholas Center. "It's definitely the defining characteristic of the program and something that separates us from a lot of schools."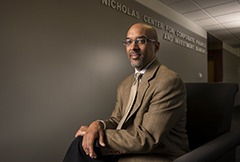 Clayton is in his second year as director of the Nicholas Center, where he is also an active instructor of Nicholas Center students. He teaches Introduction to Corporate Investment Decisions, and Finance and Valuation to first-year students and the Consulting Projects Applied Learning courses. In addition, Clayton connects with WSB alumni, Center board of director members, and corporate partners to find project consulting opportunities. Clayton came to the Wisconsin School of Business in 2014 from Cornell University, and has also held faculty positions at New York University, the University of Virginia and Indiana University.
Corporate partners for the consulting projects range from startups to large corporations such as Medtronic or American Family Insurance. The Nicholas Center also has a strong partnership with the Wisconsin Alumni Research Fund (WARF), a nonprofit mission-driven organization dedicated to promoting, encouraging, and aiding scientific investigation and research at the University of Wisconsin–Madison and the Morgridge Institute for Research. The Nicholas Center projects work with the commercialization of new research and technology at WARF.
"We'll look at a project and say, 'What kind of questions do we need answered?'" says Richard Schifreen, who manages the WARF Accelerator Program, which works to commercialize UW‒Madison discoveries patented by WARF. "We can hire consultants but we'll look and say, 'Does this make sense as a Nicholas Center project at the Wisconsin School of Business?'"
WARF project with cancer technology
One Nicholas Center project with WARF involved developing and analyzing business applications for a novel imaging technology to more effectively identify and track cancers that have metastasized to the bone. The students' task was to analyze the technology from a business perspective: Is it best to create a startup company to develop the business or is licensing the technology to existing companies a better option? What is the market size and which customer segments will be willing to pay for a solution? Physicians who want to implement new treatment plans, or contract research organizations and pharmaceutical companies that want to test effectiveness of the drug?
"A large chunk of this project was spent learning everything we could about the technology and relevant markets by talking to every subject matter expert who would take a meeting and then doing our best to distill the information into relevant and digestible themes we could translate into financial and strategic considerations," says Andrew Mullvain (MBA '15), who was on the consulting team. "What I learned from my consulting mentors at Baker Tilly prior to coming to the Wisconsin School of Business is that if you learn the right frameworks, have confidence in your team, and ultimately trust the process, you'll come to the right conclusions."
Mullvain said no one on his team for the WARF project had a scientific background. Through their research they learned about the scanning technology; about distinct cancer types and their treatments; competition and market size for medical devices, treatments, and services; and about value optimization strategies. The team ultimately recommended four strategic alternatives, and the WARF researchers pursued one of them.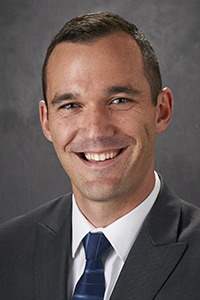 "We wanted the students to look at all the factors and say, 'If you're not selling this scanner, how do you use it, who is going to use it, and how do you make money off of it?'" Schifreen says. "The Wisconsin MBA students did a great job with it."
Learning to understand the market
Once on board with a Nicholas Center project, companies give Clayton a project proposal and assign a liaison. With those in place, the projects are in the hands of the students.
Students list their project preferences as they learn about them, and Clayton assigns them to three- or four-person teams to mix up their skillsets. The teams are joined by two undergraduate research assistants. Students' backgrounds can vary, and so can the scope of the projects.
"I think people are surprised by how much there is outside of finance," Clayton says. "You have to understand the market, the product, and the competitors. And that takes research. You have to know the finance because you need to know what you're looking for in the numbers."
Students fine-tune their understanding of the process over the course of the academic year as they work on four seven-week consulting projects, two per semester. Clayton meets with the teams weekly. The teams also receive feedback during mock presentations at Nicholas Center board meetings. Each project ends with the team making a pitch to the client.
"You can see the students improve over the course of the year," Clayton says of the Wisconsin MBA students. "The first project can be a little rough, but when you get to the end projects, they're more refined. The students are ready, and I think that gives them a big advantage in the workplace."
Getting noticed by employers
Among the many benefits of these projects is the oppor
tunity for Wisconsin MBA students specializing in corporate finance and investment banking to be noticed by potential employers.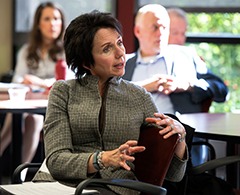 "Any time you're talking to somebody in business, it's a job interview," Clayton says. "It might not be a job interview today, but each team member makes an impression so when the opportunity is there, the company will remember you and hire you if they get the chance." Companies have different reasons for partnering with the Nicholas Center. Some smaller companies present projects to obtain research or support because they don't have enough resources. Bigger companies might have the resources, but will present projects they haven't had the time to do. Sometimes, Clayton says, companies just want another opinion.
"The Wisconsin MBA team comes up with something that the company adds to its analysis, and that's useful to the companies," Clayton says.
A variety of business challenges
WARF traditionally offers two projects per academic year, Schifreen says, and he works with Clayton to find projects that are a good match within the organization's five portfolios: biopharmaceuticals, medical devices, computer science and IT, food science, and clean technologies.
In addition to the WARF bone-scanning project (and other WARF projects in the medical imaging and food science portfolios), Mullvain also worked on a growth strategy project for a local energy technology startup and researched the community impact created by each dollar given to Habitat for Humanity. Through each project, Mullvain says, students challenged themselves to take on new responsibilities.
"Someone who is new to consulting might not lead it or plan the engagement, so typically someone with more experience will draw up a work plan and talk it through with everyone," says Mullvain, who now employs the research skills he honed at the Nicholas Center in his business development position at American Family Insurance. "That said, I was surrounded by an amazing cohort in the Class of 2015 and there was never a shortage of talent stepping up to lead in new areas on these projects."
In the end, Mullvain says, the teams generally don't find out what the client decided to do. That's okay, he says, as it's their job to provide options, not select the solution.
"We couldn't say, 'This is the right answer,' but hopefully we went through a process to help them be less wrong faster and identify their most important assumptions and risks," he says. "Hopefully we built them a tool kit to help find answers to their future business challenges."
Learn more about the Corporate Finance and Investment Banking Specialization of the Wisconsin Full-Time MBA Program.
---