For Business Badger Katie Haghighi (BBA '22), the pace won't slow after Saturday. Once the marketing and international business major has diploma in hand, she's committing her energy and efforts to the startup she founded: Regener8, a platform that tackles the global textile waste crisis by connecting fashion designers with consumers. Come late summer, she'll begin a consultant position with United Health Group while continuing to work on Regener8 on the side.
Haghighi is one of 17 scholars from the inaugural cohort of the Business Emerging Leaders (BEL) Program who will graduate this week. Started by the Wisconsin School of Business in 2016, the donor-funded BEL Program is a college preparatory program for high school students from diverse backgrounds that have strong academic records and leadership skills.
"We are so excited to see our first group of BEL students graduate," says Jim Franzone, assistant dean of the undergraduate office. "They are truly an amazing group. This has been a seven-year journey for these students."
Since starting their time with WSB as high schoolers, this group of BEL scholars has excelled academically, developed their leadership capacity, and made an impact on campus in countless ways.
"We have graduates who have started new student organizations, led the effort to create the Multicultural Center at the school, worked to remove racist symbols from campus, and acted as mentors to other BEL students," says Franzone.
Many of the soon-to-be-graduates have accepted positions across a variety of industries and organizations including BP, Spaulding Ridge, Greater Madison Chamber of Commerce, and Madison International Reality. Others will launch careers in recruiting, social media marketing, and business development. Some are continuing their education by pursuing law school, educational policy studies, and the master's program in arts and creative enterprise leadership at WSB.
"These are leaders who will shape the future of business and I can't wait to see the impact they make," adds Franzone.
Developing future business leaders
BEL was designed to give top-performing high school students exposure to business and a business education, with the vision that today's talented high schoolers would become tomorrow's business students and eventually, distinguished alumni and industry leaders. Thanks to an anonymous donor, BEL scholars who apply and are accepted to the University of Wisconsin–Madison as business majors receive a four-year tuition scholarship.
BEL's foundation is built upon four pillars: community experience, personal growth, academic excellence, and career exploration. During summers in high school, BEL students spend several weeks on campus and learn about business fundamentals and the career pathways available to them at WSB. They meet with industry leaders through on-site visits to top companies such as Google, Target, Accenture, and Trek Bicycle, and hone their entrepreneurial and leadership skills through hands-on learning sessions like "Badger Tank" (based on the popular "Shark Tank" television show). During this time, they also build relationships and community with other BEL scholars as well as WSB instructors and faculty.
Once accepted into UW–Madison, the BEL Program maintains a network of support and resources with the BEL undergraduate students on campus.
"I attribute a large part of my success and growth to the people I have met and leadership skills I learned through BEL," said BEL scholar Mikol Tsopnang (BBA '22) in 2019 when she was a first-year undergraduate student. The supply chain management and operations and technology management major is set to graduate this week. "I truly do not know where I would be without the constant support of the BEL Program and the University of Wisconsin–Madison."
Persistence through the pandemic
BEL went fully virtual during the summer of 2020 due to the pandemic. High school students in the BEL Program worked remotely from home but had the continuity of the same instructors who now taught in a virtual space. Those already in college followed UW–Madison pandemic protocols. Given the disruption, it was hard to sustain a feeling of community in the same way. Resurrecting that connection throughout the Spring 2021 semester and beyond has been "super gratifying," says Tiffany Vanphravong, pre-college services manager with the undergraduate program office.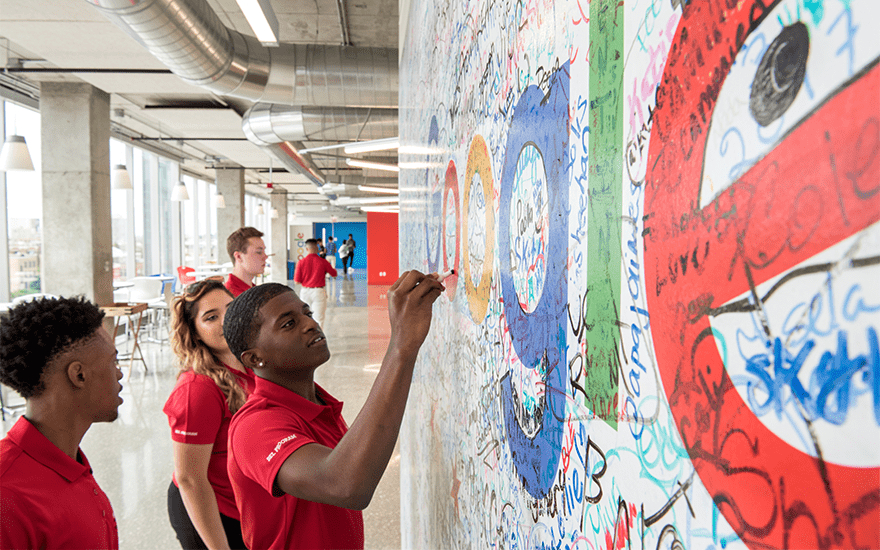 "It has been a pleasure seeing scholars gather for various BEL events and seeing all of them build a strong sense of community once again," says Vanphravong. "Overall, it has been a great pleasure to be in these spaces of joy, curiosity, and growth with the BEL scholars."
"These students certainly didn't anticipate having their college career disrupted through the pandemic and we couldn't be prouder of their perseverance, determination, scholarship, and leadership," adds Franzone.
From BEL beginnings to career launch
As Haghighi's undergraduate career comes to a close, she finds herself reflecting on all the ways she has benefitted from the BEL Program.
"Everyone in BEL inspires and motivates me to be my best self," she says. "BEL has allowed me the opportunity to grow into the confident and successful Asian and Middle Eastern woman I am today by relieving the financial stress of higher education and providing me with a community of strong leaders."
---