Like most academic programs in the U.S. facing the COVID-19 crisis, the Business Emerging Leaders (BEL) Program's decision to move online was more necessity than choice. But as Karen Stroud Felton found, the response was overwhelmingly positive.
"Everyone was really excited that BEL was still going to be able to continue this year," says Stroud Felton, director of precollege programs for the Wisconsin BBA program at the Wisconsin School of Business. "Students were certainly disappointed that they wouldn't be on campus this summer, but they were still excited that the program will continue."
Beginning July 6, 72 students from across three cohorts will come together to learn about business and leadership in a virtual environment as part of the BEL Program, an initiative that helps prepare top-performing high school students from diverse and underrepresented backgrounds for a college education and a future career in business.
Started in 2016 and normally held in person on the University of Wisconsin–Madison campus, the BEL Program admits students during their sophomore year of high school to spend three consecutive summers learning about business fundamentals, visiting industry leaders, exploring the majors available at WSB, and building relationships and leadership skills. Students in the program who are admitted to UW–Madison receive a full four-year tuition scholarship to WSB.
Navigating the virtual environment
The schedule will shift slightly this year, Stroud Felton says, but the instructors and much of the structure will remain the same, providing a thread of continuity in the virtual environment.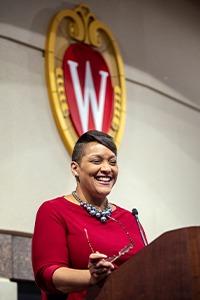 "All the instructors were excited to start thinking about how to do things differently in this new environment," she says. "The university and the WSB have provided so many resources to help faculty think about how to teach in the remote space, and the BEL instructors have been able to participate in some of those workshops. They appreciate that they will still have the opportunity to engage with the students."
BEL student Darius Hazen says he's excited to return, even though the remote experience will be different from previous years. Hazen is heading into his third and final BEL summer and will be an incoming UW–Madison freshman majoring in marketing this fall.
"The energy of the BEL program and drive given to me by my fellow cohort members and program leaders has always been a huge motivator for me," Hazen says. "Although the program will lack the in-person events and bonding, I'm still very excited to learn and become college ready while also talking to my classmates and friends, even under the current situation."
The program will be one week shorter than in past summers, concluding after three weeks for the first and second year students and after four weeks for the third year students. The change is intentional and meant to be adaptive to the remote environment.
"During the third summer, students usually take a three-credit course during the five weeks they're on campus," Stroud Felton says. "In particular, the decision to shorten their program was influenced by the guideline that students should put in 45 hours of work for every credit of a course."
The course, General Business 365: Ways of Knowing Business, was created last year and taught by WSB's Chris Dakes, faculty associate and director of educational innovations and learning design, who will be teaching it again. This year, the course will be two credits of synchronous engagement split between the summer and the fall, with the first credit offered for the summer portion, and a second credit offered in the fall as the course continues.
Returning second year students will take a business analytics class and a professional communications class, both created specifically for the BEL Program. First year students take a course, Building Business Knowledge, that introduces them to business as an industry and the majors offered at WSB. They also complete an online ACT preparation course.
In addition to the cohort-specific courses, all BEL students have a more informal programming event that combines students and staff for sharing and open discussions, Stroud Felton says. "We've been working on a curriculum that focuses on identity, issues around access, and being an ethical business leader."
Since students will be accessing all of these sessions from their homes, the BEL team performed a technology audit to make sure each student has working equipment and available internet.
"We created a computer loan program for students who indicated they would need a laptop," Stroud Felton says. "We don't want limited access to technology to be an impediment for anyone. It's important that all students can participate fully."
Building on success while designing for the future
Students in this summer's BEL Program follow in the proud footsteps of BEL alumni, with members of the 2016 inaugural cohort now rising juniors at WSB. Once BEL students matriculate into college, their connection with the program continues on a "here if you need us" basis.
"These are great students, so it's not a matter of them not having the preparation needed to be successful academically. However, if students discover they would benefit from additional support and resources, we are here to help," Stroud Felton says.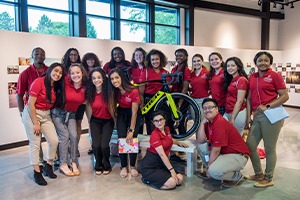 Like all WSB students, BEL students have access to and engage with academic advisors, career counselors, and numerous UW–Madison student organizations. But they also participate in special BEL programming, including a leadership conference, academic recognition reception, BEL "family dinners," and regular check-ins with staff.
"We encourage students to take advantage of all experiences in the WSB that interest them," Stroud Felton says. "We're here to help them figure things out, if they need us."
"Last fall, the second cohort of BEL students matriculated into the WSB and we developed programming to support them as college students. The BEL program had seen success in encouraging the students to choose WSB, and so we turned our attention to encouraging them to have a successful undergraduate experience."
Stroud Felton says students often tend to come into the BEL Program centered on what they know about generally, such as banking or Wall Street. Entrepreneurship is another area of interest; some students have family members who are business owners, so there is familiarity there. Over time, "their interests evolve," she says.
"One of the goals of the General Business 365 course is to expose them to all the majors, but also to the wide array of industries and jobs in different areas of business that exist. I think it will be really interesting, for example, to introduce them to supply chain," says Stroud Felton, of the School's new supply chain management undergraduate major launching in the 2020-21 academic year. "If you don't know someone who works in that industry, you may not know about it."
Third-summer student Mei Lin Morales says the strength of the program comes from its combination of academic focus, personal growth, and creating connections within each cohort. Morales will be a freshman at UW–Madison this fall.
"Being in the Business Emerging Leaders program has completely changed my perspective on what I thought were potential career possibilities for me," she says. "Through the mentorship and resources BEL has provided, I have been able to learn so much, not only about the different business majors, but also about myself and my peers. Without the BEL program, attending the University of Wisconsin-Madison would not have been possible for me, and I am beyond excited to be a Business Badger and explore the extensive network and opportunities Madison has to offer."
For Stroud Felton, it's exciting to look back on all that the program has accomplished during its initial years, and plan for what might come next. "We've got lots of ideas for the future. It's great to have the support to think creatively about how to empower students to continue to achieve excellence."
---