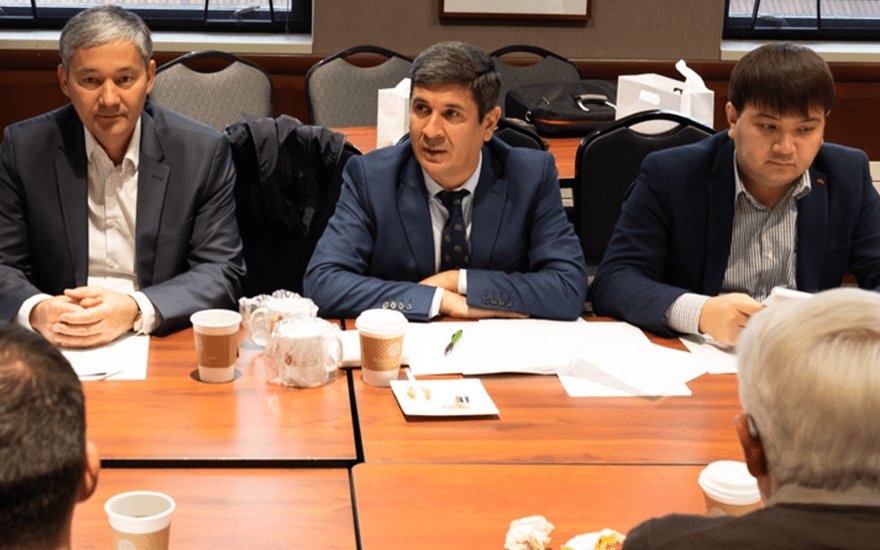 The Puelicher Center for Banking Education at the Wisconsin School of Business hosted a U.S. State Department-sponsored delegation from Turkmenistan on October 22, 2019, to aid the country in setting up a modern banking system.
The group—consisting of Jim Johannes, director of the Puelicher Center and senior associate dean for faculty and research; Gordy Gunnlaugsson, chair of the Puelicher Center board, Robert Krainer, finance professor; Jason Makowski (MBA '18), business solutions director, Associated Bank; and Bob Hanson, information security officer, John Deere Financial—convened in Grainger Hall with representatives from Turkmenistan's Ministry of Finance and Economy, the Central Bank of Turkmenistan, and Senagat Commercial Bank.
"We are very proud of the fact that the State Department chose the Puelicher Center as the only university resource on the delegation's fact-finding mission," says Johannes. "It was great to see how our Center and the banking community rallied on short notice to provide the expertise the delegation needed to help them think about transitioning from a largely cash-based economy to a more modern banking system."
Under the auspices of the U.S. Department of State's International Visitor Leadership Program, the objectives of the project are to educate the participants on the following:
U.S. banking system—including regulatory framework at the federal and state levels, range of private sector bank charters from national banks to credit unions
Local bank functions, including direct deposit processes
Banks and everyday living—approval processes for mortgage and car loans
Bank processes for approval of miscellaneous personal and small business loans
Online banking models using web-based instruments, and tablet and smart phone applications including bill payment systems, fund transfers, deposits, account management, and customer support
Launch and management of credit and debit card systems
Financial industry information security systems—including methods to maintain payment security, prevent and track fraudulent card use, combat identity theft, and retain privacy
Federal and local law enforcement efforts to combat financial crime
The Turkmenistan delegation made stops at the Federal Reserve and the Office of the Comptroller of the Currency in Washington, D.C. While in Madison, they also visited the World Council of Credit Unions and Summit Credit Union as part of their 19-day touring project.
The Puelicher Center for Banking Education at the Wisconsin School of Business was specifically endowed to promote the education of future leaders in the banking industry, as well as to conduct research on the micro and macro foundations of the banking industry. Research and resources are shared with the national and international banking community through conferences, publications, and other educational events.
---