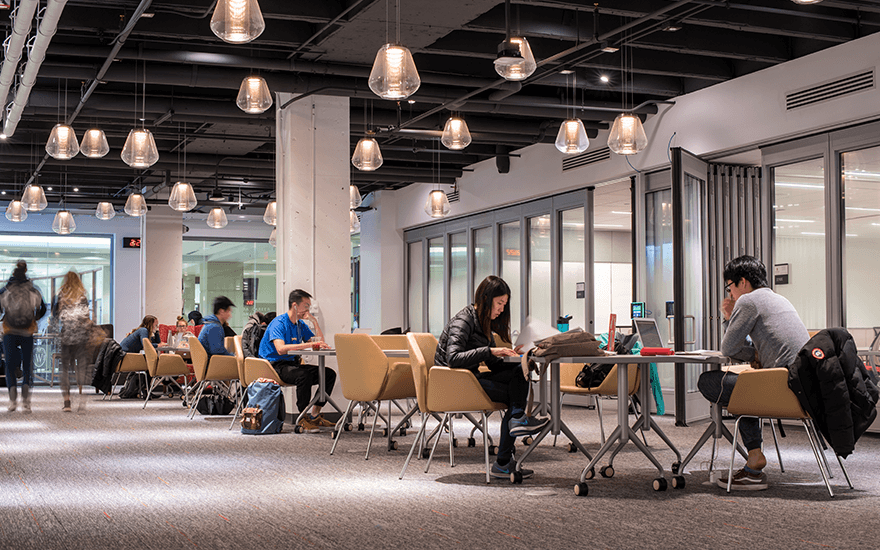 Universities are in the talent business. We recruit and retain talented professors to explore big ideas. We attract and enroll talented students of all ages who want to thrive in a dynamic 21st century economy. We engage alumni for ongoing learning throughout their careers.
To help these smart people achieve their full potential, we must also invest in purpose-built spaces that stimulate innovation, discovery, curiosity, and collaboration.
Thinking back to my college days, I recall with some discomfort sitting on hardwood folding seats in a big lecture hall, while a "sage on the stage" scribbled vigorously on a black chalkboard with their back to the audience. I, along with 40 others, furiously tried to keep pace with hastily copied notes. There was hardly any time for reflection or collaborative problem-solving. Today, leading universities must think differently about the art and science of pedagogy, taking time to reimagine how a vibrant learning environment looks and feels.
That's what occurred here at the Wisconsin School of Business at the University of Wisconsin–Madison beginning in 2015, when faculty members, staff, industry leaders, donors, and campus partners—including the General Library System—began to envision the business library as a new kind of collaborative learning space. Renamed the "Learning Commons," the new facility opened to rave reviews in May 2018.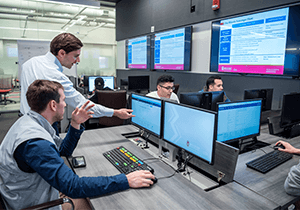 Totaling 35,000 square feet on three floors, it encompasses five active learning classrooms, 10 breakout rooms, and numerous open-concept study areas. It also includes the state-of-the-art Finance and Analytics Lab, which offers cutting-edge technology and software. Students utilize sophisticated tools such as Bloomberg Terminal, CapitalIQ and FactSet that enable them to access and analyze real-time market data. The 45-seat lab incorporates web conferencing and audio equipment, allowing outside experts to join the classroom conversation from anywhere on the planet.
We designed and constructed the space and its furnishings with extensive input from students, faculty, and other stakeholders. Using "human-centered" design, we homed in on a nexus, for which all of those stakeholder groups share a common goal.
Human-centered design is really a form of participatory action research. In our case, the process involved several focus groups, where we learned more about how and where students study and what they bring to those favorite spots. We discovered that students have many different study modes, each calling for different accommodations. By testing concepts and sharing early designs with instructors and students, we helped guarantee a successful outcome.
Today, when you walk into the Learning Commons, you can't help but notice the colorful furniture and bright windows, the paucity of large physical stacks, and the lack of walls. In fact, you may not even realize you're in the business school. Beyond mere aesthetics, however, the furniture and technology were selected and arranged to facilitate collaboration, encourage socialization, empower flexible learning, and promote agile teaching.
Visitors can move furniture, reconfigure walls, and share technology. Instead of gathering around a single laptop to work on a group project, students gather in a breakout room and broadcast their work on large wall-mounted screens. This is real peer-to-peer learning, in which students move from cooperation to collaboration.
When we say we empower students, we mean it. In a space that formerly had 356 electrical outlets, you'll now find more than 1,100. Students routinely praise the ubiquitous outlets, as well as the contemporary furnishings that mirror the kind of professional environment they expect to enjoy after graduating from college and moving into the business workplace.
The Business Library was always a busy place, but we've seen a 10% increase in traffic since the remodeling was completed. In response to growing demand, the Learning Commons has added Friday evening hours—a time when few business students had ever shown interest in using our traditional library. Since then, students have been clamoring for Saturday hours, and our pilot test shows that response to this availability has been very good, even on Saturdays when home football games normally draw most students away from their studies.
Historically, the university would have relied on state taxpayer funding to support major building initiatives like this. While we continue to advocate for reliable state funding, we also engage generous donors who understand that smart investments yield tangible dividends. This allowed us to construct the Learning Commons entirely with private funds.
Wisconsin alumnus Ricky Sandler (BBA '91) is one such donor. As CEO and chief investment officer at Eminence Capital, he believes that a technology-rich learning environment can inspire people and prepare them for success in today's data-driven workplaces. In addition to providing the lead gift that made the Learning Commons possible, he returns to Madison several times each year to teach in the Finance and Analytics Lab.
I was attracted to the Wisconsin School of Business for many reasons. I relished the opportunity to work with top-shelf faculty colleagues. I was encouraged by plans to grow enrollment and expand access. And, like others, I was impressed by the School's investment in cutting-edge space.
A well-designed concert hall can bring out the best in a musician's performance and a state-of-the-art athletic facility can help build a winning team. Likewise, a business school that is designed to empower talented people is better positioned to compete and succeed. As we build a strategic vision for the Wisconsin School of Business, we will seek to maintain a world-class venue in which all our talented people can achieve their full potential.
---