Can a palindrome change the world?
Team Modom hopes so. The four-member student team is taking its idea—a communication tool for refugees and displaced populations—from the Wisconsin School of Business to Boston, where they will represent the University of Wisconsin–Madison in the Hult Prize regional competition March 3 and 4.
The group is building a platform similar to a localized search engine that allows refugees to access resources and create commerce using cellphones, all without data or internet access. Team leader Gurmukh Mangat, a second-year Wisconsin MBA student with the Center for Brand and Product Management, says the Team Modom name encompasses the group's vision on multiple levels. It's a palindrome (a word that is spelled the same forward and backward), and it represents two-way communication, something that is taken for granted in the Western world but is scarce among refugee and displaced populations. The name also incorporates the word modem, the old-school hardware device used to connect to the internet, and tweaks one of the letters to make it distinctive.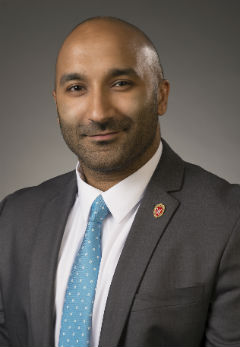 "After food and water and shelter, the need to connect is pretty high on the priority list," Mangat says. "It's kind of an homage to the modems of yesterday that we used when the internet first came out."
Mangat met Jonas Haugaard, a Copenhagen Business School student on exchange at WSB, during Faculty Associate Michael Williams's venture creation class last fall. Haugaard put him in touch with Ornella Hills and Robyn Baragwanath, both master's students at UW–Madison's School of Journalism and Mass Communication, and Team Modom was formed.
The group is advancing to Boston after winning the quarterfinal round held in Madison on November 16.
Started in 2010, the international Hult Prize competition gives young entrepreneurs the chance to find creative solutions to global problems, all while vying for the $1 million seed money awarded to the winning idea. In partnership with the Clinton Global Initiative, the competition issues a new challenge each year for participants. For 2017, the goal is helping refugees:  "Can we build sustainable, scalable social enterprises that restore the rights and dignity of 10 million refugees by 2022?"
The business model
The building blocks of Team Modom's design are simple: a cellphone and SMS (text messaging).
Going on data they found through the U.N. and nongovernmental organizations on the ground, team members found that cellphones were prevalent, particularly in their chosen geography of central Africa.
"Everyone has a cellphone," Mangat says. "They might not have shelter; they might not have a blanket or a pillow. But they'll have cellphones."
By using SMS in the design, the localized search can function without a wireless connection or data plan. Users simply send a text message to a service saying what they are looking for and where they are. They then receive a text back with the results, similar to doing a basic Google search.
For many refugees, the life they knew before is over and they have to reinvent themselves to survive. Someone who held a doctorate in chemistry may now sustain himself by becoming a barber, Mangat says, and can use Team Modom's design to attract customers.
"Let's say I'm a barber. I can send a text to a service and 'sign up' to be a barber. I can set my price, set my location, set the terms—whether I'm willing to barter for services or if I will receive cash—and then sign up that way. It's that simple."
If a potential customer is looking for a haircut, the service can alert the barber directly, giving him the customer's contact information.
Mangat says the service can also generate revenue. Multiple barbers, for example, can pool money to pay for higher search rankings. The service collects customer data which it could share with local governments and nongovernmental organizations. The platform could also work as a messenger service for businesses interested in partnering with mobile money providers.
For Team Modom, it all comes down to communication and helping refugees leverage the tools they currently have, however limited.
"Search: It's a symbol of, act of, a legitimate life," Mangat says, explaining that "legitimate" in this context means a stable life where basic needs are met, including connections with other people and information.
"We're trying to return that dignity to people."
Building on entrepreneurial skills
Mangat finds that his WSB education has prepared him well for challenges like the Hult Prize, particularly as he heads into his last semester before graduation.
He's also a 2017 Enterprise Development Fellow with the Weinert Center for Entrepreneurship. The Center readies students for careers as business owners and managers, corporate intrapreneurs, and consultants.
The training has been immensely helpful, Mangat says, noting "there hasn't been one class that I haven't borrowed from, one professor I haven't used an insight from."
That doesn't surprise Weinert Center Director Dan Olszewski.
"The problems you are asked to solve in the Hult competition are huge and some of the most challenging facing society. It forces the teams to be creative, think big, and focus on the real problem—all skills that are critical to entrepreneurial success," Olszewski says. "The Hult competition provides a great opportunity to develop those skills."
Early on during the brainstorming period, the team kept trying to loop their design back to the West (e.g., Arabic language teaching or other services) before they realized that their ideas were not in line with what the population really needed.
The group constantly re-evaluated and refined their work, asking for input after the group's win in November from the judges, faculty members, and classmates—anyone who could poke a hole in their design and make it better.
The hard work and collaboration over many months also brought the members closer together as a team, and made them even more dedicated to their mission.
Mangat remembers the hours before the November quarterfinal. "We were in Grainger Hall the entire night…we saw the sun
come up through the third floor window."
By then the team had done enough research and read so many firsthand refugee accounts that the Team Modom venture felt almost personal.
"(It's like) you're living your lives through these stories and it becomes almost like a quest to do something about it."
Next steps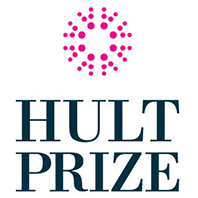 "Participating in the Hult Prize was really one of the best experiences I had during my semester at the Wisconsin School of Business," says Haugaard. He hopes to meet other like-minded entrepreneurs among the other 69 teams that will be competing in Boston.All four Team Modom members will convene in Boston March 3, including Haugaard, who is coming back from Denmark for the competition.
For Team Modom to advance to the next level, it will need to finish first in Boston. After that, the members would join winners from the other regional finals sites—San Francisco, London, Dubai, and Shanghai—at the Hult Prize Accelerator, an intensive six-week summer entrepreneurial workshop hosted by Hult International Business School.
The final round will take place in September, hosted by former President Bill Clinton and the Clinton Global Initiative.
Should they win the grand prize, Team Modom is already making plans for how to invest the seed money. The team members will build a working prototype, Mangat says, and get it in front of potential users for input and feedback.
Regardless of what happens in Boston, Mangat is grateful for the experience. The Hult Prize, he says, gave him a different perspective and a new way to apply his knowledge and passion for brand and marketing.
"I sacrificed a ton of sleep, but it was worth every minute of it."
---