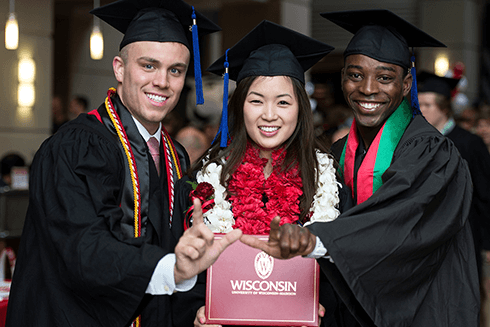 Among the many joys of my position is witnessing the Wisconsin School of Business commencement ceremony each year. I am always filled with pride as I watch our undergraduate students receive their diplomas, knowing that each and every one of them is prepared not just with traditional classroom knowledge, but also with the leadership ability, cultural competency, and interpersonal skills that they need to thrive in today's workplace. They have all benefitted from Wisconsin's "Compass Approach"—a first-of-its-kind initiative that ensures all undergraduate business students participate in personal and professional development opportunities that instill core foundational skills.
This approach is to provide a "compass" for their learning experience at Wisconsin—to make certain each student was progressing in the right direction. The approach, however, is not a GPS with a strictly defined, predetermined endpoint. Students have the freedom and flexibility in how they develop leadership and career readiness. The Compass Approach simply formalizes the process and aligns resources in a way that best supports our students.The Compass Approach originated out of our desire to ensure that every Wisconsin BBA student experienced leadership opportunities and graduated career ready. Just providing access to resources was not enough. The Compass Approach creates an expectation for all BBA students to develop critical leadership and career management skills through both co-curricular activities and the core curriculum.
Charting a professional path
After an undergraduate is admitted into the Wisconsin BBA Program at the University of Wisconsin–Madison, the experience begins with a required one-credit course titled "Personal and Professional Foundations in Business" (PPFB). In the course, students receive an introduction to career exploration and practice resume writing and learn about interview etiquette. They also take a deep dive into examining different leadership styles, issues around personal identity, and the importance of diversity and inclusion in the workplace. Assignments focus on experiential learning such as mock interviewing and informational interviews with business professionals.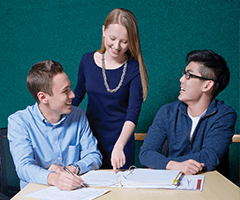 I have seen firsthand the evolution that our students experience over the course of this 12-week class. They truly grow as students and future business professionals—as noted by feedback from the students themselves.
"The course teaches you a lot of really important aspects about becoming a business student," says one BBA student. "You learn about leadership, diversity, and even how your own strengths can be used to impact a team or better yourself individually."
"This course has helped me discover what kind of company culture my strengths and ideals would fit best," adds another student. "It is a great opportunity for students to grow and learn more about themselves."
Peer learning model contributes to success
One of the many benefits of the PPFB course is that it is peer led, with two upperclass BBA student facilitators who present the curriculum and lead class activities, in cooperation with a co-instructor. This unique peer-to-peer teaching format lends credibility to course content while providing an intense leadership opportunity for the student facilitators who complete a demanding interview process and rigorous training prior to starting the position.
This leadership opportunity has directly contributed to the career outcomes of many of our graduates, including Zach Roberts (BBA '15). Roberts, a first-generation college student whose parents came to the United States from Liberia, facilitated the PPFB course for two years while a Wisconsin BBA student. Prior to graduating, Roberts had already secured an exciting position at LinkedIn in San Francisco.
"Being a PPFB faciliator gave me the skills I needed to help land a great job with LinkedIn," says Roberts. "Going into job interviews and being able to talk about how I was a mentor and a leader, while helping build those skills in others, really brought home the value of this experience."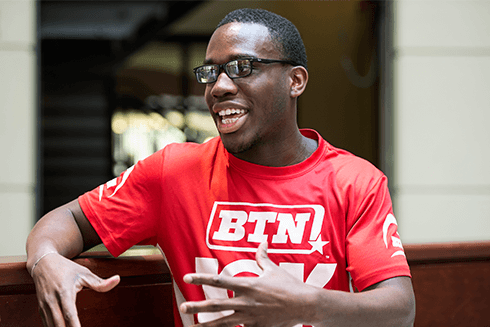 Roberts also credits this peer leadership opportunity for helping him secure an internship at Google the summer before his senior year. He graduated from the Wisconsin School of Business excited about his future, knowing that he was "leaving school with a strong network, along with the knowledge and experience to succeed."
After students complete the PPFB course, they continue with cocurricular personal and professional development requirements that build on the skills they've already learned. For example, Wisconsin BBA students complete an Excel training, participate in career fairs, visit with academic advisors and career advisors, and take part in career development and leadership workshops. As part of the Compass Approach, staff members track and coach students to ensure continued developmental progress.
Cultivating inclusive leadership
In keeping with Wisconsin's commitment to diversity and inclusion as core business tenets, the Compass Approach focuses on increasing students' cultural competency. We know that students and professionals are most successful when we engage with others who bring different perspectives that challenge our own.
Throughout their time in the Wisconsin BBA Program, students participate in leadership development programs that ask them to consider how diversity impacts the workplace. Our approach integrates diversity and inclusion not as a standalone course or topic, but as a consistent theme woven across all areas of learning.
As they develop a shared understanding of others' experiences, our students grow into confident and inclusive leaders who are ready to work in a global and multicultural business environment.
Prepared for success
With the Compass Approach, the Wisconsin School of Business does more than simply offer the opportunity for personal and professional development. By weaving topics of leadership, inclusion, and collaboration into core curriculum requirements, we educate students who can demonstrate not just what they know, but how they will perform in the workplace.
Since establishing the Compass Approach over three years ago, the commencement celebration has taken on new meaning for me. The diploma that our graduates receive now carries a bit more weight. It is, without exception, going into the hands of career-ready business leaders who will enter the workforce prepared for success. And, my team and I are proud that we could be part of their transformative journey.
---