Education and experience helped define Cheryl Stallworth-Hooper's (MBA '81) destiny. So did a whole bunch of letters that came to her childhood home trimmed in red, white, and blue.
Stallworth had uncles in the U.S. Navy, and letters would come to her family in distinctive envelopes from other countries or ports of call. Sometimes they came with photos and gifts, and they always sparked the young girl's imagination.
"I thought, 'When I grow up, I am going to see the world,'" Stallworth said. "And I've been fortunate because I have seen the world."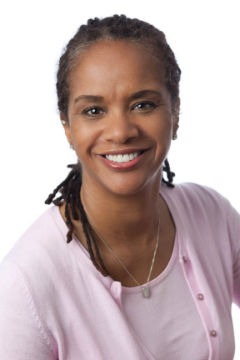 Stallworth's wanderlust turned her into a global business leader who has had a broad range of marketing experiences throughout much of the world, after earning her MBA at the Wisconsin School of Business as a fellow with The Consortium for Graduate Study in Management—a national alliance of schools dedicated to enhancing diversity in business education and corporate leadership by providing postgraduate opportunities for underrepresented minorities. She's been a leader in promoting power brands such as Coke in senior marketing roles at The Coca-Cola Company and Colgate as vice president of multicultural marketing at Colgate-Palmolive, or working with companies to improve consumer insights.
Stallworth is CEO at Firefly, North America, based in Norwalk, Connecticut, and chairs the Firefly global board. Firefly is the qualitative research practice for the market research firm Kantar Millward Brown, which is owned by multinational advertising and public relations company WPP. Firefly innovates by employing emerging technologies and has pioneered consumer research through the use of consumer theater, partnering with the famed Second City improvisational theater company. Consumer theater builds on more widely used research methods such as focus groups by bringing consumers into a theater and using them to help enhance big ideas. This is done by using improv actors as "human stimulus" to create humorous sketches, while clients and agency team members use consumer co-creation to bring ideas to life.
"We work with clients to uncover the deep, universal human truths and inherent tensions people face, which helps clients build brands that make people's lives better," she says.
Forging a marketing career path
It's the latest act in a stellar career for Stallworth, who came to the Wisconsin School of Business as a Wisconsin MBA student wanting to shift from a career in radio into advertising, marketing, and beyond.
Stallworth earned her bachelor's degree in radio-TV-film at the University of Wisconsin–Oshkosh and has the radio-ready voice to prove it. After graduating, she worked at WIBA-FM radio station in Madison. She hosted a public affairs news program and worked an on-air music shift, an experience that tapped into her love of music and rock 'n' roll history.
"After a couple years I thought I needed a stronger career path because I didn't see myself as someone who was going to move from market to market in radio," she says. "Back then everyone was talking about getting an MBA, and I thought, 'A-ha!'"
She learned about The Consortium and qualified for its fellowship, and an internship at an advertising agency sparked her desire to pursue a career in brand management. The MBA put her in, what she and her classmates realized, was a select group of people.

"When we got our MBAs in 1981, my friends and I calculated that there were probably 250 black MBAs in the country, and fewer black women and far fewer Latinos," she says. "We supported each other. That helped us weather a corporate environment that wanted to hire people of color and women but didn't always know what to do when you got there because you didn't quite fit the mold."The Wisconsin School of Business was a founding partner in The Consortium, which welcomed its first class in 1966 and is celebrating its 50th anniversary. Stallworth studied under two of the professors who were instrumental in the School's Consortium partnership: Isadore Fine, professor of marketing, and Roy Tuttle, professor of accounting and information systems. Both also served as Consortium board members.
Stallworth remains connected to the School, having served on the advisory board of the WSB's Center for Brand and Product Management, while mentoring students at the annual Consortium Orientation Program and throughout the year.
"The culture of the university is very humble," she says. "It's very easy to network. The openness of people at the University of Wisconsin–Madison and the broader intellectual environment of the Wisconsin School of Business made it a place that really fostered your desire to learn and further your career."
Leading cutting-edge marketing research
As Stallworth saw her career segue from brand management to consumer insights, she also recognized how technology was changing the culture, and how her profession had to adjust.
"Everything used to be TV-centric, and consumers were spoken to rather than being engaged in a conversation with brands," she says. "Now consumers establish the rules. The biggest change is you have to meet people on their terms, not yours as a marketer. It has to be interactive; it has to be relevant. They make the rules, and you have to engage with them, not at them."
At Firefly, Stallworth inherited the challenge of following a charismatic founder—Andy Greenfield. She had to build a new team and a new strategy based on innovation. One recent example, she says, was helping a company better understand the concept of worry, so it could tap into the needs of insurance consumers and work toward solutions based on their fears and worries.
"We put technology in the hands of people to gain unique perspectives and really experience life through their eyes," she says. "It's like shattering the focus group wall and picking up the artifacts to learn more about people's dreams, challenges and aspirations."
Stallworth says the team at Firefly is diverse, something she's proud of in an industry where she says there is much progress to be made.
"You have to address it at the corporate level and the recruiting level, and the way to do that is for companies and business s
chools to work together," she says.
She's also proud of her leadership at the company and her impressive second act career in market research after a strong first act in brand management. She taps into her love of music to find a gold standard for building a career and staying strong in it.
"You think of rock stars—you can't tell me Mick Jagger isn't still relevant when you see him strutting around that stage," she says. "Any rock and roller will tell you they hope they have that kind of career.
"I'm not saying I'm Mick Jagger, but I'm still here, and I'm still relevant and I'm happy about that."
Learn more about another Wisconsin MBA Consortium fellow: Larry Harris, the first Consortium graduate.
Read more about Wisconsin's "parade of firsts" through its Consortium leadership over the past 50 years.
---