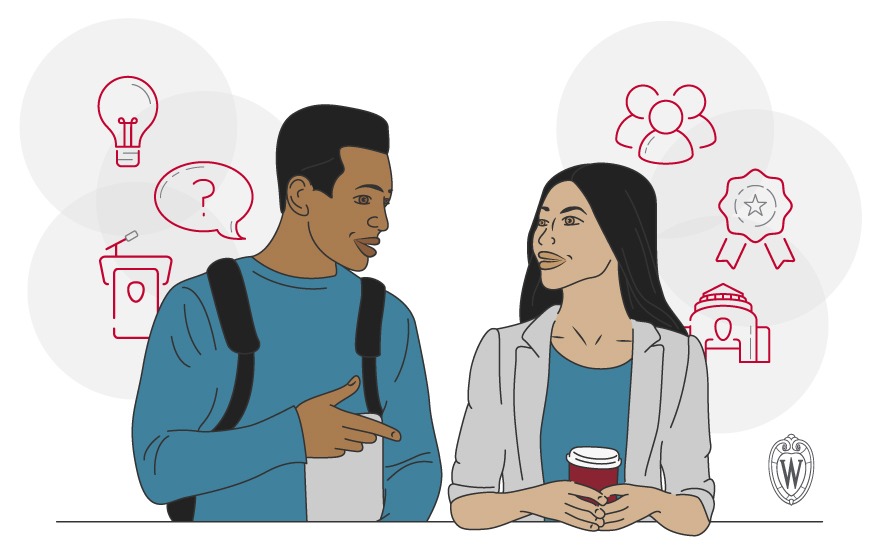 The Wisconsin School of Business has launched the Career Forward program, a collaborative and innovative initiative designed to give WSB's 3,000-plus undergraduate students the tools and experiences needed to achieve their individual career goals.
Supported by a network of experts within the School, students will discover career paths, launch their plans into action, and track their progress through an interactive app.
WSB created Career Forward to meet the challenges of today's business world, where business graduates need to be skilled, nimble, and always learning. WSB wanted to increase the number of graduates who landed their true dream jobs, while giving those graduates the baseline skills and temperament to pivot when those dream jobs transform with industry.
Career Forward gives students of all backgrounds and familiarity levels with business the opportunity to complete extensive career exploration and skill-building beyond the classroom. They'll receive guidance in finding their professional niche, gain valuable connections in their field of choice, and grow a résumé of experiences that will prepare them for immediate and long-term success.
Connecting the dots: academics, coaching, career outcomes
Career Forward builds on WSB's strength in career coaching. In 2019, the career engagement team unveiled a newly designed Career Engagement Studio that serves as a hub within the School. Students use the studio as a dedicated space for outside-of-the-classroom professional development.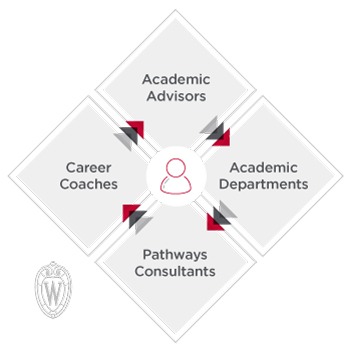 Career Forward helps further integrate the career engagement team into student life, giving business majors an outlet for career discovery that helps turn their interests and aspirations into a customized blueprint for their ideal careers.
"There's a support system surrounding each student in terms of their career progression," says Melissa Leffin, director of career engagement for WSB's undergraduate program.
"With the student at the center, Career Forward better connects academic advisors, career coaches, and pathways consultants within the academic departments. With all of those different pieces collaborating, that becomes a huge differentiator that allows our students to experience focused career preparation at every stage of their business school journey."
Knowing your dream job vs. not quite sure
Some students start at WSB knowing exactly what they want to do after graduation, while others take time to zero in on their goals. The collaborative support system of Career Forward is there for students, no matter where they fall on the knowing vs. not knowing spectrum.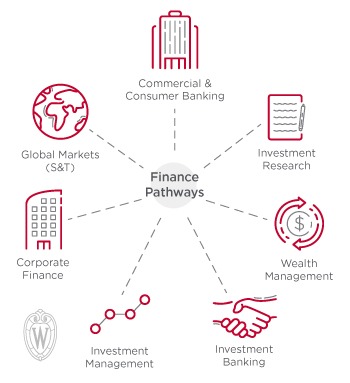 "When the career engagement team was designing this initiative, we were mindful of the diverse range of experiences students have before starting as business majors," says Leffin. "Every student starts at a different point, and it's our job to make sure they each have an equal shot at obtaining a career that will make them happy and help them make an impact."
Some students may be introduced to business for the first time on campus, be first-generation college students, or have an array of other talents and interests outside of the traditional corporate world. Others will be on the heels of their careers as teenage entrepreneurs, have business-professional parents, and have competed in business competitions in high school.
For students who have a dream job in mind, Career Forward can help them learn about the complexities and wide-ranging options within their desired field.
A student might wholeheartedly know they want a career in finance, and WSB's finance career coach Brian Whitmore can work with the student to dive deep into seven entry-level pathways within the industry and several long-term finance roles.
A student may be particularly keen on investment banking, and learn in sessions with Whitmore and with insights from pathways consultant Jamie Macias that corporate finance or investment research is truly more aligned with their interests.
Conversely, a business student without a dedicated major can benefit from Career Forward through guided academic advising and career coaching that helps the student make sense of their interests, learn about relevant classes and student organizations, examine potential career fields, and create a strategy for extracurricular involvement and internship preparation.
In total, Career Forward will guide students through more than 35 pathways across 11 majors.
Students ready for first job, lifetime success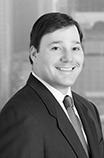 Business student Mikol Tsopnang (BBA '22) has benefited from working with WSB's career engagement team and looks forward to the new infrastructure provided by Career Forward.
"Working with the career engagement team, I always have a positive experience and walk away feeling supported and prepared to face any challenge," says Tsopnang, who aims to work in operations or supply chain within a large consumer goods company.
"WSB has connected me with individuals in industry, aided in interview preparation, and helped me explore what I may be able to do within the supply chain field."
Travis Bradford (BBA '21) has prepared for his career with help from Whitmore and Macias. Bradford feels prepared for the long-term path he'll take as a financial analyst, while knowing that the field will undoubtedly transform after he gets rooted in his first job.
"After four years at UW, I feel I have a strong base of knowledge in finance, accounting, and economics from which I will build," Bradford says. "I have access to a great community of students, mentors, and alumni that will be present throughout my career, and interpersonal and leadership skills that will continue to facilitate my professional growth no matter what path I decide to pursue in the future."
From education to employment
Career Forward will also spur on new experiential learning opportunities with companies and create a more symbiotic relationship among faculty, students, and the fields in which students will ultimately work.
The WSB career engagement team has built hundreds of partnerships with top employers across business industries. Pathway consultants will serve as a new entry point for employers and industry to connect more directly with students in the classroom and through experiential learning opportunities.
"We're building out a model that will leverage the individual strengths within each academic department," says Brett Jones, director of employer engagement. "The Career Forward program takes that relationship with that employer and takes it a step beyond where we might previously be able to get."
WSB's information systems department, for instance, is partnering with companies like Intuit and Kohl's to address industry disruptions and prepare students for constantly changing careers in technology. The Career Forward's pathways consultant Samer Khasawneh is leading the effort.
The program will be in full swing by Fall 2021, readying students to take on business' next wave of challenges and agilely move through their careers, making an impact no matter what paths they take.
---